HEART OF AFRICA – 19-DAY WILDLIFE AIR SAFARI
The Heart of Africa Wildlife Air Safari, considered the "ultimate in wildlife safaris", is an exclusive journey, through the heart of Africa on board Scenic Air Safaris luxurious Cessna Grand Caravan aircraft. You fly over Africa's most unique, beautiful, and in places untouched landscapes, from Kenya's Masai Mara, to the Victoria Falls in Zimbabwe. You explore the alluring magnificence of Tanzania, Zambia, Malawi and Botswana, and visit extraordinary locations in some of the best wildlife reserves in Africa.
Tour Cost: from £27,350 per person
Departures: Southbound 18th October 2019 & 17th June 2020
Northbound 30th October 2019 & 28th June 2020
Tour highlights and inclusions:
Return Scheduled International flights
14-Day Cessna Grand Caravan executive configuration aircraft
13-Nights Safari Accommodation on Full Board
3-Nights Luxury Accommodation at Victoria Falls on B/B basis
1-Night Nairobi Accommodation on B/B basis "Southbound only"
Victoria Falls Experiences and Steam Train Dinner
Outstanding luxury hotels, camps, lodges & beach resort accommodation
Private airport, hotel and tour transfers
Services of English speaking guides throughout
Non-refundable deposit: £5,750.00
Single Occupancy Supplement: £2,875.00 per person
Travel insurance: Essential not included, price on request
Kenya Entry Visa: Essential not included, details on request – other countries entered dealt with locally by Scenic Air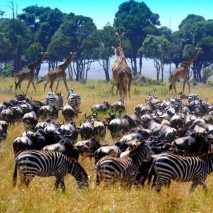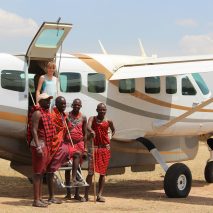 This unique journey opens up a world of discovery and adventure that provides an insight, and embraces many local cultures. Whether you're exploring on the game drives, appreciating the unique landscapes or enjoying the facilities of the elegant lodges, luxury hotels, safari camps and the river houseboat, this journey will live in your memory forever.
For general information on the tour, the destinations, the countries being visited, landmarks, national parks and details of Scenic Air Safari element, including activities and accommodation see the links provided below: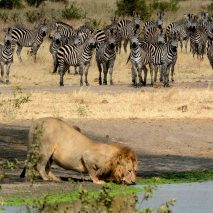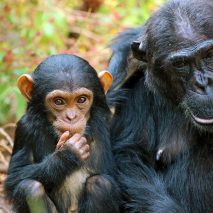 This 19-Day Wildlife Air Safari with Premium economy class seats on the international flight sectors (air carrier and flight times will be confirmed with booking) is a travel experience like no other! Some of the highlights of this exclusive holiday tour, which have slightly different southbound and northbound itineraries are summarised below.
Scenic flight over the Serengeti looking for huge herds of wildebeest as they migrate across the plains.
Trek the Mahale Mountains to see Chimpanzee in their natural environment.
Scenic flight from Mahale Mountains along the shores of Lake Tanganyika and Lake Malawi into Likoma Island.
Relaxing on the shores of Lake Malawi at one of the top 10 most romantic places in the world.
Scenic Flight across the South Luangwa National Park and into the Southern Zambezi National Park.
Experience the Southern Zambezi National Park and unique game viewing by Canoe.
Scenic flight along the Chobe River into the Okavango Delta one of Africa's most unique wildlife area.
Spend days viewing wildlife in the Okavango Delta one of the world's premier wildlife destinations.
Scenic Flight along the Zambezi River and a Flight of Angels over the world famous Victoria Falls.
When flying over these unique and beautiful locations they are viewed from your executive seat in the Cessna Grand Caravan aircraft, which has an 8 passenger limit, and your professional guide will talk you through the whole experience.
19-Day Heart of Africa – Wildlife Air Safari Southbound ITINERARY
19-Day Heart of Africa – Wildlife Air Safari Northbound ITINERARY
To Book this Heart of Africa Luxury Wildlife Air Safari:
Call reservations: 02071 182110
Email: client@livingstonestw.co.uk
Complete Online: Booking/Enquiry Form
Beach and other holiday extensions, extras and similar tailor-made packages available on request.