KENYA, AFRICA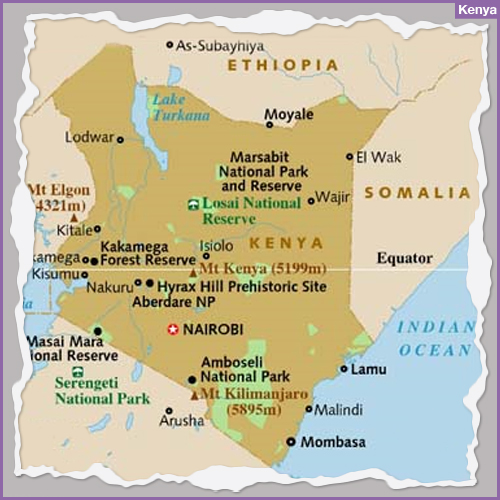 Kenya is one of the jewels of East Africa, lying astride the equator on the eastern side of Africa with a coastline facing the Indian Ocean you will find savannahs rich with big game and timeless cultures unchanged by the modern world. There are pristine beaches, coral reefs, equatorial forests, mighty snow-capped mountains, searing deserts cool highland retreats and an abundance of wild life in its famed national parks and reserves. Anyone interested in wildlife will find unrivalled opportunities to see magnificent and often endangered species of animals, birds and flora in their natural habitat. Its people are friendly and welcoming and English is widely spoken, a legacy of British colonial rule.
Topography and Climate
Kenya and the dramatic Great Rift Valley, one of the seven natural wonders of the world, is a country of contrasts, with awesome and fertile mountain highlands. Its climate varies from warm and humid along the coast to hot and dry arid in the north and northeast parts of the country. The savannah grasslands around the capital city, Nairobi are somewhat cooler, as are the highlands towards Mount Kenya. The country receives a great deal of sunshine every month; usually cool at night and early in the morning at higher elevations but summer clothes are worn throughout the year. The "long rains" season occurs from March/April to May/June with the "short rains" occurring from October to November/December.
Holidays and tours featured at this destination
General Information
Lake Nakuru National Park
The national park lies in central Kenya around 85 miles north-west of Nairobi, it's lake is a shallow alkaline lake set in a landscape that includes areas of acacia woodland, marsh, grasslands alternating with rocky cliffs and outcrops covered with a Euphorbia forest. Lake Nakuru was established as a bird sanctuary in 1960 being upgraded to a National Park in 1968. Fed by three rivers the Njoro, Makalia and the Enderit, the park supports a wide ecological diversity of birdlife and fauna. In addition to its huge numbers of lesser flamingos and pelicans its home to more than 450 species of birds. Amongst its amazing variety of fauna there are about 56 different species of mammal including Kenya's largest population of Rhinos, part of a restocking programme that included the lion and Rothschild's giraffe.
Masai Mara Game Reserve
The Masai Mara is the most famous wildlife conservation area in Kenya, if not the world. Home to a rich variety of wildlife in a rolling savannah landscape, dotted with bush thickets and shrubs. Located in the Great Rift Valley, part of the large ecosystem stretching south to Serengeti in Tanzania. 95 species of mammals, amphibians, and reptiles and over 400 bird species have been recorded in the reserve – these included Lion, Leopard, Elephant, Rhino, Buffalo, hippopotami, cheetah, impala, topi, Grants Gazelle, Coke's hartebeest, giraffe, Roan antelope, zebra and the nocturnal bat-eared fox. Nowhere in Africa is wildlife more abundant, the annual migration involves 1.5 million animals' predominately wildebeests, and features on many wish lists.