MALAWI, SOUTH EAST AFRICA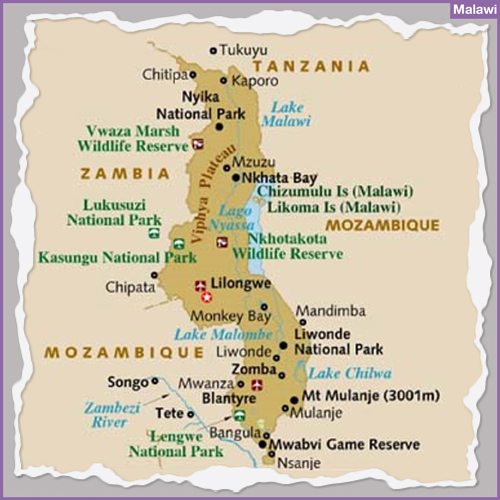 Malawi, is a landlocked country in south-eastern Africa, often referred to as the 'Warm Heart of Africa' its split by the Great Rift Valley and the enormous Lake Malawi home to diverse wildlife and colourful fish. On the southern shore is the Nankumba Peninsula and Cape Maclear known for its excellent beach resorts.
Malawi's greatest asset is its variety of attractions, alluring Lakes, beautiful landscapes, fascinating wildlife and rich culture that combine to make this small country such a wonderful place to visit.
Topography & Climate
Generally, a green, lush country, with plateaux, highlands, forests, mountains, plains, escarpments and dramatic river valleys, spreadacross three main geographicalfeatures, the Rift Valley, Lake Malawi and the Shire River.
Malawi's sub-tropical climate is relatively dry and strongly seasonal. The warm-wet season stretches from November to April, the cool, dry winter season runs from May to August, and the hot, dry season lasts from September to October.
Livingstone's Travel World – Unique destination holiday tours and travel experiences

GENERAL INFORMATION
Malawi's people friendly, welcoming, colourful and vibrant are its greatest asset, and there are now opportunities to spend time in real villages (including staying overnight) for a first-hand experience of the cultures, traditions and daily life. There's also much to see of Malawi's history, the pre-history remains of the Karonga district and the Stone Age rock paintings near Dedza. The Cultural & Museum Centre at Karonga and the colonial buildings dating from the David Livingstone era, the defeat of the Arab slave trade is all well documented in the museums of Blantyre, where a vast wealth of knowledge and history is stored. Malawi also has a thriving and burgeoning music scene; its Lake of Stars Festival held each year on the shores of Lake Malawi has become internationally renowned.
Lake Malawi, the jewel in the crown of the country's tourist attractions was "discovered" by explorer Dr David Livingstone in 1862. This "inland sea", contains the largest number of fish species of any lake in the world, probably well over five hundred with perhaps half occurring in the Malawi National Park area, and the cichlid fish population is particularly important in the study of evolution. This vast body of freshwater fringed by beaches of golden sand is not only a scenic wonderland but it provides water sport opportunities for those looking for something beyond sun, sand and swimming. In the north is extraordinarily deep, plunging well below sea level which reflects the enormity of the natural faulting of the Great Rift Valley, which is the origin of the Lake.
Fishing villages are scattered along the shore, this traditional industry which plays an important part in the economy area real attraction to visitors. Access to the Lake is possible along much of its length but it's usually necessary to take a short detour off the main roads in order to reach the beach. There are long stretches of totally uninhabited golden sand lake shore, lapped by crystal clear waters. Kayaking, sailing, snorkelling, scuba diving and water skiing are just some of the lake activities available to visitors.
Lilongwe, is Malawi's capital city and the largest, named after the great Lilongwe River that flows into Lake Malawi, an exceptionally green city with trees and patches of grassland covering a great deal of the city.Located in the centre of the country close to the borders of Mozambique and Zambia, this once small fishing village on the banks of the River Lilongwe was used as an administrative centre by Colonial Britain.
The city is divided into New and Old. The New Town or Capital City grew up after President Banda moved the capital here from Zomba. It's the location of over a dozen government ministry offices, banks, embassies and modern accommodation. The Old Town to the South is set around the centuries old fishing village that is full of cafes, restaurants and markets, which includes a second hand clothing market. Other attractions are the Lilongwe Wildlife Centre rescues orphaned animals and gives them shelter until they can be rehabilitated and Kumbali Cultural Village with its traditional dancing and drumming

ACCOMMODATION
Luxury accommodation in Malawi is very limited but those we currently recommend are:
The President Walmont Hotel, Lilongwe | Tongole Wilderness Lodge, Nkhotakota | Bua River Lodge,Nkhotakota | Mvuu Wilderness Lodge, Lilongwe N P | Mumbo Island, Lake Malawi | Kumbali Country Lodge, Lilongwe | Protea Hotel Ryalls, Blantrye | Sunbird Livingstonia Beach, Salima | Ngalia Beach Lodge, Lake Malawi | Kumbali Lake Retreat, Salima | Ulisa Bay Lodge, Likoma Island

WEDDINGS & HONEYMOONS
Nothing can compare with getting married in romantic or exotic surroundings and Malawi provides a wonderful alternative for those seeking a really special or somewhat different Honeymoon. One property that stands out is the Kaya Mawa resort on Likomo Island; this magical rustic boutique resort is featured below and can easily be combined with a wildlife safari in Malawi or other Southern and East Africa countries. Although malaria is not prevalent in Malawi anti-malaria, medication should be taken and professional medical advice needs to be obtained before travelling. For more information on Malawi honeymoons or something similar at other locations, please call us on 020 7118 2110.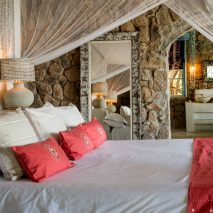 KAYA MAWA is situated on the intriguing exotic Likoma Island in the middle of Lake Malawi at the head of a crescent shaped bay, surrounded by mango trees and ancient baobabs. Translated in the local Tonga dialect as "maybe tomorrow", this stunning lodge was built entirely by a workforce from the neighbouring villages.
As you will see from the video below, this is a unique, ultimately chic lodge. Each room is individually designed in partnership with Katundu Textiles, a workshop set up on the island to empower single mothers it has been voted in the top ten 'Most Romantic Places in the World' by Conde Nast. It's also listed as a top 101 Hotel in the World by Tatler, a Good Safari Awards finalist in 2012 and in 2013 voted the 3rd Best Beach Property in Africa.
The Kaya Mawa chalet style rooms are located on the beach, the lake edge or on an outcrop; all offering wonderful views of either the island, Lake Malawi and or Mozambique depending on the room location. The Honeymoon Island room is linked by a small bridge, the Premium rooms have plunge pools and the Family Houses have many outstanding features. This unusual African beach destination offers complete relaxation and indulgence in addition to a variety of unique water sports. From the moment you arrive on the islands airstrip, you will experience the warmest welcome by the friendly people in the local communities.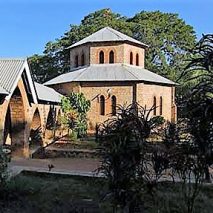 AMAZING ISLANDS
Likoma Island, is situated in the far north of Lake Malawi, it's the larger of two small islands, the smaller being the nearby Chizumulu and both are very close to the Mozambique coastline. To visit the island is to step back in time. Just 17 sq. km with one small dirt road and six vehicles, the local population survives largely by fishing, rice and cassava farming. This little piece of Malawian territory in Mozambican waters has some notable history, establishing the headquarters of the University Mission to Central Africa "Livingstone's Mission" in the 1880s; and being retained by Malawi when the Lake was divided politically after World War II.
Notwithstanding the history, Likoma Island's claim to fame is St. Peter's cathedral in Mbamba. Work began on this vast building the size of Winchester Cathedral in 1903, amongst its particularly interesting features are stained glass and carved soapstone.
The islands bustling population is dispersed amongst dozens of small settlements but the natural environment is largely unspoiled. The coast, where crocodiles are occasionally seen, is varied, with rocky slopes, sandy bays and swamps; interior is mostly covered by grassland, with large numbers of baobab and mango trees. Fauna is mostly composed of small reptilians, amphibians, birds and a number of invertebrates, including scorpion spiders.Access to Likoma is currently by charter aircraft or boat, the latter in ever increasing numbers.


WILDLIFE PARKS & GAME RESERVES
Malawi is blessed with a rich diversity of flora and fauna and has no less than nine National Parks or Wildlife Reserves; these provide intensive and exclusive wildlife viewing in unspoilt areas of genuine wilderness.The most notable parks, some with private concessions are:
Liwonde National Park: covering only 220 sq. miles it's relatively small as national parks go but is probably the most popular of all the game parks because of its location. Around 100 miles north of Blantyre and only rather more than half that distance from the hotels on the southern Lakeshore game viewing is enhanced because the River Shire flows along its western border, allowing boat safaris as well as the usual ones on foot or in 4x4s.
Wildlife includes quite large numbers of elephants and the river attracts countless hippos and crocodiles. Antelope include kudu, sable and bushbuck. There are leopards, hyena, and the occasional visiting lion. Home to the rare critically endangered black rhino which has be reintroduced it offers amazing views of Borassus palm studded floodplains. Birdlife is exceptionally varied Boehms bee eaters, Lillian's love birds, and Livingstone's flycatcher are common place, and Pel's fishing owl is often seen at dusk along the river's edge. The river attracts fish eagles and weaver birds who build their nests in the thin woodland. The best time to visit Liwonde is during the dry season from April to October, at this time, the bush is dry and open, making game easier to spot.
Majete Wildlife Reserve: situated in the lower Shire valley in the South West of Malawi, approximately 70kms – (one and a half hour's drive) from Blantyre's Chileka international airport and three hours from Lake Malawi- Majete is one of the only reserves in Malawi where the BIG FIVE can be viewed.Once a prolific wildlife refuge but by the late 1990's most species of large game, including elephant, had been eradicated but now an amazing, unique conservation and tourist destination.
The success and recovery and restoration, and the continued protection of endangered species have led Majete to become one of the most popular reserves in Malawi. The restoration has included significant infrastructure development (142kms of electrified perimeter fence, 300kms of roads, water holes, scout camps, fence camps and a complete tourism infrastructure), wildlife restocking and a complete overhaul of the law enforcement and scientific monitoring function.The mass translocation of wildlife began in 2003 and by March 2012, some 2,559 animals from fourteen different species had been reintroduced including the big five, leopard, elephant, buffalo, black rhino and lion. Other mammals reintroduced were eland, sable, waterbuck, nyala, hartebeest, impala, zebra, warthog and bush pig.
Lengwe National Park: south of Majete and 50 miles from Blantyre, the park covers some 350sq. miles of thicket, deciduous woodland and dense tree growth along the river courses. To the west the level rises and low hills, outcrops of sandstone, break the skyline, whilst the eastern area is quite flat, allowing for a good and well-marked network of driveable tracks. Lengwe is quite arid outside the rainy season and many of the water courses become dry sandy channels, which aids game viewing as the animals use the pools where there are permanent supplies of water.
There are hides and man-made pools in the eastern area of the park just a short distance from the main gate which has a heritage centre – Tisunge (Chi Chewa for 'Let us preserve!')with a small museum and arts & craft shop. The advantage of hide viewing is themix of wildlife that the water-holes attract, which often include leopards and hyena but antelope are the most often seen. Other animals seen in the park are common duiker, the small Livingstone's suni, bushbuck, impala, baboon, monkey, warthog, bush pig, buffalo, the magnificent kudu and beautiful nyala. The birdlife of Lengwe is another attraction with around 300 recorded species which include some fairly rare birds, some seen nowhere else in Malawi.
Mwabvi Wildlife Reserve, the smallest of the Malawian reserves and the least accessible is located at the southernmost tip of Malawi. Beautiful at all times it boasts a variety of habitats unequalled by the larger reserves. Because of its remoteness, a wilderness atmosphere it is redolent of the old Africa of Livingstone and Stanley. Once regarded as an 'empty' reserve devoid of game it's become a special area to visit. Game sightings have been rising in recent times since the establishment of Project African Wilderness (PAW), and the opening up of new game roads. Now sightings of magnificent sable and kudu, impala, buffalo and other antelope are matched by the wide variety of birdlife have become common place.
Access and travel through the park is only possible with a 4×4, or on foot, game drives and game walks are arranged through the local Mwabvi Wildlife and Community Trust (MWCT) based just outside the park.The Project African Wilderness (PAW) trustin the UK supports MWCT, they jointly fundraise for,and, deliver projects to protect and restore the Mwabvi Wildlife Reserve. Along term agreement with the Government of Malawi is in place, its aim is to work with the MWCT and local people to protect and improve the reserve, develop ecotourism and improve local community livelihoods.For more information, visit: www.projectafricanwilderness.org
Nkhotakota Wildlife Reserve is one of the two large game areas inthe east of the Central Regionnear Lake Malawi. A vast 700 sq. mile reserve of rugged terrain crossed by a number of rivers which tumble down the edge of the escarpment as they make their ways to the Lake. Most of the reserve is miombo woodland with large patches of tall grasses and occasional areas of rainforest. Birdlife is prolific with giant kingfishers and palm nut vultures among the 130 recorded species.
A true wilderness that attracts those who wish to enjoy a walking safari or go fishing and climbing. In the past, the reserve proved difficult to access because of the terrain and lack of roads or driveable tracks which made the wildlife difficult to find. Since the management of the reserve passed into the hands of African Parks in 2015,they have been developing Nkhotakota, undertaking one of the largest elephant translocations in human historyduring 2016/17 when 500 elephants were brought into the reserve. The reserve is being fully fenced, a sanctuary established, and an influx of over 1500 game animals is planned to ensure the long term survival of all the animals in this rapidly developing reserve.
Nyika National Park, with its waterfalls, a Neolithic rock shelter and trout pools is Malawi's largest, covering an area of some 1250 sq. miles. Essentially a granite dome that extends across the great plateau its environment is like no other in the whole of Africa. Nyika, means "where the water comes from" and it is one of Malawi's most important catchment areas. The grasslands of Nyika are full of wildflowers in most seasons but at its best in the rainy season when over 200 types of orchid are in flower. A wonderful place for trekking and mountain biking, as well as the more conventional 4×4 game drives.
The park is home to a number of species of smaller mammals such as warthog and bush pig, and large numbers of Zebra and antelope which includes the diminutive duiker, eland and roan. It also has one of the highest densities of leopard in Central Africa. Its Elephants and buffalo usually keep to the lower ground on the northern edge of the park but lions and elephants have recently been seen on the high plateau. For the birdwatcher it has much to offer with over 400 recorded species, amongst those is the rare Denham's bustard, the wattled crane and the red-winged francolin – endemic to Nyika.
Vwasa Marsh Wildlife Reserve: lies along the Zambian border north-west of Mzuzu, it's an area of marsh and plain with a few rocky outcrops that covers some 400 sq. miles. The reserve has a wonderful mix of forest and grassland, thin woodland and marsh. This rich habitat attracts a splendid range of birdlife; nearly 300 species of birds have been recorded including stork, heron and the white-faced tree duck.
Herds of thirty or forty elephants are regularly seen, as are large numbers of hippos. Lake Kazuni, near the main entrance to the reserve is famous for its hippos. Buffalo are present in the reserve but their roaming habits make their sightings less easy to predict. As little development has taken place on the reserve, it is advised to only include Vwasa as part of a mobile safari.