TIBET, 13-DAY GOLDEN ROUTE TOUR with BEIJING STOPOVER
The Golden Route of Tibet holiday tour is a journey over the "Roof of the World", with visits and stops at places of considerable cultural and historic interest. This amazing Tibetan journey starts in Lhasa, its capital city with the iconic Potala Palace before moving on to Tsedang the "Cradle of Tibetan Civilisation", Gyantse known as the "Heroic City" because of its battle during the British invasion in 1904, and Shigatse a gateway to Mount Everest. Because access to Tibet is somewhat restricted the flight into Tibet goes is via Beijing ), where there is a carefully planned 4-Night stay in a centrally located luxury hotel with private tours to most Beijing major tourist attractions including the Forbidden City.
Tour Cost: from £2,130 per person
Mount Everest Extension: from £360 per person
Departures: Weekly from mid-March thru October
Tour highlights and inclusions:
Return International flights via Beijing with stop-over
4-Night Beijing City Break in a luxury centrally located hotel
Private Tours of Beijing major tourist attractions.
4-Nights luxury accommodation at Lhasa Shangri-La Hotel
Tours of Potala Palace, Jokhang Temple, Sera & Drepung Monasteries, Norbulingka park
3-Nights tour accommodation in Tsetang, Gyanste, Shigaste hotels
Guided Tours of Temples, Palaces, Gardens& places of notable interest
Breakfast, Lunch & Dinner as tour itinerary
Entry fees to temples, palaces and historic sites
Private Airport, hotel and tour transfers
Services of English speaking guides throughout
Non-refundable deposit: £ on request
Single Occupancy Supplement: £640.00 per person
Travel insurance: Essential not included – price available on request
China & Tibet Entry Visas: Essential not included – details on request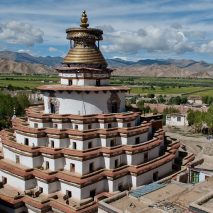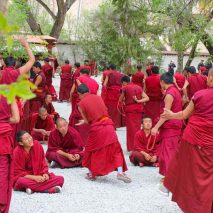 The accommodation throughout this tour has been carefully selected, in Beijing and Lhasa its luxury hotels, in the three other Tibetan cites it's the best available that could be likened to 3-4 star. The airport transfers and tour transportation is of a high standard taking into account the Tibetan landscape and the locations of sites and places of interest being visited.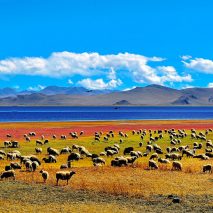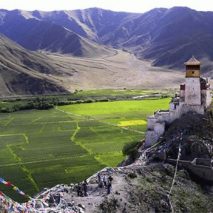 This 13-Day Golden Route of tour witha Beijing stopover has something for everyone, whatever your interests. The busy carefully planned itinerary, with amazing sights and sounds make this holiday tour to the Roof of the World is like no other – the spectacular, sometimes barren scenery, beautiful landscapes, Tibetan rural life, culture and local traditions make it a never to be forgotten experience. Detailed information of the day-to-day activities is provided on the:
13-Day Golden Route of Tibet with Beijing stopover ITINERARY
A 2-Day extension to the Mount Everest Base Camp can be easily incorporated into the holiday tour Itinerary but must be confirmed with the booking. Detailed information of the day-to-day activities is provided on the:
15-Day Golden Route of Tibet with Mount Everest extension and Beijing stopover ITINERARY
The tour hotels are listed below, for more information on the Lhasa hotel a link is provided from the text, for the others go to https://www.tripadvisor.co.uk
Shangri-La Hotel, Lhasa | Tsetang Hotel, Tsetang | Gyanste Hotel, Gyanste | Qomo Langzong Hotel, Shigatse
Mount Everest Base Camp:
Rongphu Monastery Hotel & Guest House | Campsite Nomad Tent House
This accommodation will be subject to seasonal changes and local weather conditions. Be aware all accommodation in respect of this "adventure" is very basic, toilets and washing facilities are shared – be prepared!
Beijing Hotels:
These are centrally located luxury 4 and 5 star hotels – details and options available at the time of booking.
Additional general information on Tibet and the cities, towns and villages being visited is available on – the Tibet Destination page
To Book: This TIBET – GOLDEN ROUTE TOUR with BEIJING stopover holiday:
Call reservations: 02071182110
Email: client@livingstonestw.co.uk
Online: Booking/Enquiry Form
Flight upgrades, holiday extensionand other holiday extras including similar tailor-made packages are available on request.