CHINA, EAST ASIA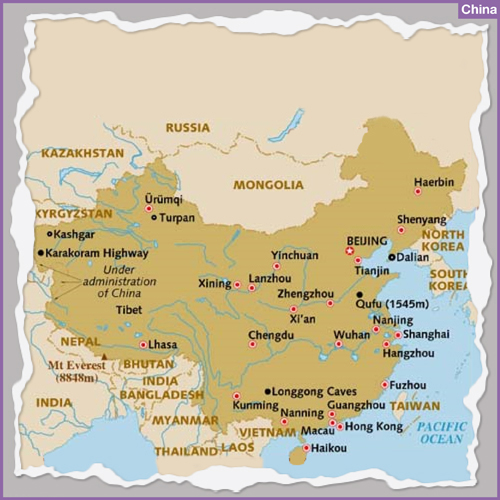 China is the world's most populous country, and one of the largest. With a square mileage of 3.7 million and a population of 1.4 billion, it's no surprise that this vast country is second-to-none when it comes to diversity. From skyscraper-illuminated cities to forgotten villages, mountain-dwelling temples to luminous rapeseed fields and of course, the iconic Great Wall, China is a bubbling cauldron of culture nestled among a spectacular, ever-changing landscape. It is a country which shaped the modern world continues to look toward the future but never forgets its past. Its influences on our world today alone make it worth a visit; the rest is waiting to be discovered.
Topography & Climate
China, due to its size, has a widely varied climate and topography. Home to the highest point on earth, as well as one of the lowest, and five distinct climate zones; China encompasses impenetrable bamboo forests, soaring mountainscapes, deep blue lakes and a vast, coconut-littered coastline. Despite extreme variations in temperature, most areas guarantee a cold, dry winter and a warm, rainy summer. Whether cold means sub-zero or warm means the tropical 30's, depends largely on region. Northern areas are the coldest (and can drop significantly below zero in winter months), moving through a milder central region down to a tropical south coast.
Livingstone's Travel World – Unique destination holiday tours and travel experiences:

GENERAL INFORMATION
China, The Peoples Republic of China is full of ancient treasures and modern wonders that span some 5,000 years. Its culture, history, natural beauty, fascinating heritage, mouth-watering cuisine, and state-of-the-art cities will enthrall, excite and amaze you. Many of the things that we use now such as paper, gunpowder, credit banking, the compass and paper money originated in China. Its economy is considered to be the world's fastest-growing economy has been described as a second industrial revolution. The development of China's tourism over the last 25-years has added to that growth.The Panda, the iconic Great Wall, the Yangtze River, the "water cities" of Shanghai, Hangzhou and Suzhou that thrive from the waterways on which they sit, like so many others cities in this vast land are rich with history and culture, and offer so much for travellers to explore and enjoy.

ACCOMMODATION
The list below is of carefully selected character, boutique, luxury Hotels and resorts we recommend but constantly reviewed for quality and service. There are links to the websites which should be helpful but we are more than happy to discuss detail and individual merits, and ask that you ignore the occasional reference to "book direct for cheaper rates" as does not apply to us.
China World Summit Wing, Beijing | Kerry SPORTS Hotel, Beijing | Waldorf Astoria, Beijing | Pan Pacific, Beijing | W Chang'an, Beijing | Rosewood, Beijing | Aman Summer Palace, Beijing | The Peninsula, Beijing | The Opposite House, Beijing | China World Hotel, Beijing | Vue Hotel Houhai Beijing | Hotel Éclat Beijing | The Orchid, Beijing | Park Hyatt, Beijing | Four Seasons Hotel, Bejing | NUO Hotel, Beijing | InterContinental Sanlitun, Beijing | Shangri-La, Xian | Jin Jang International, Xian | Sofitel Xian on Renmin Square | Sofitel Legends Peoples Grand Hotel | Golden Flower Hotel, Xian | Grand Noble Hotel, Xian | The Westin, Xian | Grand Park Hotel, Xian | Hotel Grand Mercure Xian on Renmin Square | St. Treasure Luxury Qinghai Xining Hotel | Sofitel, Xining | The Sebel, Xining

LUXURY CITY BREAKS
The information we provide on the cites we feature in this section of our website are overviews, "pen pictures" that provide some notable and hopefully useful background to the city and its principal tourist attractions, those being visited during a city break will have far more detail in the Itinerary accompanying the travel documents issued with a booking.
Beijing, a city full of innovate architecture, grand historic sites and exclusive backdrop of the iconic Great Wall – triumphs as China's capital city. As well as its political, economic and cultural hub. Its history stretches back some 3,000 years, and what remains today is an intriguing blend of past, present and future. Historical alleys known as 'hutong' are frozen in time in comparison to the ostentatious skyscrapers that dominate the cityscape, where the countless restaurants, galleries and music venues are flooded with ambitious creatives. Yet the after-hours scene hasn't forgotten its heritage, and Beijing remains the heart of traditional Chinese performing arts. There are six Unesco World Heritage sites in Beijing alone, including the grand Forbidden City palace complex, shielded by the gate Tiananmen Square – Tiananmen meaning 'Gate of Heavenly Peace'.
Xi'an, when translated from Mandarin is Western Peace – is the capital of Shaanxi province, in central north-west China. It is a living documentary of the country's history, heritage and ever changing culture. Its ancient name 'Chang'an' means the eternal city, an apt name considering that some eleven centuries on, remnants of the historical city still live in harmony with modern day Xi'an. The thought-provoking Terracotta Army, the environmentally-significant Yellow River Basin and economically-impactful status as a Silk Road terminus, are all signifiers of this beguiling city's cultural importance. Today in Xi'an, people swarm markets for unique, handmade crafts, barter for antiques, and visitors dig for the perfect, symbolic souvenir. Elsewhere, modern shopping outlets demonstrate the more modern side to the city which lit up by the beautiful Big Wild Goose Pagoda sparkles at night.
Xining, the capital of China's Qinghai Province, surrounded by undulating mountains, is an ancient highland city with a history going back over 2000 years. Its host too many places of historical and cultural significance, which includes the former residence of Ma Bufang, the Beichan Temple, the Great Dongguan Mosque and the Kumbum Monastery. Xining is located on the ancient Silk Road and played an important role in linking the Central China Plain with the western border areas. A role, which to some degree it still retains as a hub on China's rail network as the gateway into Tibet via the Qinghai-Tibet Railway- featured in our Tibetan Rail Holiday.