Republic of Indonesia, Archipelago, Southeast Asia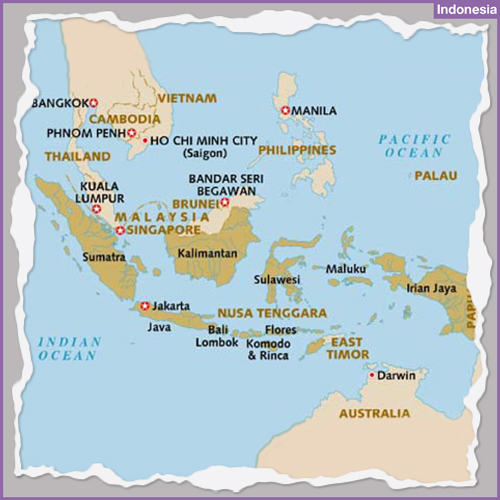 Indonesia, is a vast archipelago made up of thousands of volcanic islands, including Bali, Lombok and Komodo that we currently feature in this website, Kalimantan shared with Borneo, Papua shared with New Guinea, Sumatra, Java and Sulawesi. It's 5,000km of unfathomable diversity passing over the equator between the Indian and Pacific Oceans, with hundreds of different cultures, ethnicities and languages. From tree-dwelling orangutans in the dense jungle and sublime, unspoiled islets, to the glamorous shopping malls of Jakarta and the mesmerising sounds of gamelan music – Indonesia is a whole world in itself, and a never-ending journey of fascination, discovery and delight.
Topography & Climate
Indonesia is formed of thousands of volcanic islands and islets, both active and extinct. It has a tropical climate, hot across the coastal plains and mountainous inland, where the temperature remains warm even in higher areas. High levels of humidity bring in regular downpours, particularly to the north and west. The seasons can be mainly categorised by wet, December-March, and dry June-September. Between September and December is the most likely time for Typhoons, but these vary greatly both in strength and quantity from year to year. The topography, too, varies by region. With some islands consisting mostly of lowland plains and gently sloping highlands, while the Puncak Jaya – the highest peak located on the island of New Guinea – reaches over 16,000ft.
Livingstone's Travel World – Unique destination tours and travel experiences:

GENERAL INFORMATION
Indonesia may be one country by name, but each of its thousands of inhabited islands are unique by nature. From the spiritual Hindus that lay Canang Sari on the streets of Bali, to the Muslim Sasak tribes of neighbouring Lombok. The culture changes swiftly, and often, significantly from island to island, and even region to region. The modern glitz of Jakarta, to the east of Java, is an overt contrast to the tradition and protected customs of Yogyakarta, which sits in the heart of the same island. As well as being the 4th most populous country in the world, and one of the most diverse in human culture, Indonesia is home to some unique species of wildlife; including pygmy elephants, Sumatran tigers and rhinos, tree kangaroos and of course, the Komodo dragon. All of which find a home, somewhere along Indonesia's spectacular landscape. From pink beaches to soaring volcanic peaks, waterfalls hidden among dense forest and otherworldly crater lakes – Indonesia is an ever changing adventure from start to finish.

ACCOMMODATION
The choice of accommodation around the beach resorts is vast and most can be described as "budget accommodation", which is very similar to that found in Bali. In consequence, those we have selected in the list below, which includes any that we feature in our holiday tour itinerary, are a mix of first class hotels and luxury hotels. Although they are consistently reviewed by us, we are always happy discuss the individual merits of each during the booking process and to receive comment from those who have recently stayed at a particular property. Please be aware that we do not make "hotel" bookings on a stand-alone basis, we only book them as part of a travel package, or as an addition to a booking which enables us to use the best rates available at the time.
The Oberoi Lombok | Hotel Tugu Lombok | Sheraton Senggigi Beach Resort | Novotel Lombok Resort and Villas | Qunci Villas | Katamaran Hotel & Resort | Pool Villa Club Senggigi BeachLombok | The Chandi Boutique Resort
Mahamaya, Gili Meno
'Mahamaya' means ultimate paradise and that's exactly what you'll find at this gorgeous, chic eco-friendly resort on the west coast of the idyllic island of Gili Meno. This tranquil, luxury resort with beach front Villas and pool view Suites with king-size beds, soft furnishings and luxurious bathrooms overlook beautiful white coral sands. At the heart of the resort is a stylish restaurant and bar and gusts can watch executive chef Hamzar create mouth-wateringly irresistible dishes in his open kitchen from your table. This is currently the highest quality resort on Gili Meno by a mile.
Kokomo Resort, Gili Gede
This luxury resort located on the island of Gili Gede just off the south-west coast of Lombok and should not be confused with the Gili Islands group of the same name that is close to the north-west coast of Lombok. Gede is still very much a desert island, and whilst there are a number of "budget" hotel options, this luxury resort of Kokomo Gedereally does stand out. Theresort hotel with fantastic spacious rooms and villas right on the sea front is fully serviced with a fantastic restaurant, swimming pool, tennis court, spa, and water sport facilities.

WEDDINGS & HONEYMOONS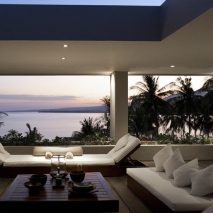 THE LOMBOK LODGE is located on the north-west coast of Lombok on a white sand beach. This 5 star luxury boutique beachfront resort hotel was designed by Italian architect Vittorio Simoni in a contemporary, Asian style and furnished as a boutique hotel. There is a gourmet restaurant, a cocktail bar, a small spa with two treatment rooms and beauty salon, lounges in the lobby and at the beachside, a swimming pool, which at night, when tables are laid out around the pool provide a romantic dinner setting
The nine lodge suites in varying sizes overlooking the bay are in grey and cream tones, with luxurious bathrooms, outside showers and Hermes toiletries. All are equipped with smart modern accessories including iPad, Apple TV and Bose Sound dock.
The Lombok Lodge resort is situated in very scenic location with great views of Lombok's volcanic peak, Mount Rinjanihas and the picturesque Gili Islands that can be reached by boat from the resorts private boat jetty that offer water sport activities. Babysitting by hotel staff can also be arranged if required.

DISCOVERY TOUR
Lombok – Bali's eastern next-door-neighbour – is a spectacle of natural beauty, dramatised by the majestic Gunung Rinjani – the second highest volcano in Indonesia. Its slopes are blessed with lush green forest, hidden waterfalls and steaming hot springs, and its crater cradles the magnificent sapphire waters of Segara Anak Lake. To the south, secluded bays, blushed coral reefs and crystal waters make for an irresistibly exotic coastline, while to the northeast; the unspoiled sands of the Gili Islands are within easy reach. Lombok, is an idyllic paradise, with an edge of rugged beauty that comes from its volcanic origin, and its intriguing, historical landmarks. In the villages, Sasak tribes still practice ancient traditions and masterful women weave vibrant, luxurious textiles. Come evening, the unimaginably beautiful sunset descends darkness on this small, many-splendoured island.
Komodo, is a blissful haven nestled between east and west Nusa Tenggara. Part of Komodo National Park, its uniquely stunning landscape is home to the formidable yet fascinating Komodo Dragon. Dusty volcanic hills and undisturbed savannah's create a sense of isolation. Though during the wet season, the seemingly barren hills are nourished by rainfall, turning them an intense shade of green. It has an incredible and incomparable marine life, too. Along the south coast, pastel-pink sands are contrasted with serene, turquoise waters, creating a perfectly pretty natural wonder. Traditional fishing villages give this picturesque island a charming edge of authenticity, with rickety stilted huts hovering above the pristine waters.
Komodo is a place for slow-paced adventure, where local life should be embraced but accommodation is very basic and we recommend that a visit to the island to see the world largest lizard, the Komodo Dragon, which often collect around the Rangers Centre on the island is by way of a planned motor boat excursion from Flores island which is accessible by air. Details of these travel arrangements linked to an Indonesian holiday tour are available on request at 020 7II8 2110 or by email.

AMAZING ISLANDS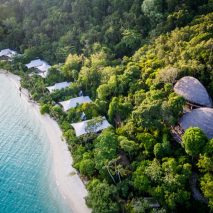 BAWAH ISLAND in the South China Sea opened its doors to discerning travellers in 2017. Part of a group of five islands that is made up of thirteen pristine white sand beaches and three lagoons with water so clear from above you can see the white sand and coral at the bottom of the lagoon as well as the reef fish. The Bawah Island lagoon is surrounded by the other islands and when the tide is low it appears they are connected by sandbars and reefs.
Covered in a lush jungle canopy and designed to integrate people with nature this eco-resort is committed to environmental and ocean conservation. The accommodation is a mix of villa suites, and bungalows, there are 21 beachfront suites, 3 garden suites and 11 overwater bungalows, all limited to two-person occupancy.
Getting to this untouched five island paradise some 150 nautical miles from Singapore, takes just over 3 hours, but it's an exciting journey. After leaving Singapore airport or hotel at 7:00 by luxury car guests are met at Tanah Merah ferry terminal by a member of the Bawah Island team and taken on a short ferry ride to Batam in Indonesia, with snacks and cold drinks served on route. On arrival, guests are fast tracked through immigration to a private lounge at Batam airport for the 70-minute seaplane flight into Bawah Island landing on its lagoon right in front of the beachside villa suites.
The variable seasonal tariffs include return Singapore transfers, unpacking service, all laundry, satellite Wi-Fi, daily breakfast, lunch and la carte dinners, soft drinks, use of the wellness centre and surface water sports. Extra charges only apply to alcoholic beverages, diving and purchases from the island boutique. The return transfer is by the same route and method of transport in reverse, leaving Bawah Island at 13:55 and arriving in Singapore at 17:10.

GOLF HOLIDAY
Sire Beach Golf Club, formerly Lombok Golf Kosaido Country Club was founded in 2001, is a Par 72, 6,380 yard long course located in the northwest region of Lombok Island. Designed by Peter Thompson, Michael Wolveridge and Perret every consideration has been given to its scenic location, the natural habitat and the natural contours of the land. This parkland style championship golf course offers a unique challenge and world-class experience for golfers of all standards.
GEC Rinjani Golf & Resort, located near Mataram the capital of Lombok, appears to be a public golf course offering accommodation. Described an 18-Hole international standard golf course using Tifgorf Bermuda grass with Himekorai grass greens it also provides pro-line golf club and shoe rental.