Bali, Indonesia

Bali, is a small Indonesian island with pristine sands, crystal-clear waters, lush jungles and magnificent ancient Hindu temples that mark the religious Balinese culture. Its proximity to the equator means a year-round tropical climate, and we recommend visiting during the considered dry season which runs from April to mid-October.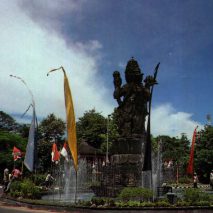 Bali Discovery Tours
Livingstone's World of Tours – Island of the Gods is a 15-day Tour will leave you in awe. Bali offers far more than just pristine sands; there are volcanic mountains, acres of unspoilt jungle, four impressive lakes and more than sixty animal species. Accompanied by an English-speaking private tour guide there are visits to Bali's most notable places of interest before a final stop at a wonderful beach location…
Bali is an island of culture, of which Hinduism plays an important part reflected by the colourful Canang Sari offerings decorating many villages. The stunning landscape is scattered with numerous temples, shrines and palaces, many centuries old and each is unique in its architecture.  Mountains run west to East through the centre of Bali, with the southern slopes forming habitable plains and consequently, the hub of Balinese culture.
Some of the volcanic peaks – including the highest, Mount Agung, at 3,031m – are still active, while many now stand barren. Four lakes reside in the highlands, including the impressive Lake Batur covering 1,605 hectares. In addition to the Balinese traditions, ancient and natural wonders there are surfing, diving, yoga retreats, and designer shops. When the sun sets, serene days turn to lively evenings with busy bars and a vibrant clubbing scene, this is a small island with a big heart.
UBUD
This uplands village is a centre of tradition and home to one of Bali's many spectacular rice paddies. The Art Village is acolourful showcase of traditional Balinese arts and crafts. Its bustling lanes earned their place in the Hollywood hall of fame when the market was used for filming in the rom-com classic Eat Pray Love.
Nearby is  the fascinating is Goa Gajah or 'Elephant Cave' carved into a rock-face, the open mouth of a demon marks the entrance of this spiritual temple, inside you will find bathing pools, a meditation cave, fountains and rock-wall carvings.
TEGENUNGAN WATERFALL
Set among the lush green panoramas of the Balinese jungle, this roaring waterfall is a spectacular example of Bali's scenery. The rushing fall emerges from the dense foliage toward its rocky descent; the drama ends in a natural plunge pool where you can enjoy a refreshing dip. 
MUNDUK BULELENG
Possibly Balinese countryside at its best. Waterfalls, lakes, and sunsets that money can't buy are all among Munduk's best assets. Not to mention the rice fields and coffee plantations. The perfect place for lovers of nature and coffee.
TANAH LOT TEMPLE
Tanah Lot's popularity has as much to do with its history as its unique setting. Part of the seven sea temples in Bali, Tanah Lot is built on a rocky outcrop, surrounding by the crashing waves of the Indian Ocean. An important site of pilgrimage for Hindu's, Tanah Lot has now also become a popular destination for tourists, enticed by its ocean setting and notorious sunsets.
LAKE BERATAN & PURA ULUN DANU
Lake Beratan or 'Danau Beratan' is a vast lake in the Bedugul region of Bali. The lake sits around 1,239m above sea level, and has a breathtaking backdrop of forested hills. At the water's edge is Pura Ulun Danu, one of Bali's most important temples. Its three tiered structures are dedicated to Hindu Gods, while the temple as a whole is dedicated to Dewi Danu, the godess of the lake.
PEMUTERAN
Amazingly, Pemuteran is one of the quietest areas of Bali. Situated far, far away on the northwest of the island, this coastal village has masterfully escaped the strains of mass tourism. Most visitors will be making a beeline Pemuteran Bay, where calm and shallow coral reefs offer unrivalled snorkeling and diving opportunities. Otherwise, it's simply about enjoying the surrounds of rugged mountains and emerald rice paddies, or kicking back on a beautiful beach. Pemuteran is Bali at its most relaxed.
RICE TERRACE AT MAYONG VILLAGE, BANJAR HOT SPRINGS
Mayong Village seems to encompass all of the natural beauty that Bali has to offer, into one wonderfully green region. From rice fields to waterfalls and sunrises worth waking up for, Mayong Village thrives off of agricultural and Hindu tradition. Just a stone's throw from Mayong are the Banjar Hot Springs. A series of pools constructed around a hot water spring source, where you bathe, heal and relax among some of Bali's lush greenery.
PURA PULAKI, THE MONKEY TEMPLE
Pura Pulaki is another of Bali's most important temples. Its coastal location, where the mountains meet the sea, is of religious significance, and the temple is thought to date back to prehistoric times. Fondly known as the Monkey Temple, its nickname alludes to its mischievous inhabitants. 
CANDIDASA
Candidasa is a wonderfully popular coastal village on the east coast of Bali, developed with stylish beachside hotels and surrounded by some of Bali's best attractions. Its showpiece is undoubtedly the beautiful lotus lagoon in the centre of town; arrive at Candidasa in the morning and watch the water lilies bloom.
KINTAMANI
Kintamani is a village on the edge of the Gunung Batur region. It sits on the rim of the vast Batur crater, with breathtaking panoramas of Mount Batur and its serene, crescent-shaped crater lake. The area of Kintamani encompasses a number of other villages, boasting beautiful sunrises, impressive mountain views and Balinese traditions.
BESAKIH TEMPLE
Often referred to as Bali's 'Mother Temple', Besakih Temple sits on the slopes of Mount Agung. Pura Besakih is more than just a temple, it is an entire complex located in its namesake village, comprising some 86 temples in total. Its monumental size and high location grant it great significance among Hindu worshippers, who are greeted with spectacular views of the Balinese countryside on arrival.
GOA LAWAH (BATS CAVE)
Goa Lawah is an important Balinese temple. And is perhaps one of the most picturesque temples on the island. The temple is located by the beach, and is brimming with history, legend, and bats; Goa Lawah is built around a cave opening that is home to thousands of nectar bats; hence its name, which translates literally to 'Bat Cave'.
TIRTA GANGGA A ROYAL WATER GARDEN
Tirta Gangga lies on the south-eastern slop of Mount Agung. It is a former royal palace with notorious water gardens. The extravagant gardens cover 1.2 hectares, with pools, ponds and fountains surrounded by pristine, lavishly adorned lawns.
PURI AGUNG KARANGASEM
Also known as the Karangasem Palace, Puri Agung Karangasem offers a window to the days when Bali was ruled by the Rajas. Grand buildings, courtyards and gardens are open to roam, their unique blend of Balinese, European and Chinese influence sparking interest in historians and architecture enthusiasts alike.
TAMAN UJUNG
Taman Ujung translates literally to Water Palace. It is the sister site of the above mentioned Tirta Gangga, located in the village of Seraya with a magnificent backdrop of Mount Agung and the Indian Ocean. The ten-hectare complex is simply stunning; made up of large pools surrounded by numerous and varying historical structures, many of which were saved or restored following two natural disasters. The perfect attraction for garden lovers and serenity seekers.
SANUR
Sanur is a seaside paradise on Bali's southeast coast. The shallow waters are warm and inviting, fishing boats paint a rainbow of colour onto the sand, and a 10th century temple is crafted from coral. The pristine gardens of resort hotels line the golden beach, while the main strip, Jl Danau Tamblingan, offers a series of bars, shops and restaurants amid Balinese foliage.
SEMINYAK
Seminyak is a popular beach resort area in Bali, boasting a plethora of luxury hotels and villas, fronting a slender strip of golden sand that separates them from the turquoise ocean. It is by far one of the most modernised areas of Bali, with luxury boutiques, stylish clubs and fine dining opportunities. The atmosphere is something of a lively paradise, where the days don't end after the beautiful sunsets.
BUKIT PENINSULA
The Bukit Peninsula encompasses the island's southernmost tip, which juts out from the rest of the island below Denpasar and Kuta. Its position makes it one of the hottest regions in Bali, resulting in a dry, arid landscape unique to the rest of the island. That said, its rocky coves, cliff hanging Uluwatu temple and rolling surf still collectively entice visitors year after year.
ULUWATU TEMPLE
Perched on the far western edge of the Bukit Peninsula, surrounded by a small forest, is Uluwatu Temple. The views, at some 70 meters above sea level, are magnificent. And nearby, traditional dance performances take place daily. With endless panoramas of the Indian Ocean, it is perhaps the perfect place to witness a Balinese sunset.
NUSA DUA
Nusa Dua sits on the far eastern edge of the Bukit Peninsula. Its name means 'two islands', which actually refers to two small headlands that carry the region's temples. Nusa Dua is more widely known for its luxury five-star resorts, all set along a picture-perfect seafront of golden sands, rustling palms and azure waters. Its developed yet idyllic, the ultimate place for those seeking a blend of culture and pure luxury.
CANANG SARI
Canang Sari is a daily offering made by Balinese Hindus to the gods, and forms important part of the Balinese religious culture that unites the entire island. Canang Sari are baskets made from palm leaves, filled with flowers and gifts and topped with incense, and these beautiful offerings can be seen dotted around temples, beaches, homes and shops.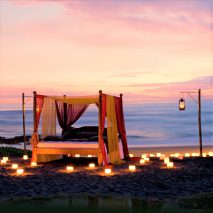 Weddings and Honeymoons
Very little can compare with getting married in romantic surroundings and Bali provides a wonderful choice for those wanting a wedding with a difference or having a really special honeymoon. The hotels and resorts listed below are just a sample of those we consider as being ideal for a Destination Wedding and or Honeymoon. Should you require more information on these or others featured in our accommodation section or something similar at another location, please call us on 020 7118 2110…
As Bali tourismcontinues to expandnew hotels and resorts are being opened,  with the assistance of our local travel partner, we regularly review those, and others,  we consider most suitable for a Destination Wedding and or Honeymoon. In addition to the Legian  featured below, we highly recommend the St. Regis Bali Resort, Nusa Dua, the Bali Oberoi, Seminyak,the Mulia,  Villas & Resort, Nusa Dua and the  Bvlgari Resort Bali, Uluwatu.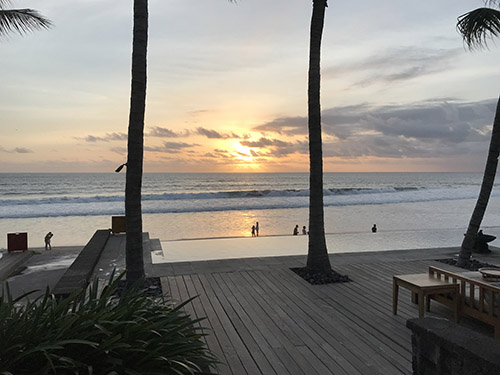 THE LEGIAN BALI, SEMINYAK The Legian Bail is set against a backdrop of enduring modern architecture, swaying coconut palms and stunning sunsets along Seminyak Beach. This all-suite beachfront resort hotel incorporates elegant understated Balinese design is adjacent to the island's chicest shops and Asia's most stylish nightlife, every corner of the resort exudes tropical elegance, class and style.
The 67-Suites and the luxurious 3-Bedroomed Beach House were designed by Jaya Ibrahim a ground-breaking Indonesian designer is spread along Seminyak's iconic beachfront. The larger One Bedroom Deluxe Suites, Two Bedroom Suites and the luxurious Specialty Suites have generous multiple balconies with unobstructed sunset views. The Beach House, Bali's ultimate beachfront address combines as a unique Wedding venue and the resort offers honeymooners perfect seclusion.
The Legian Bali's exceptional location lends itself to almost any kind of wedding from intimate affairs to large family groups. Beach House can host a private wedding party for 60-80, whereas Eden with its sea-view Sunset Garden is suitable for up to 100 guests. Wedding ceremony can start on the 'Stairway to Heaven' to the entrancing chords of our three-piece Balinese Gamelan orchestra.
Across the street from the resort is The Club at The Legian Bali.  Designed in a sleek modern style yet embodying all the architectural detail for which Bali is so famous it has a private Club lounge and 28-metre lap pool. This Seminyak private hideaway is perfect for a Honeymoon with every amenity imaginable has eleven 1-bedroom villas and three 2-bedroom villas all set generously apart amidst lush tropical gardens with private pools and a personal butler service.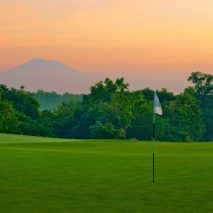 Golf Holidays & Tours
There are many things that make Bali a major tourist destination, its warm climate, spectacular scenery, pristine beaches, luxury hotels, private villas, rich culture and friendly people. Therefore it's no surprise to find that it has established some amazing, including unusually two Par 3, golf courses to be enjoyed by golf loving holidaymakers. Livingstones World of Golf has created 2 x 9-Day Bali Golf Holidays that incorporate some of these wonderful golf courses…
Information on the golf courses that Livingstones World of Golf feature in the Bali Golf Holidays are shown below, most can be combined to make up tailor-made golf tour, or  added to one the tour itineraries as a golfing  holiday extension.
Handara Golf & Resort, is situated in Bali's lush highlands and nestled in the crater of a volcano in the Bedugul Mountains is around a 2 hr. drive from Bali's international airport, is described as "the one-stop mountain golf and nature experience like no other". The 18 Hole, 6.983 yds.  long, Par 73 course founded in 1974 and designed by Peter Thompson and Michael Wolveridge was totally refurbished in 2015  it will simply astonish you. Rated in the Top 50 of the World's Golf Courses it has all the amenities one would expect of a championship golf course with deluxe hotel rooms and suites.
Bali National Golf Club,   located at Nusa Dua on the southern tip of Bali is a short drive from the beach resorts of Kuta and Seminyak was founded in 1991.  The 18 Hole, 7166 yds. long, Par 72 golf course designed by Nelson, Haworth golf course architects reopened in 2013, after undergoing a major refurbishment. The golf club with bar and restaurant and first class amenities  also has  7 luxurious villas overlooking the 17th 18th holes which can accommodate up to  6 persons make this award winning  Best of Golf resort Indonesia 2017  one of the very best in Bali.
New Kuta Golf, situated in the Pecatu Indah Resort on the Bukit Peninsula perched on a limestone cliff overlooking the Dreamland and Balangan beaches in Southern of Bali it's one of the finest golf courses in the region. The 18 Hole, 7515 yds. long, Par 72 championship standard golf course was founded in 2007 was the first links style course in Indonesia. Designed by Ronald Fream of Golfplan it has a spacious Clubhouse adjacent to the 9th& 18th greens, a restaurant, a Spa and a driving range;  make this challenging  course a memorable place to play golf.
Bali Beach Golf Course, is located within the Grand Inna Bali Beach Hotel Resort in the wonderful seaside resort of Sanur. The 9 Hole, 3560 yds. Long, Par 36 golf course made up of seven Par 4s, one Par 5, and one Par 3  with its  lake hazards is surrounded by tall mature trees, flowering hibiscus plants and shady pines was designed by Rajakulasingham.  The golf course with   amenities that include a driving range, stylish clubhouse, bar and fine restaurants offers a variety of golfing challenges,  and is particularly ideal for those golfers who need a break from the beach.
Bukit Pandawa Golf & Country Club, which opened in October 2016, isthe newest on Bali Island. Located   on a limestone cliff-top overlooking the surf breaks of the Bukit Peninsula, the 18 Hole, and Par 54 course with championship Par 3 holes is the first of its type in Indonesia. Designed by Bob Moore of IMP golf Design Group and managed by Accor Hotels, the golf course with spectacular views of the Indai Ocean has a clubhouse inspired by the grand temples for which Bali is renowned and is the centerpiece of an expansive development that will eventually include several 5-Star hotels.
Nirwana Bali Golf Club,   with dramatic ocean views and lush Balinese landscapes was designed by the legendary golfer Greg Norman. This challenging 18 Hole golf course is currently closed and it would appear now to be part of the Pan Pacific Hotels group and we await events!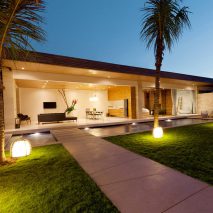 Villa & Holiday Rentals
Villa and holiday rentals in Bali have been established for many years, we are able to offer many of the very best of private luxury Bali villas. Carefully selected for style and ambience, all have pools, and many are fully staffed with a private chef, housekeepers, gardeners, pool attendants and security guards. The majority of our Villas are located in the most sought after locations and will meet the expectations of our discerning clientele, for details and availability call 020 7118 2110…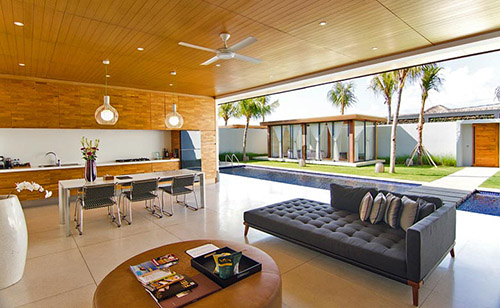 On the private unpretentious One Eleven luxury villa resort, located on Bali's stylish and bustling Seminyak, is an amazing 3-Bedroomed rooftop apartment The PENTHOUSE – with a private pool and butler service.
The Penthouse, is an exclusive contemporary designed 3-Bedroom rooftop apartment set above the One Eleven's private sanctuary with its own private outdoor swimming pool. It has a chic lounge area, a generous dining space and a kitchen with full cooking facilities. The 3 beautiful bedrooms and stunning bathrooms with the comforts of a "Resort Experience" make this perfect for families and friends, with a maximum Occupancy of 6 Adults and 3 Children over 12 years of age.
Penthouse Amenities include:50 sqm. Living Area | Nespresso Coffee & TWG Tea Selection  | 42 Inch Sony LCD TV | Yamaha Restio Audio System | DVD Player | Free Wi-Fi. Resort Facilities & Included Services:One time airport pick up & drop off | Cold towel and water upon arrival | Shuttle services to Seminyak area upon request | One Eleven signature mocktail upon arrival  | Free Wi-Fi throughout resort | Daily in-villa breakfast for 2 persons | Daily mineral water   | Bed Turn-down service | Daily newspapers & magazines | Extensive Male & Female amenities exclusively developed for One Eleven   | Daily fresh fruits & flowers | Butler on call 24 hours | Access to the  reservation only Japanese Shiro Sushi / Sake Bar.
This oasis of peace also has nine 1-Bedroom luxury villas, with 2 Adult occupancy. All have private pools and a butler service. The adult only resort includes a luxurious Spa offering an extensiverange oftreatments and spa experiences, some in the privacy of your own spa gazebo. Its Japanese style Shiro Sushi and Sake Bar, open from 6-11 pm Monday to Saturday, is an outstanding epicurean experience that adds to the ambiance of this stand out villa-only resort. The luxury villas and the Penthouse are all bookable through Livingstone's Travel World.
ACCOMMODATION
The choice of accommodation in Bali particularly around the beach resorts is vast; in consequence, those we have chosen and recommending in the list belowhave been very carefully selected in addition to those that we use and are featured in our holiday tour itinerary, but its's not a definitive list.In keeping with the nature of our business they can all be considered as luxury hotels and resorts, many are in spectacular locations and most embrace the ambiance of Bali. Although they are consistently reviewedby us, we are always happy discuss the individual merits of each during the booking process and toreceive comment from those who have recently stayed at a particular property. Please be aware that we do not make "hotel" bookings on a stand-alone basis, we only book them as part of a travel package, or as an addition to a booking which enables us to use the best rates available at the time.
Amandari, Ubud | Four Seasons Resort Bali at Sayan, Ubud | COMO Shambhala Estate, Ubud | The Chedi Club Tanah Gajah, Ubud | Alaya Resort Ubud | Mandapa Ritz-Carlton Reserve,  Ubud | Hoshinoya Bali, Ubud | Alila Villas, Uluwatu | Soori Bali, Kerambitan | Samabe Bali Suites & Villas, Nusa Dua | Sanak Retreat, Bulelen | Kinaara Resort & Spa, Pemuteran | Rama Candidasa Resort & Spa | Puri Santrian Hotel, Sanur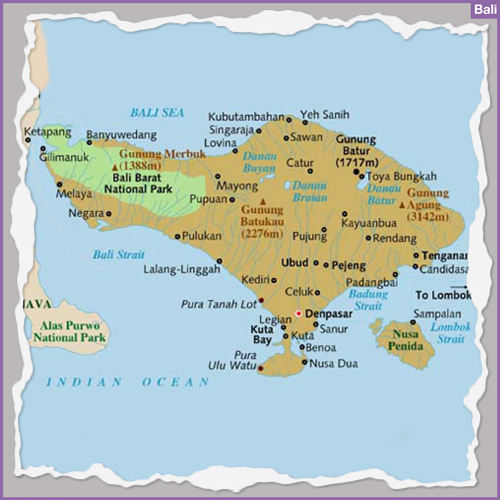 Bali, is a small Indonesian island with a lot to offer. Ancient Hindu temples are an assured nod to the religious Balinese culture, their magnificent architecture adorning the landscape along with colourful Canang Sari offerings. Bali's beaches are more than just pristine sands, presenting many incredible surf spots and beautiful marine life.
The central mountains house acres of unspoiled jungle, four impressive lakes and more than sixty animal species. The town of Ubud in the uplands is a centre of tradition and home to one of Bali's many spectacular rice paddies. As the sun sets, serene days turn to lively evenings with busy bars and a vibrant clubbing scene.
Topography & Climate
Bali's close proximity to the equator means a year-round tropical climate. Warm temperatures and humidity are constant, with two distinctive seasons; a dry season from April to September and a rainy season from October to March. Mountains run West to East through the centre of Bali, with the southern slopes forming habitable plains. Some of the volcanic peaks – including the highest, Mount Agung, at 3,031m – are still active, while many stand barren. Four lakes reside in the highlands, including the impressive Lake Batur covering 1,605 hectares.