SRI LANKA, INDIAN OCEAN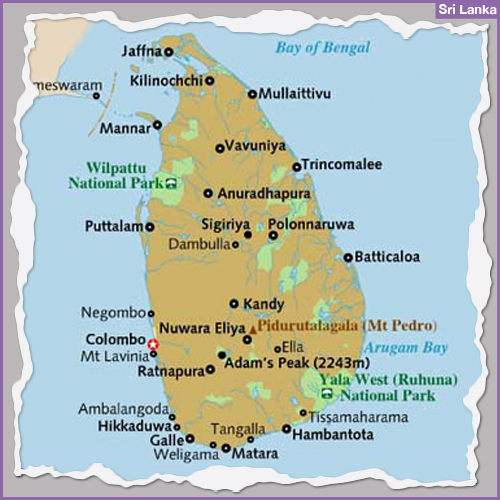 Sri Lanka, an island nation and a jewel in the Indian Ocean.Its lush vegetation, tropical climate and outstanding scenery have made it a truly desirable location; in 2013, Lonely Planet rated it the "hottest travel destination on the planet" and again for 2019 – and they didn't mean the weather!
There are many reasons to visit this small yet diverse country; the indigenous cultures, timeless ruins and colonial history is fascinating, while its famous tea, fabulous food, abundance of wildlife, welcoming people, endless beaches and rolling surf have made Sri Lanka an increasingly popular tourist destination.
Topography & Climate
Sri Lanka is separated from India by the Palk Strait; in fact, it is almost linked by a mostly underwater atoll called Adam's Bridge. Lying just north of the equator, around 30% of the island is covered by forest, of which around 10% is national parks. Tropical rainforests, soaring cliffs, lush plains, golden beaches and a tropical climate (with a cooling sea breeze) make Sri Lanka the perfect backdrop for any holiday. The monsoon season in the north lasts from October to January and in the south, from May to July.
In addition to SRI LANKA bespoke travel arrangements – Livingstone's Travel World has a selection of unique destination holiday and tour itineraries that offer amazing travel experiences. Details of these can be found amongst the information and links below.

GENERAL INFORMATION
Sri Lanka has an incredible diversity, even down to its cuisine which draws on many historical, cultural and other factors. From the Dutch colonialists who once ruled Sri Lanka and brought their own cuisines with them to foreign traders who brought new food items and the cuisine of Southern India, these have all helped to shape Sri Lankan cuisine of today. Another major influence has been Sri Lanka's history as a Spice Producer and trading post over several centuries. It is truly a food lover's delight.
One cannot mention Sri Lanka, or Ceylon as it was, without thinking of tea. In fact the scenic town of Nuwara Eliya, centre of the tea growing industry is known as 'Little England' due to its association with Britain's favourite beverage and is a wonderful example of Sri Lanka's colonial history.
Rail Travel in Sri Lanka is often at languid pace and reminds us of the nostalgic world of 'Old Ceylon'. The train ride from Kandy and up into the tea plantations of Sri Lanka's hill country is truly wonderful. The classic 8 hour Rail Journey from Kandy to Badulla via Nuwara Eliya easily the best train ride in Sri Lanka. Rising slowly from the subtropical spice and banana trees to pine and eucalyptus forest, and after Hatton, the scenery is more spectacular, passing St Clair and Devon waterfalls, Adam's Peak in the distance, and Ella before arriving in Badulla.

ACCOMMODATION
The list below is of carefully selected character, boutique, luxury hotels, retreats and resorts that we recommend, in addition to those that we use and are featured in our holiday tour itineraries. All are reviewed for quality and service regularly and the websites links should be helpful but we will happily discuss the individual merits of each during the booking process. Please be aware that we do not make "hotel" bookings on a stand-alone basis, we only book them as part of a travel package, or as an addition to a booking which enables us to use the best rates available at the time.
Uga Bay Hotel, Passekudah  | Jetwing Hotel at Jaffna | Taylors Hill, Kandy | Earls Regency Hotel, Kandy | Theva Residency, Hantana, Kandy  | The Cinnamon Citadel Hotel, Kandy | Amaya Hills Resort at Kandy | Hunas Fall By Amaya, Kandy |Langdale By Amaya, Nuwar Eliya | Grand Hotel at Nuwara Eliya | Ceylon Tea Trails, Hatton  |Araliya Green Hills Hotel at Nuwara Eliya | Palm Garden Village Hotel at Anuradhapura | Ulagalla Resort, Anuradhapura  | Rock Forest Garden Resort at Anuradhapura | Cinnamon Grand Hotel at Colombo | Galle Face Hotel at Colombo  | Heritance Hotel at Kandalama, Dambulla | Aliya Resort & Spa at Sigiriya | Blue Water Hotel & Spa, Wadduwa | Turyaa Hotel, Kalutara  |  Mandara Resort at Mirissa |Hotel Chandrika at Tissamaharama  | The Galle Fort Hotel, Galle | Shangri-La Golf & Spa Hambantota | Cinnamon Lodge, Habarana | Cinnamon Wild, Yala

WEDDINGS & HONEYMOON
The hotels and resorts listed below we recommend as being ideal for a Honeymoon, they can be booked for short or long stays or combined with another hotel to create that dream twin-centre honeymoon. Several hotels also offer outstanding Destination Wedding opportunities and could be featured in our Wedding Planner section from time to time.
The Fortress Resort & Spa, Galle | Anantara  Resort Kalutara | Mount Lavinia Hotel at Colombo | Jetwing Beach Hotel at Negombo | Cape Weligama | Saman Villas, Bentota | Mahaweli Reach Hotel, Kandy | Uga Jungle Beach Hotel,Trincomalee | Jetwing Lighthouse, Galle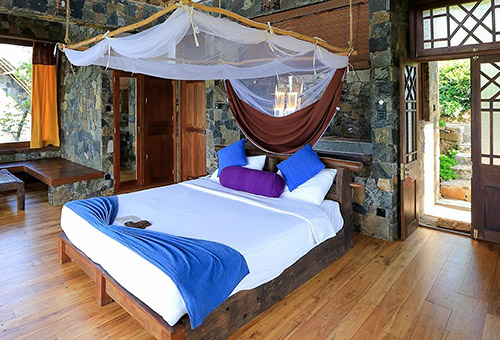 98 ACRES is a premier luxury boutique hotel resort and spa that particularly stands out being somewhat different to many othersand could easily be combined with a recommended beach hotel to form an amazing twin-centre honeymoon offering very different experiences.
This luxury hideaway is located close to Ella on a scenic ninety-eight acre tea plantation, in an area of outstanding natural beauty overlooking Adams Peak. 98 Acres was built around a concept that combines pure luxury with an eco-friendly environment and is made up of beautiful chalets all equipped with most modern amenities. Each of the 25 chalet type rooms have polished timber floors, elegant furniture, its own balcony, private living area, bathrooms with oversized bathtubs, a separate traditional stone shower and a unique wash basin & tap made of stone.
The Resort facilities include an adult and child pool, a stylish Spa, gymnasium and a games room. Its Restaurant 98, built on a hillock with views that stretch across the horizon, offers a wide variety of dishes that include Sri Lankan, Continental and Far Eastern delicacies. The fascinating Bar 98, designed and constructed using recycled timber from old railway sleepers, carries an extensive range of beers, wines and spirits.

Spice Island Cultural Tours, we currently offer two tour itineraries, a 13-Day Tour and a spectacular 21-Day Grand Tour both of which end at a luxury beach resort. The carefully planned tours with private transportation and experienced English speaking driver guide services provide a wonderful insight into the island culture and rich and varied history. They include visits to the most notable towns, cities and places, timeless ruins of ancient indigenous civilisations, remains of colonial rule there is something of interest at every turn, and both itineraries provide clients with considerable bespoke opportunities.
Jaffna, the northern capital of Sri Lanka is the centre of Sri Lankan Tamil culture, the streets are filled with crowds of cyclists and the distinctive Tamil music blare from cafés and shops is quite different to anywhere else in Sri Lanka. The town is said to be reminiscent of the Sinhalese south India as many streets are dotted with large Hindu temples, the Nallur Kandaswamy being the finest Hindu temple in Sri Lanka.
To the east of the town amongstthe beautifully shaded streets and colonial villas are a number of enormous churches as a large proportion of Jaffna Tamils are Christian. South of the town centre is vast star shaped Dutch Fort, built in 1792 it's the largest Dutch bastion in Asia. North of the town is the Jaffa peninsula with a cluster of miniature stupas at Kantharodai, the popular hot springs at Keerimalai and the Point Pedro Lighthouse that marks the northernmost point in Sri Lanka. To the West of the town in the shallow waters of Palk Strait are series of islands, the largest Kayts is home to the beautiful shell of St James Church, and the Dutch Urundi Fort. Nainativu Island is home to the Hindu, florid, Naga Pooshani Ambal Kovil shrine and the Nagadipa Vihara Buddhist temple where Buddha is believed to have appeared during the second of his three legendary visits to the island. Delft is the last of the islands accessible without your own boat. Flat and beautiful with low coral-stone walls, herds of wild ponies and a curious baobab tree, thought to have been brought to the island from central Africa by Portuguese sailors.
Anuradhapura, the first capital of ancient Sri Lanka, its stunning rock carvings, temples, giant stone pillars, landscaped pleasure gardens, vast irrigation lakes and places of religious worship are aplenty. A UNESCO World Heritage site, the spectacular Ruwanweli Seya Dagoba, the sacred BO-tree Sri Maha Bodhi which is one of the oldest trees in the world, the Aukana Buddha Statue, Mihintale Rock, Abhayagiri Stupa and Monastery and the "Isurumuniya Lovers" rock carvings have made this one of the world's major archaeological sites.
Mihintale, is a mountain peak near Anuradhapura it's believed by Sri Lankans to be the site of a meeting between the Buddhist monk Mahinda and King Devanampiya Tissa in 247 BC which inaugurated the presence of Buddhism in Sri Lanka. It's said King Devanampiya Tissa of Anuradhapura was hunting a stag on Mihintale Hill when he was approached by Mahinda, son of Ashoka the great Indian Buddhist emperor. Mahinda tested the king's wisdom and, considering him to be a worthy disciple, promptly converted the king on the spot. Mihintale village and temple complex with several religious monuments has since been associated with the earliest introduction of Buddhism to Sri Lanka is now a pilgrimage site. Each year, usually in June a great festival, the Poson Poya, is held at Mihintale on the Poson full-moon night.
Sigiriya, the magnificent rock fortress built in the 5th century A.D. This majestic Citadel in the sky was the refuge of King Kasyapa who murdered his father and stole the throne from his elder brother – the rightful heir to the throne. Kasyapa built his fortress on this 182 meter high rock to protect himself from his enemies. Sigiriya is world-renowned for its 'Mirror Wall', which consists of poems and paragraphs carved by some of the thousands of visitors who visited the rock many years ago and of course for its magnificent frescoes, similar to the Ajantha frescoes of India. Sigiriya is, in fact, the best-preserved city centre in Asia from the first millennium and has been named as a world heritage site.
Polonnaruwa, is Sri Lanka's second oldest kingdom with ancient Sinhala architecture combined with the South Indian architectural characteristics is what sets Polonnaruwa apart from Anuradhapura. Amongst its plethora of ruins and places of religious worship there are the famous Moonstones, the unique rock carvings found at the entrances or at the foot of stairways in temples, shrines, dagobas and very important buildings. Places to visit include the Gal Viharaya (Stone temple), Lankathilake Buddhist shrine, the Tivanka Image House and the Nissanka Latha Mandapaya.
Dambulla, a large town situated in the Matale District with its famed Royal Rock Temple is an iconic Sri Lankan image. This cave monastery, a sacred pilgrimage site for 22 centuries with its five sanctuaries, is the largest, best-preserved cave-temple complex in Sri Lanka. The Buddhist murals are a mixture of religious and worldly paintings are of particular importance, as are the 157 statues, which includes the 15 meter long sculpture of the dying Buddha. The Ibbankatuwa prehistoric burial site near the cave temple complex is the latest archaeological site of significant historical importance found in Dambulla, providing evidence of the presence of indigenous civilisations long before the arrival of Indian influence on the Island nation.
Kandy, the hill capital and last stronghold of Sinhala kings against the British Empire, Sri Lanka is steeped in tradition and architectural delights. It's the location of the most sacred of all Buddhist shrines – the temple of the tooth or The Dalada Maligawa, which holds the Sacred Tooth Relic of the Buddha, is surrounded by the charming Bogambara Lake, adding tranquility into the hearts and souls of the thousands of devotees that flock the city each day. Amongst its many outstanding attractions are the Royal Botanical Gardens and the Kandy Cultural Show which features around 12 different folk and traditional Sri Lankan dances. There is the "Salupliya" depicting several demons, "Thelme" vibrant expression of low country rhythm, Fire and Harvest, are performed by Kandy lake club dance troop accompanied by Ceremonial Drums and the Drum Orchestra.
Nuwara Eliya, (City of Lights) also known as "Little England" was the favourite hill station of the British, this scenic town is nestled in a valley more than 8200 feet above sea level, surrounded by misty mountain ranges covered in pine forests and tea plantations. Its salubrious climate is in stark contrast to the tropical climate experienced in other parts of the island. The mountains surrounding Nuwara Eliya are a carpet of tea bushes and the whole process of tea manufacturing, from green leaf to the fragrant contents of a packet of Ceylon Tea, can be watched at many of the tea factories in the area.
Badulla, in the Namunukula mountain range is one of Sri Lanka's oldest towns, at its heart is the ancient Buddhist temple of Muthiyangana Raja Maha Vihara , one of the sixteen sacred places in Sri Lanka, believed by Buddhists to have been visited by Gautama Buddha. Occupied briefly in 1630 by the Portuguese who sacked and burned the town became part of the British Empire in 1815. The end point of upcountry railway line built by the British it was an important social centre with pretty gardens, a clock tower, a racecourse, a cricket club and St Mark's Church, consecrated in 1857, built in memory of Major T W Rogers who died after being struck by lightning at Sherwood estate in Haputale, but vestiges of that era are now somewhat lost in the hustle and bustle of Sri Lankan life. Nearby places of interest are: the Dunhinda Falls, one of the most popular waterfalls of Sri Lanka, mentioned in several famous songs and works of literature, the Dhowa temple, a 2,000-year-old rock temple with unfinished Buddha statue carved into the surrounding rock and 16th century Bogoda Wooden Bridge, one of the oldest surviving wooden bridges in the country.
Kataragama, just north of Tissamaharama, Tissa is a temple complex that stands on one side of the Menik River and considered one of the holiest sites on the island being held sacred by Buddhists, Hindus and Muslims alike. The extensive collection of shrines and temples lies scattered around a beautiful area of wooded parkland. Pilgrims come all year round to worship at the shrine of the god Kataragama. The temples are particularly vibrant during the evening puja, when conch shells blow, drums beat and crowds of devotees arrive laden with trays of offerings to pay homage to the god Kataragama.
Tissamaharama, or Tissa a rural town near Yala National Park once the capital of the Sinhalese Kingdom of Ruhuna is home to a string of remarkable historic buildings. The ancient dagobas and beautiful tanks give Tissa, a certain distinction, compared with other towns of the southern coast. Notably and both were built around 200 BC by Kavantissa, a king of Ruhunu, there is the 55.8 metre high Tissa Dagoba, which lit up at night it stands majestically against the backdrop of the night sky and Tissa Wewa a magnificent man-made reservoir with its wonderful bird life that provides the scenic backdrop for the town.
Mulgirigalla, just north of Tangalla is Sri Lanka's finest southern ancient monument, with an array of beautifully decorated ancient cave temples carved out of the flanks of an enormous rock outcrop. The Rock of Mulkirigala with its seven cave temples consists of Reclined Buddha, Seated Buddha and Standing Buddha Images, paintings of Buddhas, Arhaths, Gods and Jataka Stories are situated on five terraced areas at different levels and are connected by paved granite paths and around 500 steps up to the Dagoba Terrace with wonderful views of the surrounding area.
Galle, is considered to be the most perfectly preserved colonial town in Sri Lanka. Divided into two parts, the new town where you'll find the bus and train stations; and the Galle Fort. The contrast between the two is very obvious. The Galle Fort enclosed by towering bastions is where you'll find the old Dutch town, now a Unesco World Heritage Site with traffic-free streets lined with villas, churches and other mementoes of the Dutch era are unavoidable. This unmissable destination is a town of great beauty, the historic Fort surrounded on three sides by the ocean with its old walls and streets and classic architecture are full of little boutique shops, cafes and hotels owned by local and foreign artists, writers, photographers, designers and poets.
Colombo, with its World Trade Centre is the commercial capital of Sri Lanka known as the 'the garden city of the East' back in the 19th century, the city still retains its colonial garden roots with its shady tree-lined boulevards, and grand old mansions, but there is far more than the historical, cultural and religious places of interest. This bustling city, with street hawkers in the noisy bazaars of the Pettah area has new hotels, department stores, a vibrant nightlife and an array of dining experiences.
Negombo, with its imposing churches and wayside Catholic shrines scattered about the town is close to Sri Lanka's international airport. A mix of land and water, the northern border is formed by the Ma Oya River, which joins the Indian Ocean. The Dutch built canal flows into the heart of the Negombo Town that provides an introduction to coastal Sri Lankan life, with its lively fish market, colourful wooden boats and old world colonial charm. Negombo's wide beach is the backdrop to the busy resort area and the Negombo lagoon with over 190 species of wildlife and birds in the mangroves is one of the most scenic landmarks.
Hikkaduwa, is a beach town located on the south-east coast of Sri Lanka 14 km from Galle. Described as a fun coastal town it was one of the first of Sri Lanka's beautiful beaches to be discovered by tourists during the 1960's. Flooded after a tsunami passed through on Boxing Day in 2004, the town has now recovered and its clear waters make it a perfect place to surf, snorkel and dive. The coral reef decorated with layers of multi coloured corals that runs along the coast off Hikkaduwa has created a large shallow lagoon with countless numbers of vibrantly coloured fish.Close by is a collection of small islets surrounded by beautiful coral formations which are home to species of colourful fish and large turtles. There are also more than four different shipwrecks for diving enthusiasts to explore along with dive shops offering PADI courses and equipment. In and around Hikkaduwa are many Buddist temaples which visitors are welcome to wander around, the most significant is Thotagamuwa Rajamaha Viharaya and there is also a giant standing Buddha presented by Japan after the tsunami. Other notable attractions are the inland lakes where hermit monks reside, the Kalla Bongo Lake Resortand the eco-gardens on Ratgama Lake, in the ecovillage there are wooden walkways through the mangroves where big monitor lizards are often seen.

Wild Trails of Sri Lanka, the12-Night wildlife tour itinerary, with tailor-made opportunities, offers some of the best wildlife viewing in Asia. Elephants, leopards, water buffalo, crocodiles, sloth bears, monkeys, deer and the literally hundreds of species of birds vie for attention amid the dramatic landscapes and outstanding National Parks, many including those to be visited are described below, make this a wildlife lovers paradise. These conservation areas have been more recently extended to an area around Dondra Head by the arrival of large numbers of whales, dolphins and porpoises. The sight of these wonderful creatureshas established the once small fishing village of Mirissaas the whale-watching capital of Sri Lanka.
Wilpattu National Park: The unique feature of this park is the existence of "Willus" (Natural lakes) – Natural, sand-rimmed water basins or depressions that fill with rainwater. Located in the Northwest coast lowland dry zone it covers 131, 693 hectares and ranges from 0 to 152 meters above sea level. Nearly sixty lakes (Willu) and tanks are found spread throughout Wilpattu. Wilpattu is the largest and one of the oldest National Parks in Sri Lanka.
The Minneriya National Park:  This area in the North Central Province was originally declared as a wildlife sanctuary to protect the catchment of wildlife of the surrounding area in 1938; and designated as a national park in August 1997. The renovated vast ancient Minneriya Tank built in 3 AD, the central feature of the Minneriya National Park, irrigates a large area of Polonnaruwa. Being in the elephant corridor linking Kaudulla and Wasgomuwa parks you to see herds of Elephants throughout the year. The period May to October sees the famous "Gathering of the wild elephants" – the largest known meeting place of Asian Elephants in the world and herds of up to 300 elephants are seen within a few square kilometers of the Minneriya Reservoir. Amongst the other species of mammals resident in the park are Leopards, Sloth Bear, Spotted Deer, Sambar Deer, Wild Buffalo, Wild Pig, Grey Langers, Purple-faced Leaf Monkey, Mongoose, Porcupine and Indian Pangolin. Other species recorded in the park are the Red-lipped Lizard, Mugger Crocodile, Water and Land Monitors and over 170 species of birds.
Yala National Park: The Yala National Park in southern Sri Lanka has the world's highest concentration of leopards. Much of the nature reserve is parkland, but it also includes jungle, beaches, freshwater lakes and rivers and scrubland. In addition to leopards, the Yala National Park is also home to substantial numbers of elephants, crocodile, wild boar, water buffalo, grey langurs and many more varieties of large animals. The park is also home to birds of prey such as the white-bellied sea eagles, waders, painted Storks, the Indian peafowl and the Sri Lanka jungle fowl. In the southeast, the Park is bounded by the sea and unspoiled natural beaches and sand dunes provide an absolutely beautiful environment.
Hortons Plains: The Horton Plains National Park in the central highlands of Sri Lanka, known as "Maha Eliya" in ancient times, is the highest plateau on the island. The cloud forests rich in endemic plants and animals that have adapted to the cooler climes (night-time temperatures can fall below zero). Birds such as the Sri Lankan whistling thrush and bush warbler are best seen here, as is the dwarf lizard which has evolved the ability to give birth to live young in order to avoid the problems of laying in such egg-chilling temperatures. Sambaris the most common animal in the plains but wild boars and leopards can also be seen. A mixture of highland forest and wet grassland, this is the only National Park in Sri Lanka where visitors are allowed to walk on their own on the designated tracks. Once you reach Horton plains you can visit the "Worlds End" which is a 4000 feet straight vertical drop and Bakers Falls noted for the tremendous noise created by water pounding the large rock formation at its foot.
Mirissa: This little village with its crescent shaped beach blanketed with coconut trees has one of the safest beaches along the southern coast. Once one of the quietest and most appealing beach hideaway' it has now found fame as the Whale-watching capital of Sri Lanka and whale and dolphin watching boats operating from the adjacent Mirissa Fisheries Harbour can be seen every day . Large numbers of cetaceans – whales, dolphins and porpoises are frequently spotted relatively close to the shore but one of the best places to see these magnificent creatures is Dondra Head, a narrow section of the continental shelf, 13km off the coast of Mirissa. This area of the coast is overlooked by the Dondra Head Lighthouse which stands at the southernmost point of Sri Lanka, built by British in 1889, one of the tallest in South East Asia it's still active and continues to help guide ships and boats.
Turtle Hatcheries: there are several Sea Turtle Hatcheries and sanctuaries located in the south-west of Sri Lanka. A visit to one of these is included in the Wild Trails itinerary, and visits are often included in many tourists' itineraries particularly by those with an interest in conservation.

Golf Holidays & Tours, with some of the oldest and best golf courses outside of the UK, and a new Oceanside course, this relatively undiscovered destination is a golfer's paradise. For those Golfer seeking a new and exciting experience we have put together two fabulous itineraries based on a 8-Night stay with 4 rounds of golf and a 12-Night stay with 6 rounds of golf, the latter offering a touch of culture amongst some of the best scenery in the world. Extensions and tailor-made arrangements offer spectacular enhancement to both itineraries which are also suitable for non-playing partners.
Royal Colombo Golf Club: Founded in 1880 as the Colombo Golf Club, it moved to its current location which was a model farm originally owned by Sir Charles Henry de Soysa, a Ceylonese philanthropist in 1896. In 1928 the privilege of using the prefix "Royal" was bestowed upon the Club by His Majesty King George V, making it the second oldest Royal Golf Club outside the UK. This 18 hole, 5770 yard long, par 71 course is located in the capital city of Colombo at The Ridgeway Links also known as the Anderson Golf Course.
Victoria Golf Course, Kandy: This golf course is set in over 517 acres of lush green land of the Victoria Golf & Country resort, a 45 minute drive from Kandy. Designed by renowned golf-course architect Donald Steel in 1997 and opened in 1999, it's surrounded by the blue waters of the Victoria Reservoir against the backdrop of the Knuckles mountain range, and is listed as one of the top 100 golf courses in the world. The 18 hole, 6945 yard long, par 73 course with narrow tree lined fairways offer challenges to golfers of all standards.
Nuwara Eliya Golf Club: Founded and constructed in 1889 by a Scottish soldier of the Gordon Highlanders for the British servicemen and officials who were posted at Nuwara Eliya course is situated at the foot of Mount Piduruthalagala which provides a spectacular backdrop. This 18 hole, 6075 yard long, par 70 course, with a scorecard in meters and yardage markers to the edge of the green in yards, is set in approximately 100 acres of what was originally a tea plantation in the highland region 6,000 feet above sea level.
Hambantota Golf Course at Shangri-La Resort:: This golf 18 hole, par 70 course spread over 145 acres is the newest and first of its kind in Sri Lanka. Set amongst a large coconut palm plantation within the luxury Shangri-La Resort some 200 km south of Colombo, the Rodney Wright designed course opened in 2016. The beautifully located course is made up in three landscaped zones, each with its own unique character: The Coconut Plantation with lush emerald green fairways and challenging bunkers, The Dune Area with its subtle elevation changes and breath-taking views of the Indian Ocean, and The Sapphire Mine with an abundance of water features – all providing distinctive challenges for both casual and seasoned players.

CRICKET TOURS
Cricket is extremely popular on this "spice island" and expectations always run high when England tour. In October and November 2018 Sri Lanka host the England Cricket Tourand we organised a series of fantastic tours centred around the three Test Matches, five ODI's, the one T20 matches, and a tour for golf and cricket lovers. For updates and information on forthcoming Cricket Tours please call us on 020 7118 2110 or go to Contact Us.