SANTORINI, GREECE
Santorini, is made up from a group of small islands known for its cliff-hanging whitewashed villages and watercolour sunsets. April thru October is when Santorini thrives, and whilst we can arrange holidays year-round, we recommend visiting in April/May or September/October. Then the weather is warm but the crowds lighter. Below you can find out more about Santorini and the opportunities we offer.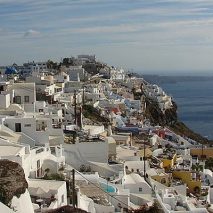 Places & Attractions
Santorini is a group of volcanic islands in the Aegean Sea. Its vast, natural caldera is the archipelago's showpiece, surrounded by the soaring cliffs of Santorini's iconic coastline. Some of the towns cling to these escarpments, while others are nestled among sprawling vineyards. And from the picturesque village of Oia to the central "smoking" islands, each of Santorini's towns and villages is unique to the next. Boasting a strong history, a long wine tradition and rare geology, Santorini is far more than just a pretty face. And with Livingstone's, you'll discover all of its best kept secrets…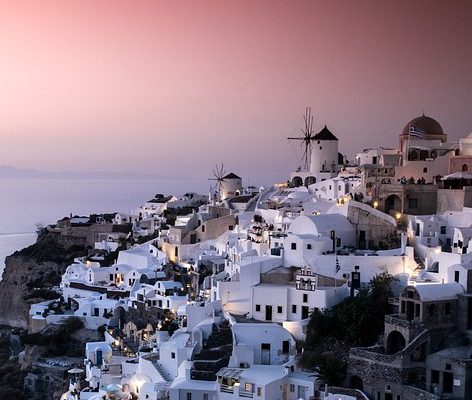 TOWNS & VILLAGES.
Fira – the capital of Santorini is also the cultural and economic centre of the island. It's located right on the caldera in the middle of the island opposite of the volcano, and is home to many restaurants, cafes, bars and hotels. Fira is also recognised as the leading destination for the islands nightlife. Its port, Athinios Ormos, is reachable by cable car, or via a mule path by foot or on a mule's back, is the main departure point for visiting the volcano and Theresia.
Firostefani – lies just to the north of Fira has spectacular views from this part of Santorini that offer another perspective of the Santorini volcano. The village with vividly coloured houses has plenty of hotels, restaurants and cafes in great locations. Close by, between the village and Imerovigli lies the famous Agios Nikolas Monastery.
Oia– I-a, as it is said, is the most photographed place in Santorini. Located on the northern end of the island Oia considered one of the jewels of Santorini has even more hidden pathways than Fira. The picture perfect town is home to magical sunsets, traditional cave and captains houses, luxury hotels, fine restaurants, cafes and boutiques. Its port village of Ammoudi, some 200 steps below, has a lovely small harbour full of fishing boats, surrounded by a typical waterfront with traditional fish taverns – is also recognised for some breath-taking architecture.
Imerovigli – with its numerous churches, cafes, restaurants and hotels is located on the caldera, close to the island's capital, Fira. A picturesque little village with wonderful views over the caldera and the sea is home to the Skaros, an impressive rock where ruins of a medieval castle now stand.
Emporio – is located at the foot of Mount Profitis Ilias in the centre of the island. One of the largest villages in Santorini known for its narrow streets and alley ways and churches with impressive bell towers, it was once one of the fortified centres of the island, and it still retains this strong medieval character.
Pyrgos – the former island capital is located on the highest point of Santorini with spectacular views of the Island. The traditional town houses are built amphitheatrically on the hill around a Venetian castle. Boasting several churches its meandering alley ways follow the natural flow of the land. The famous Monastery of Mount Profitis Ilias, built on the mountain of the same name its accessible via an uphill path from the central square. On route there are vast vineyards, impressive mountainous landscapes, and a Monastery that should leave you with lasting memories.
Akrotiri – in the south eastern part of the island was built amphitheatrically and remains the most important archaeological site in Santorini. Originally, a Minoan Bronze Age settlement destroyed in the Theran eruption during the 16th century BC, burying it in volcanic ash that has preserved the remains of many fine frescoes, objects and artworks. The modern town with its picturesque alley ways, blue-domed churches and traditional houses has many restaurants and tavernas. Nearby, next to the Red Beach, is the French built 19th-century Akrotiri Lighthouse, one of the oldest in Greece.
Perissa – a coastal village in the south east of Santorini is home to one of the largest churches on the island. Perissa is mostly known for very long black sand beach; together with the adjoining beach of Perivolos constitutes the longest beach of the island. The nearby mountain Mesa Vouna is home to the archaeological site of Ancient Thera.
Kamari – is located on the other side of Mesa Vouna to Perissa. It's a cosmopolitan beach resort with a long beach promenade, a black-sand beach lined with cafes and restaurants. It has everything expected of a typical seaside resort including water sports facilities and diving centres.
Megalochori – located in the heart of the island and home to neoclassical and traditional houses, picturesque churches with bell towers and a lively main square. This very traditional village with small alleys and delicious tavernas is where you can experience the island's rich wine tradition.
THERESIA.
Theresia – is Santorini's sister island, separated from Strongyli, the original island, by the volcanic eruption around 16 BC, a visit to this smaller island is like stepping back into rural Greece of the 1950's.
This somewhat barren island has been described as "a wild beauty". Primarily accessed by a short boat ride from Ammoudi, and regularly visited by tourists as part of a Volcano Tour which often includes stops at the small volcanic islands of Nea Kameni and Palea Kameni. During the 19th century, the islands significant source of pumice became important building material in construction projects including the Suez Canal and the ports of Trieste and Alexandria.
Today, Theresia this "little Santorini" with its 250 permanent residents has become one of the world's most famous destinations. When visitors arrive at Riva, the harbour across from Oia, they usually visit the two island village communities. Manolas, the larger one, is built along the ridge of the caldera, it boasts a taverna, Panorama, which certainly lives up to its name, and below linked by a series of cobbled steps is the small harbour of Korfos – the only place where tourist shops can be found on the island.
The other community is Potamos, where many homes are carved into a rock canyon, Close by is Agrilia, an almost deserted farming village, here only a few of the original 130 houses remain occupied. This settlement was carved out of the sides of a dry gulch, on three different levels with the best-built and most sought-after houses on the lowest level, close to the communal path. Above Agrilia stands the Church of the Presentation of the Virgin Mary, founded in 1887, it's generally considered one of the most beautiful in the Cyclades.
Theresia offers a number of truly unique hiking experiences, one in the south to the Cape of Trypiti, and the other to Monastery of the Dormition of the Virgin Mary which is said to give you the feeling that you' have reached the end of the world. Quite recently near the site of the old mines, the island a saw the opening of Perivolas Hideaway which is featured in our Santorini Weddings and Honeymoon section.
MAJOR ATTRACTIONS:
Volcanic Islands Cruise: Sail from Athinios Port to small islands within the flooded Santorini caldera with visits to hot springs and traditional villages. At Nea Kameni take the Volcano Walk along the path to the crater with sulphur vents along the way, and enjoy the free time available to explore the island. Then it's a visit to Palea Kameni where you can take a swim in the hot springs before arriving at Theresia. Here you will have time to explore and visit Manolas, accessed by winding stairs, or by a donkey ride up to the village, before returning to Athinios Port, Oia.
Ancient Akrotiri: See the ancient village left behind after the devastating volcanic eruption that made the island uninhabitable. Around 25 minutes from Fira, the site is the most interesting historical site on Santorini and very well preserved. The stand out restaurant is Nikolas Cave and Farm. Nearby is the Akrotiri Lighthouse, right on the southern tip of the island, the views from the lighthouse walls are stunning, particularly when the red evening sun is dropping into the Aegean Sea.
Santorini Wine Museum: The winery has a 300 meter long wine cave that shows the history and development of Santorini wine over the previous 5 centuries. Admission to the museum includes 4 wine tastings from the Koutsoyannopoulos winery. Art Space Winery: This winery is a charming mix of caves, art, and great wine.
Open Air Cinema in Kamari: Family-friendly fun – watch a movie outside as the sun sets and the sky grows dark – beer, wine and snacks available.
Santorini Fishing Tour: Cruise past beautiful Red, White and Black Beaches , and get stunning views of the volcanic landscapes Drop anchor at one of these spectacular settings and enjoy the fishing, with rods, lines and bait provided by the crew. Assist in cleaning and cooking the fish and enjoy a delicious dinner on board before returning to the dock.
Walk to Skaros Rock: Descend the cliff to the path to Skaros Rock and explore the far side of the outcrop.
Ride the Donkeys: Ride the donkeys either from the Old Port up to Fira or from Amoudi Bay up to Oia.
Swimming & Beaches: The Red Beach down the road from the Akrotiri ruins is considered to be the most spectacular and picturesque of any Santorini beach. Perissa Beach is best for swimming, on the southern part of the same stretch of sand is Perivolos Beach and there's little to distinguish one beach from the other.
Atlantis Books in Oia: This bookstore has been named as one of the top 10 bookshops in the world.
Museums: On the main street in Fira is the Museum of Prehistoric Thera , a short walk away is the Megaro Gyzi Museum both are small but worth a visit if you want more Santorini history.
Cable Car from Old Port to Fira: Walk down the stairs then take the cable car back up, or take the cable car both ways. From May to October, the cable car runs every 20 minutes with a reduced schedule from November until April.
The White Door Theatro: A really fun show about a Greek family wedding. Much singing, dancing, and guests are made to feel part of the wedding party.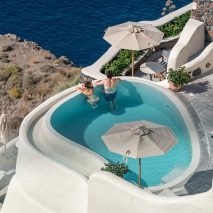 Hotels & Villas
Luxury accommodation in Santorini is very much the norm, and these range from, cave house properties to, boutique, luxury hotels, retreats and resorts. The list we show below are those we recommend, they have been very carefully selected, and include those we use for a variety of holidays. Many of these offer romantic wedding and honeymoon packages, and we have picked those that stand out for our weddings and honeymoons section. We review all accommodation for quality and service regularly and will happily discuss the individual merits of each during the booking process…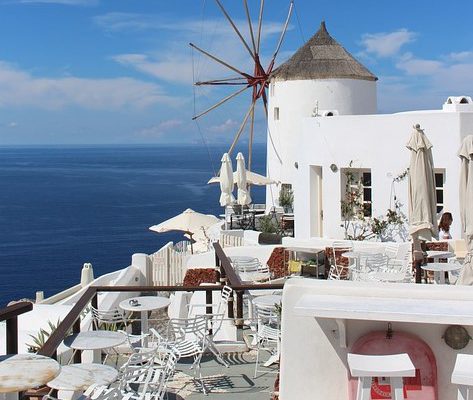 THERESIA
Perivolas Hideaway: Located on Teresia, one Santorini's volcanic islands, it's the ultimate in luxury boutique accommodation and private island exclusivity. Carved into the foot of a cliff close to the tranquil Greek waters it offers a feeling of complete solitude and seclusion – see more on our weddings and honeymoons section.
OIA
Perivolas: Perivolas, the hotel that put Oia on the map, is in a league of its own. Minimalist suites carved from the cliffs are almost as dazzling as the sea views. The infinity pool is the stuff of dreams, where everyone looks like a swimwear model in this fabulous setting – see more in our weddings and honeymoons section.
Santo Maris Oia Luxury Suites & Spa: With five public pools and breath-taking sea views, this boho-chic, adults-only, all-suite resort is worlds away from – yet within walking distance of – bustling Oia. There's also a spa with heated indoor pool and a restaurant serving Cretan specialties – this luxury hotel is featured in our weddings and honeymoons section.
Atrina Canava 1894: Is a small cliff-side hotel with a name that commemorates the year the current owner's great-grandfather bought land and dug two wine canaves. These original "caves "were adapted and others added to create a complex of comfortable traditional houses. This primarily adults only hotel with its appealingly quirky units offers an exceptional high standard of service.
Andronis Luxury Suites: The flagship of the Andronis hotel group, whose relentless quest for unabashed luxury changed the face of Santorini and spawned many imitators. The combination of impeccable service, lavish style and incomparable location still leaves competitors trailing far behind.
Ikies Traditional Houses: These are a complex of dug-out cave houses with a nice pool, and attentive low-key service is amongst the very best in Oia. The rooms with luxury minimalist troglodytic interiors are very well equipped, and some of the suites have private spa tubs.
Myst Boutique Hotel: The standard of accommodation on Santorini is astonishing, but this boutique hotel raises the bar further. You know you're in for a treat as soon as you pass through Myst's tall, square gate and come face to face with a stunning avenue lined with saguaro cacti and stumped olive trees, pruned and tufted like yuccas.
Canaves Oia Epitome: Expect a barefoot luxury vibe, spacious accommodation and great food at family-owned Canaves Oia. It overlooks Ammoudi Bay and is within strolling distance of Oia's famed sunsets. There's a heated infinity pool, and the chef previously worked at Michelin-starred Botrini.
Mystique: This adults-only "Luxury Collection Hotel" is carved into Santorini's caldera cliffs. Its 40 suites and villas, two swimming pools, Asian spa and gym are linked by a network of cobbled pathways all with panoramic sea views. Built on the site of a century-old mansion the hotel offers both fine and casual dining options.
Santorini Secret Suites & Spa: This stylish adults-only resort, which tumbles down Oia's steep cliff side, has a small wellness area, a restaurant serving Japanese-Greek fusion food and an infinity pool offering breath-taking caldera views.
Esperas Santorini Hotel: The years have barely touched this four-star time capsule, which was one of Santorini's first cave hotels. Clinging to a cliff face, it's a long way down to the sea and views are dazzling – but worth it for the peace and quiet, and for the stunning cave pool.
Aenaon Villas: Dress in white if you don't want to feel out of place in this adults-only, Cycladic-style villa complex that looks to have come straight from the pages of a magazine. Situated at the island's narrowest point, it offers spectacular sea views on two sides as well as a stunningly pretty infinity pool.
Amaya Villas: The villas at Amaya, a self-catering retreat in the oldest neighbourhood of Oia, have the widest possible caldera views, encompassing all of the islands in the crater. Stays here are ideal for larger groups and families, and the villas are among Oia's shrinking pool of accommodations that welcome children under 12.
Golden Sunset Villas: These self-catered apartments are particularly interesting for its Windmill "Suite" sitting at the tip of Oia. This Windmill apartment has a kitchen, full bathroom and 2 bedrooms; its huge private terrace offers incredible sunset views over the caldera. The stairs are steep and narrow but as there's only one Windmill suite on Santorini – a stay here can be considered an experience in itself.
FIRA
Erosantorini: Eight hundred hotels are squeezed onto Santorini, but this private estate, close to the village of Messaria and dangling on the volcanic caldera, has blasted the competition out of the water. With the focus on gastronomy, Erosantorini has a chef, concierge, trainer and masseur at your service, and a pool terrace suspended between sky and sea – you'll feel on top of the world!
Astro Palace: Astro Palace Suites & Spa is all about lounging and practicality on one of the world's most visited destinations. Offering easy access to the main town of Fira, with luxury minimalist rooms and an imaginative star-studded pool that twinkles at night. See more in our weddings and honeymoons section.
Aigialos Hotel: Aigialos began life as an 18th-century convent, the nuns' cells flanking the church of Hristós. It eventually passed into the hands of a wealthy local, who in 1997 opened it as five-star accommodation offering sunset views, excellent food and antique furnishings.
IMEROVIGLI
Iconic Santorini: Elegance is the recurring theme of this cave hotel situated in the stylish, quiet village of Imerovigli. Stairs coil down past the white, pale blue and ochre façade to a good-sized pool on a terrace with breath-taking views of the caldera. This small hotel with excellent facilities is featured in our weddings and honeymoons section.
Andronis Concept Wellness Resort: This imposing, no-nonsense spa resort is part of the Andronis luxury brand that currently dominates Santorini's hotel scene. It's surprising to find such spaciousness on such a cramped island, and the breadth and depth of treatments bring Switzerland – rather than Greece – to mind.
Kapari Natural Resort: Is the only Greek member of National Geographic's Unique Lodges of the World, it's an elaboration of the 1970s holiday home once belonging to the current owner's parents. There are five three-century-old troglodytic houses, and nine built in 2009 that cascade down over three levels.
Afroessa: This characterful boutique hotel, mostly carved out of the volcanic cliff side, offers excellent-value accommodation, private balconies, assiduous service standards and fabulous views.
Avaton Resort & Spa: The stunning grotto-spa is a highlight, with a massage room for couples, who appear to be the major clientele at Avaton, a sauna, steam room, cold plunge pool and a heated hydro massage pool.
Dreams Luxury Suites: Located halfway between the pretty white villages of Firostefani and Imerovigli, this colourful adults-only boutique hotel with a haven of cave suites has fantastic caldera views. Although it has no restaurant, there are plenty to be found within an easy walking distance.
Astra Suites: There's a sense of privacy when you enter this colourful, family-friendly, caldera-side cave property. Established in 1985, it has the island's first infinity pool with striking views of lofty Skaros rock.
Grace Santorini: Despite the hike to get to this caldera-side property from pretty Imerovigli, panoramic views to Skaros rock combined with a striking infinity pool and stylish accommodation make the effort worthwhile. There are tasty treats for breakfast and a restaurant serving Mediterranean food.
PYRGOS
Voreina Gallery Suites: A four-star suite-and-villa complex in Pýrgos village with design-led rooms, an unusual view and attentive service, making it an excellent alternative to the bright lights of Firá or Oía. Owned and run by the Zorzos family, who were in the Greek diplomatic corps for decades.
Carpe Diem Santorini: A breathe of fresh air after Oia's crowded streets. This cosy, adults-only resort close to the mountain village of Pyrgos is well situated for visiting the island's sights. There's a delightful little spa and a surprisingly good restaurant – featured in our weddings and honeymoons section.
FIROSTEFANI
Tsitouras Collection: Located along a cobbled path in the clifftop village of Firostefani it's been likened to Dickens' Old Curiosity Shop. A restored 18th-century mansion packed with antiques, a rooftop infinity pool and panoramic caldera views. Service has been described as slow but its quaintness puts it in our list.
MEGALOCHORI
Vedema Resort: In the middle of a traditional village this notionally five star, Starwood owned "Luxury Collection Hotel", built around 400 year old canava wine cellars, has a pretty pool and a remarkably beautiful wine cellar restaurant.
PERIVOLOS
Orabel Suites: The romantic, adults-only Orabel Suites is an intimate getaway, which features bespoke and friendly service. Its set in a quiet stretch of valley yet is walking distance from Perivolos beach, one of Santorini's most-loved beaches.
Istoria Hotel: If a beach on Santorini is what you are after, this modern Greek-chic boutique "Design Collection Hotel" is relaxed and welcoming. The 12-suite retreat located on Perivolos Beach is a must for sophisticated travellers.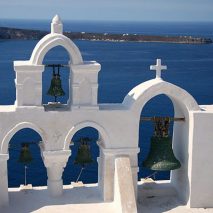 Tours & Experiences
This god blessed, small island of Santorini, it not just a destination for honeymooners and romantics. It offers of a number of unique tours and experiences. Clients in the past have enjoyed painting holidays; photography holidays, gastronomy and adventure, the latter mainly in the form of hiking – we continue to offer these Special Interest holidays, all ably supported by our experienced English speaking local travel partners…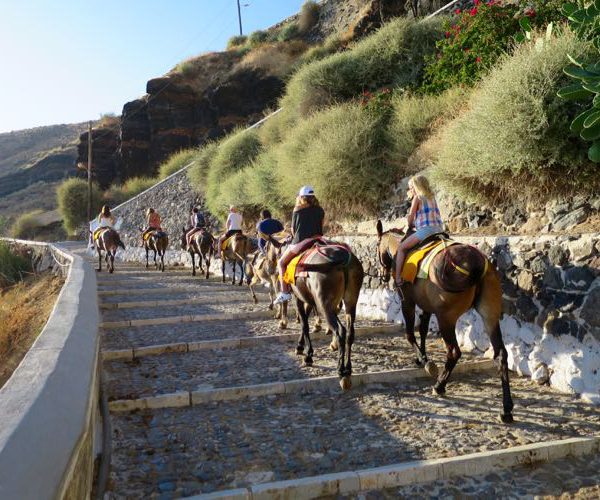 SANTORINI TOUR
Our 3-day Santorini Tour with an English speaking guide, luxury type transportation and Lunch each day is operated from a selected hotel base – the Itinerary includes:
Ride the Donkeys: Either from the Old Port up to Fira or from Amoudi Bay up to Oia. Visit Fira, Firostefani, to see the famous Blue Dome Church, and Imerovigl. Explore the alleys and streets of the towns, view or descend the cliff path to Skaros Rock. Visit the village of Pyrgos, the old capital, take a guided walk along narrow paths to the ruins of the Venetian castle – explore the paths, stairwells of Oia and the East Coast Fishing Villages with Lunch at Yalos restaurant.
Volcanic Islands Cruise: Sail from Athinios Port to small islands within the flooded Santorini caldera with visits to hot springs and traditional villages. At Nea Kameni take the Volcano Walk along the path to the crater with sulphur vents along the way, and enjoy the free time available to explore the island. Then it's a visit to Palea Kameni where you can take a swim in the hot springs before arriving at Theresia, where you will have time to explore and visit Manolas, accessed by winding stairs, or by a donkey ride up to the village, before returning to Oia Port
Visit Ancient Akrotiri & Lighthouse: See the ancient village left behind after the devastating volcanic eruption that made the island uninhabitable. The site is the most interesting historical site on Santorini and very well preserved, and visit the Lighthouse with spectacular views is one of the oldest in Greece.
SANTORINI PHOTOGRAPHY & PAINTING TOURS
Santorini Photography Tour – This wonderful tour is for small groups of 2-6 which is led by "our man" with knowledge of the camera and how to get the best out of them. Our experienced photographer will take you to places, and at times, which will produce the best shots – the Photography Tour is also a great way to see the island from a number of different and unique spots. Albeit limited in numbers, a group member can be joined by a partner who is not a photographer, who will be able to enjoy some unique places and views.
Santorini Painting Tour – This tour is similar to the photography tour in many ways, providing group members with opportunities to visit, see, and enjoy many of the unique places and views of this wonderful small island. However, on this tour, there is no absolute need for a professional painter, clients interested in joining or making up a Painting Tour should speak to our Special Interests consultant. These tours with group sizes of 4-20 can be organised as an escorted or non-escorted tour, the latter is where the day-to-day arrangements are organised independently and we just provide the local ground transport.
GASTRONOMY
For gastronomes, Santorini can be viewed as a large chefs table with so much on offer. Wine tasting and gourmet experiences are common place, and we have summarised below two tours that are often incorporated into a holiday booked with us. Detailed information on these daily gourmet and wine tours, and Tastes of Santorini an annual October gastronomy tour is available by email to client@livingstonestw.co.uk, or calling 020 7118 2110.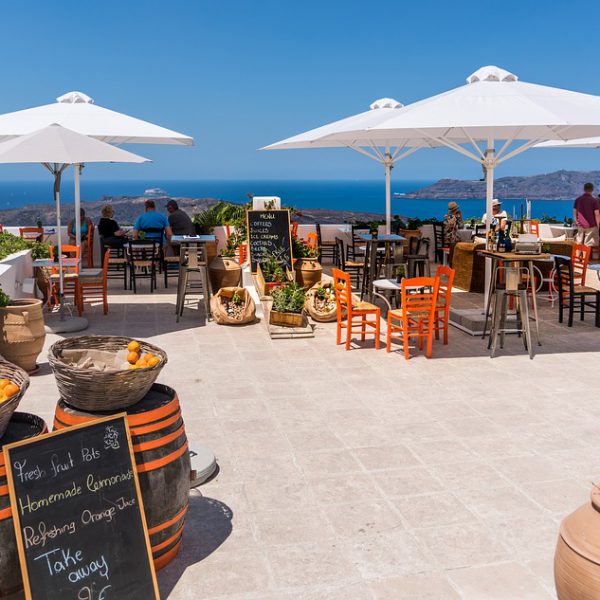 SANTORINI GOURMET & WINE
Two 1-Day Tours are available to book, before departure or on location. Both operate from your holiday hotel and include English speaking guides and luxury type transportation. A summary of the two Itineraries is below.
Santorini Wine Tour – This tour led by a sommelier is also a way to see the island away from the caldera. It visits 3 great traditional Santorini wineries in beautiful locations spread out across the picturesque island. At each, there is a private cellar tour and tastings of Santorini wine paired with local cheese, olives and snacks.
On this tour, you will learn about the Assyrtiko local grape and chat with your private guide about the history of wine production on the island. Hear about Santorini's viticulture of the volcanic soils, and sample up to 12 different varieties of award-winning volcanic wines. .
Fira Food Tour – This walking tour starts with a traditional Greek coffee after meeting with a local food guide you walk towards the famous blue domed church of Santorini to enjoy a sampling of local mezes in a traditional tavern. There is a visit to the daily market with fresh fish and vegetables before you try some organic honey and. enjoy a midday meal in a tavern with views of the caldera.
As you follow your guide through the historical alleyways and hidden paths of Fira there are several stops for samplings of local treats, including loukoumades, the Greek doughnuts, an olive oil tasting and a quick bite of souvlaki – the ultimate Greek street food, and a glass of cold local beer.
SANTORINI FISHING TOURS
Fishing Tours – These can be booked as a Fishing Fun tour that includes lunch and or dinner and unlimited local drinks, swimming in the Aegean Sea, snorkelling with the marine life, or topping up tans and fishing using rods, lines and bait provided by the crew – or as a Sport Fishing tour for serious sea anglers.
SANTORINI HIKING & HELICOPTER TOURS – are available on request.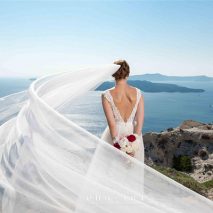 Weddings & Honeymoons
This idyllic island has proven to be the ultimate wedding and honeymoon destination. And the breath-taking scenery, unique culture, and mythical allure have made this island increasingly popular with newlyweds. A plethora of luxury hotels, intriguing cave houses and elite resorts have been instilled to meet demand, a few of which we consider truly 'stand-out'. However, we understand that this is something personal, so our bespoke wedding consultant will be happy to suggest other suitable options. After all, it's the island itself that will leave lasting memories of love and romance…
To this end, we have picked out a few that we consider 'stand-out' for one reason or another but it is always a matter of personal choice. Our bespoke wedding consultant, who can be contacted on 020 7118 2110, will be happy to suggest other suitable options – but all, along with the island itself, will leave unforgettable memories of love and romance.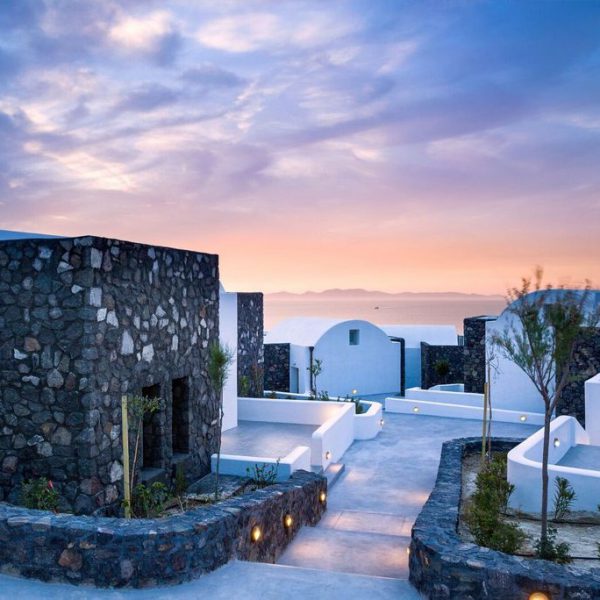 Santo Maris Oia Luxury Suites & Spa: The 5-star Santo Maris, Oia, Luxury Suites & Spa, with a prime location at the north western part of the picturesque village of Oia, is a boho-chic, adults-only, all-suite resort. Opened in 2016 and located some 350-metres from the village centre, right next to the famous cliffs, visitors can enjoy the world's most spectacular and breath-taking sunset over the Aegean Sea.
Just 17km from Santorini International Airport and 11km from the capital town of Fira, the resort combines the Aegean and the local Cycladic architecture. Environmentally eco-friendly this luxury hotel, with a spa, heated indoor pool and restaurant serving Cretan specialties, it has created a unique space for total relaxation.
Perivolas, Oia: Is the hotel that put Oia on the map and spawned countless imitators, is in a league of its own. Minimalist suites are carved from the cliffs, and outside the infinity, pool seemingly bleeds into the Greek waters. It's the ultimate luxury escape, in a secluded location with panoramas that will make you feel totally removed from the rest of the world.
Just a short walk away is the idyllic village of Oia, which poses little disturbance to the tranquil silence. At Perivolas, it's easy to just while away the hours on the garden terrace or by the pool, watching the horizon as it slowly changes with day, eventually turning to a breath-taking sunset.
Andronis Luxury Suites, Oia: The flagship of the Andronis hotel group, the Andronis Luxury Suites is renowned for its tranquillity and unique sense of elegance. The 29 award-winning suites and villas are built in traditional style within the picturesque jigsaw of houses in Oia. Private infinity pools, cave pools and heated Jacuzzis are the perfect places to relax and enjoy the deep blue Aegean and the volcanic caldera that frames the spectacular view. Relax and rejuvenate in the Mare Sanus Spa with its exclusive therapies before dinner in Andronis Luxury Suites' Lycabettus, voted one of the most beautiful restaurant locations in the world.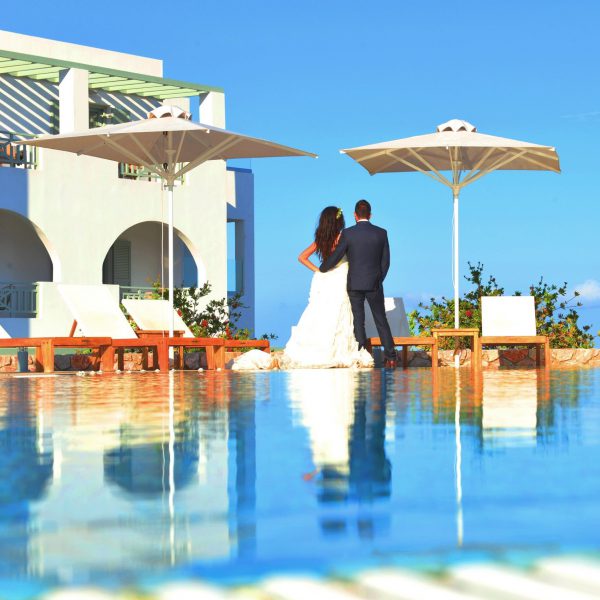 Astro Palace, Fira: Astro Palace Suites & Spa is all about leisure and practicality in one of the world's most visited destinations. Offering comfort and easy access to the main town of Fira, and minimalistic rooms with all desired luxuries. Not to mention the most imaginative star-studded pool that twinkles at night. Well, astro means 'star', after all.
Surrounded by loungers and beach beds, with views over the hazy blue Aegean, the pool is the heart of this hotel. The food is something of gastronomic excellence, and the spa adds further opportunity for complete R&R. It's traditional white façade and panoramic sea views make it the perfect wedding venue. And your honeymoon can start effective immediately.
Iconic Santorini, Imerovigli: Described as a "boutique cave hotel", Iconic is built into the volcanic crescent of Santorini. Elegance is the leitmotif of this hotel, situated in the stylish (and quiet) village of Imerovigli. Stairs coil down past the white, pale blue and ochre façade to a pool terrace with magnificent views of the caldera.
Set over five levels, the accommodation at Iconic spans classic to cliff suites. All offering beautiful views over the azure blue Aegean and dressed in traditional Greek décor, Iconic is the epitome of a Santorini hotel. Luxurious and romantic, with views that even the most vivid imaginations would be hard-pushed to conjure.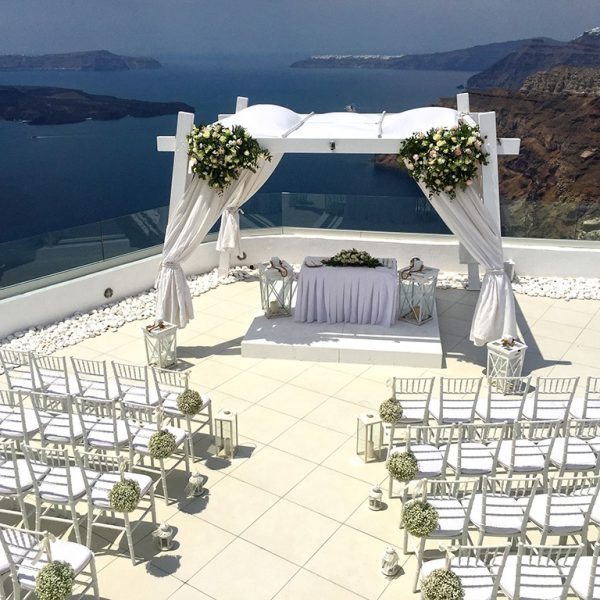 Santo Wines Weddings' Venue, Pyrgos: Self-proclaimed as "one of the dreamiest wedding venues in Santorini", Santo Wines is located in the Pyrgos village area, and starts with the perfect wedding-day backdrop. Spectacular views over the caldera offer the perfect ceremony setting, as well as the opportunity for the most stunning wedding album one could imagine.
The Santo Wine team are on hand to host your dream day from start to end, accommodating guests for a private dinner and reception, which will of course be accompanied by some of the best wine in Greece. This is a truly unique and remarkable wedding venue, sure to leave you and your significant other with memories to last a lifetime.
Carpe Diem Santorini, Pyrgos: Carpe Diem describes itself as being "purpose built for VIP's and honeymooners". A breath of fresh air after Oia's thriving streets, this cosy, adults-only resort close to the mountain village of Pyrgos is well situated for visiting the island's sights. There's a delightful little spa and a fantastic restaurant serving authentic Greek dishes.
The suites offer a private pool and panoramic views, while the customary infinity pool offers an enviable place to watch the sun set and Santorini's crescent light up. Carpe Diem has won a plethora of awards, including World's Best Honeymoon Hideaway in 2017.
Perivolas Hideaway: Located on Santorin's smaller sister island of Theresia, the Perivolas Hideaway is the ultimate in luxury boutique accommodation, and island exclusivity. Carved into the foot of a cliff close to the tranquil Greek waters, it offers a feeling of complete solitude and seclusion.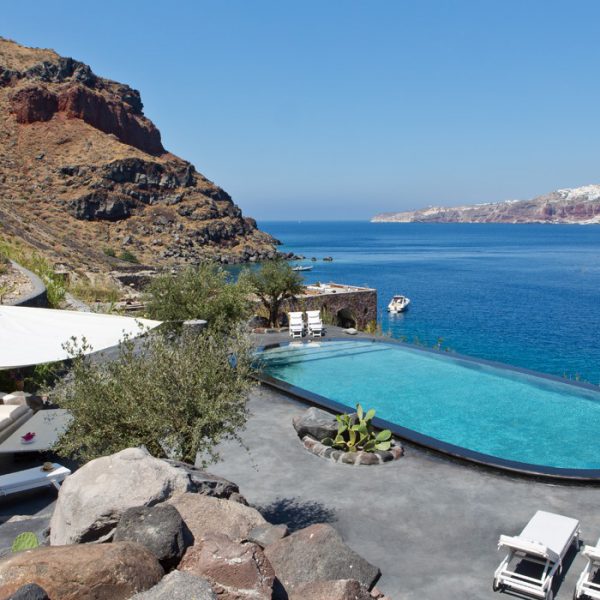 The Hideaway is made up of four bedrooms and five bathrooms, and a spectacular outdoor terrace with private access to the quiescent private beach. There is a heliport, diving centre, a luxury lodge and separate staff quarters, making it ideal for a family or small group.
Perfectly integrated into the landscape as to be practically invisible, most locals have never actually seen it. A European architectural award, it can only be is reached by sea or air. The concept of the Perivolas Hideaway is gloriously simple, with a sole focus on privacy and supreme luxury. Far from that of a hotel or holiday rental, the estate owners wish guests to feel that they are staying in a home away from home.
The amenities and services provided by the staff of the Perivolas Hideaway are incredible, a chosen hideaway of Angelina Jolie and Brad Pitt when they were still Hollywood's golden couple; guests will desire for nothing while staying at the property. The personal chef and bartender are always on hand to see to your culinary needs, and porters await your word for an immediate transfer to Santorini or beyond.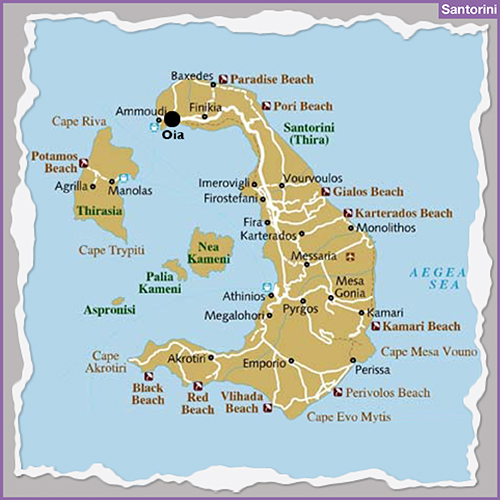 Santorini, is a group of small islands in the Aegean Sea created by a volcanic eruption in the 16th century BC. The picturesque island is probably known best for its picture-perfect cliff hanging villages, caldera and unique beaches made up of black, red and white lava pebbles.
Amongst the villages and towns on the main Santorini Island, four are perched along the top of the crescent-shaped cliff of the crater affording amazing views out over the small islands to the west. Santorini has also developed a reputation as a wedding and honeymoon destination for couples wanting to soak up its unique romantic atmosphere.
Topography & Climate
Santorini is essentially, what remains after an enormous volcanic eruption that created the current geological crater. Its tourist season starts April 1, or around Greek Easter. Between May and September and the summer months the air is usually hot and dry with very little rain.
The period from December to March is marked by cooler temperatures, rain and winds but rarely cold. The ideal time to visit for milder weather, lower prices and crowds, are April, May, September and October.