RUSSIA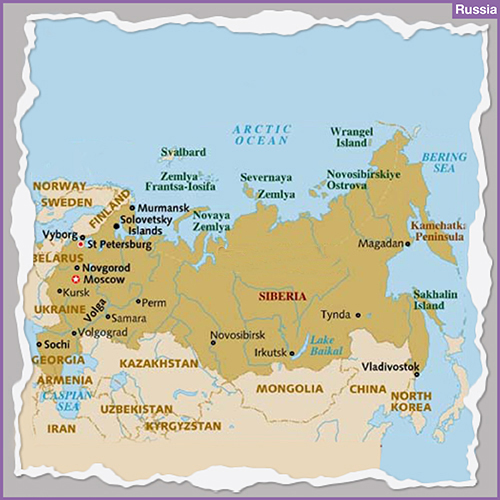 Russia, to the eye, is a fairy-tale. Jewel-coloured, onion-domed palaces, remote wood-carved churches that blend with the countryside, gold-tipped spires reaching ornately toward the sky above, and snow-covered cottages all adorn the world's largest nation, while two of the world's most remarkable ballet companies dance among them.
Yet, while the surroundings here are majestic and grand, the way of life is contrastingly humble. With a history that's created a family-oriented culture, an artistic heritage where literature reigns and simple, wholesome cuisine; Russia, has a secret warmth to its heart that is widely misinterpreted by the rest of the world.
Topography & Climate
Russia is, by some margin, the largest country in the world. Occupying one tenth of all land on Earth.it borders both European and Asian countries, spans eleven time zones and is lapped by the Pacific, Atlantic and Arctic oceans.
Its vast size means there is far more to the landscape than the masses of frozen tundra many first think of; from deserts to grassy plains and flower-filled meadows, glacial lakes and soaring mountains, Russia's nature is as vast and varied as the country itself. As is the climate, which can stretch from -30°C in the winter to +30°C in the summer.
Livingstone's Travel World – Unique destination holiday tours and travel experiences

GENERAL INFORMATION
Due to its epic size, Russia is not a country that can be visited once to "see it all". In fact, the vast geographical distances and subsequent cultural differences divide the nation into a throng of unique regions, each worthy of its own attention. From cities of political and industrial importance, artistic heritage and contemporary creativity, to historical towns and charming villages gilded with decorative churches, and an idyllic countryside that gets not near enough credit, Russia is jam packed with different sights, experiences and discoveries.

ACCOMMODATION
The list below is of carefully selected character, boutique and luxury hotels we recommend, including those featured in our holiday tour itineraries. All are reviewed for quality and service regularly and the websites links should prove to be helpful, but we will happily discuss the individual merits of each during the booking process. Please be aware that we do not make "hotel" bookings on a stand-alone basis, we only book them as part of a travel package, or as an addition to an existing booking which enables us to use the best rates available at the time.

RAIL HOLIDAYS
Trans-Siberian Express Route: we offer two holidays between Moscow and Vladivostok on this iconic route, a journey of some 5800 miles connecting Russia's western capital with the Russian Far East. One, a more affordable experience on a traditional train, the other on board the luxury Golden Eagle Trans-Siberian Express with an unimaginable itinerary of city tours, on board entertainment and off board excursions.
Both of these once-in-a-lifetime experiences include stays in Moscow and Vladivostok with opportunities to explore these famous cites, and at an additional cost St. Petersburg can be added to the itinerary. Information, details and costs are available on the website link or on request at Contact us.

LUXURY CITY BREAKS
Moscow, Russia's cosmopolitan capital, is a city unlike any other in the world. With all the essentials of a consuming history, artistic culture and grand architecture, it does "city" as good as any other. Only, it takes it up 50 notches. Moscow is, in a word, majestic; a city of sparkling domes, chiming church bells and sky-piercing spires. Even some of the 170 Metro stations look more like grand palaces and with entertainment reaching such standards as the Bolshoi Ballet, Moscow will enchant, beguile and capture hearts. Here, is where Russia's fairy-tale begins.
Vladivostok ('Master the East'), the eastern terminus of the Trans-Siberian railway that links to Moscow, combines Russian architecture with elements of Asian culture, while in-fact, the city is actually closer to the west coast of the USA than it is to Russia's capital, and is (sometimes) referred to as Russia's San Francisco. More 'typically' cosmopolitan than the capital itself, Vladivostok has a fast-paced atmosphere and vibrant night scene, illuminated by the mighty suspension bridge that soars across the picturesque Golden Horn Bay.
St. Petersburg, is a city of dazzling culture. Once Russia's Imperial Capital, it may have lost the name, but has preserved the status. It is a city of utter grandeur, where the reflections of Italianate mansions ripple in the canal and baroque and neoclassical palaces encompass elegant plazas. Art is at the very heart of Piter's culture; brood over Russian art at the quad-palace Russian Museum, bask in the sounds of classical music or marvel at the art of opera or ballet. And, with white summer nights, blooming springs, golden autumns and sparkling white winters, St. Petersburg steals hearts all-year-round.