NEPAL, ASIA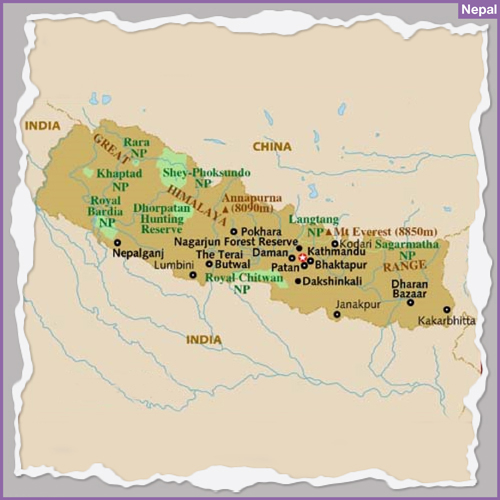 For centuries travellers have made their way to Nepal in search of self-enlightenment and to marvel at the fabulous Hindu and Buddhist temples and shrines constructed almost before history began. The dramatic landscape and natural wonders beckon adventurers to trek among colossal mountains, serene lakes and rushing rivers, it's simply a land where time stands still. At its heart lies Kathmandu, a Mecca for the famous and ordinary alike and the gateway to a country rich in fantastic sights and experiences. With the Himalayan backdrop, exquisite architecture and intricate carvings of the medieval buildings, Nepal has something for everyone.
Topography and Climate
Nepal is a relatively small country, measuring just 500 miles long by 125 mile wide is located between India and China. The country is divided into three distinct regions Terai that borders India, Pahad, between the lowlands and the mountains and Himal that borders China. There are four main 'seasons' and in the main tourist area around Kathmandu you can expect Spring temperatures of around 22 degrees with rain showers from March to May. The monsoon season runs from June to August when temperatures climb to 30 degrees or more with lots of rain. Autumn runs from September to November when the skies are clear and the temperature is around 25 degrees.
Holidays and tours featured at this destination
General Information