Gambia, West Africa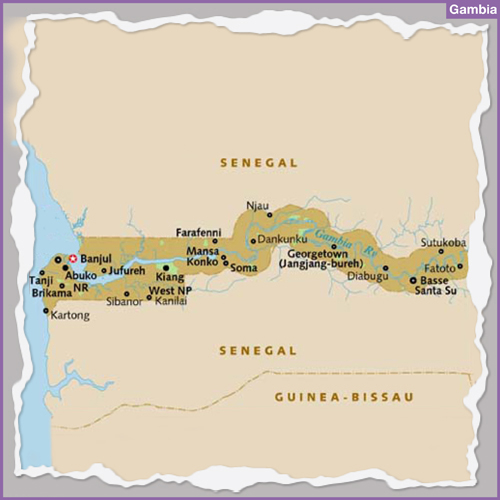 The Gambia – The smiling face of Africa is a popular and affordable all year round destination attracting tourists in search of sun, sand, sea, nature and varied cultural experiences with some of the friendliest people on earth. The real jewel of this fascinating country sitting on the Atlantic West Coast of Africa, are its beaches, but there is so much more for the slightly more adventurous tourist to see. This former British colony with its forests and rivers is steeped in history from the colonial period. Only six hours flying time from the UK and in the same time zone, you won't lose days struggling with jet lag and you can breakfast in Britain and be enjoying a drink by the pool by mid-afternoon.
Topography & Climate
The Gambia, Africa's smallest country has sub-tropical climate and enjoys virtually uninterrupted sunshine and high daytime temperatures with almost no rainfall from November to June. There are two distinct seasons: the Dry Season characterised by dry Savannah winds from November to June, and the Wet Season characterised by wet and lusciously green environment from July-October. During this time, the generally short lived showers can be spectacular and you'll know that it won't be long before everything is bathed in sunshine once more. The dry land soaks up the rain becoming lush, green, and teaming with wildlife.
Livingstone's Travel World – Unique destination tours and travel experiences:
GENERAL INFORMATION
The Gambia climate is perfect for winter sun holidays with average day temperatures range from highs between 29°C and 34°C and night time temperatures are 20°C (68° F) on average, and during the summer it is not unusual to have the beach almost to yourself. This narrow country is only 48 km wide at its widest point and is dominated by the Gambia River which runs through it. The surrounding terrain near the coast is mainly mangroves where there is a wide diversity of flora and fauna and savanna further up river. The flat and easily accessible terrain makes the Gambia a must for those with a passion for wildlife and ancient cultures that still survive on the grasslands. It's been a longstanding top "birding destination" and continues to attract birdwatchers from around the world.
The Gambia popularity in this field and for wildlife generally is demonstrated by the fact that BBC presenter Chris Packham known for his extensive knowledge of wildlife and photography is returning to Gambia, hosting two birdwatching trips at two different locations including the Makasutu Forest during February 2018.
ACCOMMODATION
As the popularity of the Gambia has grown as holiday destination over the years the standard of accommodation has continued to improve, there is an extensive range of accommodation from 3 to 4 star hotels, luxury hotels and lodges. Those we have selected have been enjoyed by past and present clients but we continue to monitor all hotels in Gambia for quality and service.
Kairaba BeachHotel | Coco Ocean Resort & Spa | Leos Beach Hotel | Sheraton Gambia Hotel Resort & Spa | | Kombo Beach Hotel | Kololi Beach Club | The White Horse Residence | Tanji Bird Reserve Eco Lodge
WEDDINGS & HONEYMOONS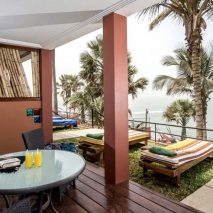 NGALA LODGE, is located at one of the most scenic spots along the West African Coast and been voted the 4th most romantic hotel in Africa.This former ambassador's residence in lush tropical gardens has been transformed into a rustic style luxury hotel with stunning ocean and beach backdrop to its 2 swimming pools.Each of its 24 suites was individually designed and uniquely furnished with a combination of imported and local art to create a highly individual character. The suites differ in size and style, but each is spacious and comfortable, with a luxurious bathroom, living area and bedroom. All suites have private balconies or terraces with ocean views or private gardens; some have their own private Jacuzzis on the balcony or terrace.From its cliff top position overlooking the ocean guests can relax and enjoys the tropical gardens, pools or make use of private secluded cove with decking right on the beach.
For that very special honeymoon, we would recommend a Macondo Suite with a private plunge pool that overlooks the infinity pool and the Atlantic Ocean. The spacious, sumptuous Macondosuites are uniquely furnished in an eclectic mix of art and comfort, a private terrace, a large bathroom, an extra-large bed. Other facilities include mosquito nets, air conditioning, Nespresso machine, fridge, free internet access and a personal mobile phone for room service, drinks, and lunch order at the pool or on the deck- just perfect for that special honeymoon.