FRANCE, EUROPE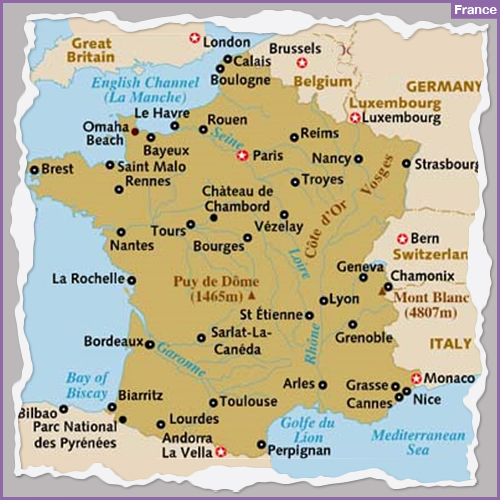 France offers an ever-changing holiday experience, if you ever think you know and understand France, think again. What it is depends on where you are. Chic if you are in Paris or Nice, provincial if you are in one of the many wine growing regions, dramatic if you are close to the Alps or the Pyrenees and a sun worshipers paradise if you are on the Cote D'Azur or Southern Atlantic coast. You can soak up the incredible history and culture dating back centuries, experience the amazing cuisine for which it is famous, taste some of the finest wines on Earth or just relax looking out over tranquil landscapes, imposing mountains or the hundreds of miles of coastline on the Atlantic or Mediterranean coasts.
Topography and Climate
The weather in France is as diverse as the landscape, temperate winters and mild summers are common for most of the country but mild winters and hot summers are the norm along the Mediterranean coast. On the Brittany peninsula you will find mild winters often with lots of rain and cool summers, in the east along the German border there are cool to cold winters and hot summers, it's similar along the Rhône Valley which hosts the Mistral. In the mountainous regions of the Alps, Pyrenees and Auvergne winters are particularly cold with lots of the snow.
Holidays and tours featured at this destination
General Information