Austria, Central Europe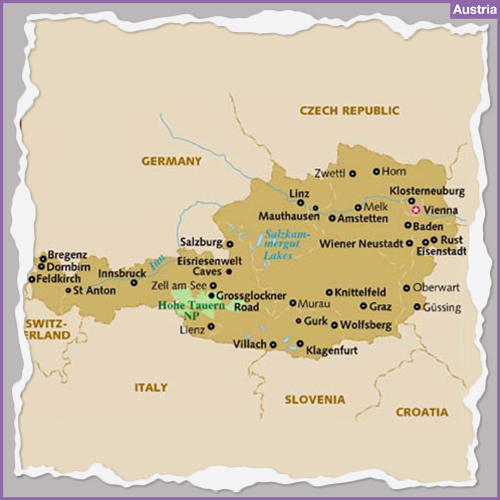 Austria, nestled in the heart of Europe, is a beautiful country both in nature and in culture. Here spectacular alpine landscapes and lavish, baroque architecture combine to create something of a fantasy land, where museums house artistic masterpieces and the sounds of Mozart fills extravagant concert halls.
In the mountains, there are picturesque villages nestled among breathtaking alpine peaks which come winter, see some of the heaviest coverings of snow in Europe, making Austria – among all else – one of the best and most sought-after ski destinations in the world.
Topography & Climate
Austria is an immensely mountainous country, particularly in the west and central regions, though even the eastern lowlands are still relatively hilly. Despite this, various passes and valleys allow travel within and across the country, which acts a bridge between its European neighbours. Due to its mountainous nature, Austria's climate depends largely on altitude with temperatures dropping significantly as elevation rapidly increases. The lowlands, predominantly in the east and southeast, have cold winters but much longer and hotter summers.
Livingstone's Travel World – Unique destination tours and travel experiences:

GENERAL INFORMATION
Austria, is a German speaking country in the centre of Europe. It is steeped in imperial history thanks to The House of Habsburg, one of the most powerful and influential monarchies in Europe, who occupied the throne of the Holy Roman Empire for over 300 years. They channelled their wealth into the likes of grand palaces and extravagant concert halls, cementing their legacy into the country via the wonderful Austrian architecture and artistic culture that remains today.
But, Austria isn't categorised only by its grand, baroque architecture. From the fairytale-esque Bohemian Forest to glimmering Traunsee Lake and the dramatic Alpine backdrops, Austria has a unique and wonderful landscape waiting to be explored. The lush land also lends itself to Austria's diverse and divine cuisine, with locally (and carefully) sourced ingredients gracing farmers markets to five-star restaurants and everything in between. The heart of Europe may appear glamorous on the exterior, but it is graced by warm and humble people who certainly don't take their beautiful country for granted.

RAIL TOUR
New Year in Vienna – The Golden Eagle Danube Express embarks on a nine-day luxury rail journey through Europe with stops in Hungary, Austria, the Czech Republic and Slovakia. New Year's Eve is spent dining and waltzing at the city hall in beautiful Vienna, with a horse and cart to take you to a New Year's Day brunch the following day.
VIENNA
Vienna, Austria's romantic capital, lies on the banks of the Danube River, to the east of the country. Vienna is a city of both glamour and soul, derived from a magical combination of imperial history and artistic legacy – shaped by the likes of Mozart and Beethoven, who once resided here. Today, these influences come together under the roof of the historical Hofburg Palace; the beautiful sound of the Vienna Boys' Choir rings out from the Burgkapelle (Royal Chapel), while the dancing Lipizzaner stallions prance elegantly about the Spanish Riding School. Outside the walls of the Hofburg, the streets are lined with charming baroque buildings, housing everything from sumptuous coffee houses to traditional wine taverns, classical concert halls to opera houses and an eclectic blend of shops. In the MuseumsQuartier district, works by Austria's most influential artists are housed in both historic and modern buildings with exteriors as notable as the art itself. It is an enchanting city, and whether you're of refined tastes or prefer a humbler setting, you are sure to find something to appreciate among the idyllic streets.
GRAZ
Graz, is a large yet surprisingly laid-back Austrian city that boasts a vibrant and innovative youth culture within in a historical setting. The city is divided in two by the narrow River Mur; an artificial island designed by New York artist Vito Acconci offers a unique way to get from one side to the other, as well as a touch of modernity in a city of medieval, baroque and renaissance architecture. Graz Old Town is a UNESCO World Heritage Site and one of the best-preserved historical towns in Europe; take a birds-eye view from the top of The Schlossberg and see a sea of red rooftops intercepted by idyllic courtyards and green parkland; a glimmer of Austria's countryside within its beautiful city walls.

AUSTRIA SKI
Austria, famous for its vast mountainous region, is arguably one of the best and most beautiful ski destinations in the world. The lashings of snow aren't limited to winter, with glaciers providing fresh white powder all-year-round. And they're easily accessible, with most resorts only an hour's drive from Innsbruck, Salzburg or Munich international airports. All this, combined with outstanding apres-ski, unrivaled Austrian hospitality and understatedly luxurious accommodation, make for an unforgettable ski experience no matter the resort. And there are plenty to choose from, all with something special to offer. There are Lech and Zürs, which receive more snow than any other ski resort in Europe, and with Lech being the only resort in Austria to offer heli-skiing, you can almost guarantee fresh, untouched tracks. Elsewhere, Kitzbühel offers an added touch of luxury with grand hotels and heated chair lifts, while Zell am See has the most breathtaking lake views and a famously vibrant apres-ski scene. Austria really does offer something for everyone when it comes to skiing and Livingstone's have carefully selected a handful of hotels to give you the best Austrian ski experience, no matter where you choose.
Tyrol, is an Austrian state in the heart of the Alps, known – in large part – for its spectacular landscapes. With over 500 peaks soaring upwards of 3,000m, flourishing green meadows in summer and lashings of powdery white snow in winter, Tyrol has been giving its visitors the gift of natural beauty for centuries. Awash with historic sites from imperial palaces and tombs, to gothic churches and the gleaming roof of the Goldenes Dachl, there is much to be discovered among Tyrol's soaring peaks. A variety of traditions grace the various valleys and villages of Tyrol, meaning a packed annual calendar of festivals, carnivals and events across the state, and the warm and welcoming locals are all too happy for visitors to join them in their celebrations. Tyrol, is heartwarming place in every sense, but above all else, is perhaps best known for its plethora of fantastic ski resorts; offering everything from alpine skiing and cross-country skiing, to tobogganing and snow-shoeing across the magnificent Alpine landscape.
Kitzbühel – Skiing in Kitzbühel spans three areas: the Kitzbüheler Horn, the (much larger) Hahnenkamm and Bichlalm, a small area for freeriders. A short bus ride also links Kitzbühel to the SkiWelt, adding another 280 kilometres of trails served by ninety lifts! And all are covered by the nine-area Kitzbühel Alps AllStarCard. Not an area to shy away from a little luxury, in the 2017/18 season Kitzbühel added a new eight-person, high-speed detachable chairlift with bubble covers and heated seats. Speaking of luxury, the resort itself abounds in glamorous hotels and as such, attracts its fair share of glitterati. However, budget travelers need not hold back, as it also has plenty of small yet inviting family-run inns. Official site: www.kitzbuehel.com.
St. Anton am Arlberg – St. Anton is perhaps the best known of the ski resorts in Arlberg, Austria and holds an important place in history as the site of the first ski club in the Alps, which began here in 1901. Today, reaching a formidable 2,800 meters and with some of the most challenging runs in the Alps, it is a favourite among experienced skiers. Strong intermediates have some 280 kilometres of terrain to play with; from off-piste powder to mega moguls, there is plenty to challenge more advanced skiing enthusiasts. St. Anton may not be a place for beginners, but less accomplished (and less daring) skiers can be whisked over to the nearby slopes of Lech and Zürs, both of which are included in the regional Arlberg lift pass. Their combined 340 kilometres of slopes and pistes are accessible via a ski bus service or – in some cases – new lifts linking to pistes on the other side of the Flexen Pass. The village of St. Anton is a lively, car-free cluster of shops, cafés, inns and hotels and boasts a vibrant après-ski scene. Available accommodation includes some beautiful, luxury properties at mid-range prices, such as the stylish Himmlhof or the quaint Tyrolean Hotel am Dorfplatz – both of which are within a short walk of the lifts, which leave right from the village. If that wasn't enough, St. Anton has one other surprising advantage: it can be reached by train. Official site: www.stantonamarlberg.com.
Innsbruck – Innsbruck – the capital of Tyrol (Austria's western state) – is a picturesque old city which graces the banks of the River Inn. Not only is it brimming with beautiful architecture, but its dramatic mountainous backdrop can be reached by cable car right from its centre, providing easy access to world-class skiing. Six different ski regions surround Innsbruck and a single Olympic World ski pass grants access to over 300 kilometres of ski trails across nine areas. Where to go depends largely on ability; skiers of all levels will be happy in the village of Igls, where Innsbruck's most popular ski area, Patscherkofel, hosted the 1964 Winter Olympics. Igls is just a short tram ride from Innsbruck and is the perfect base for families with both skiers and non-skiers. Intermediates may head to Axamer-Lizum, just 10 kilometres out of town in the village of Axams or the Muttereralm area. Closest Innsbruck's centre is Nordkette, which can be reached by funicular and cable car, but with some of the Tyrol's steepest runs and plenty of off-piste terrain, it's not a place for beginners. Neither, in fact, is Hungerburg-Seegrube, an area for experts which leads to the challenging terrain of the Hafelekar. Extremely well-seasoned skiers may wish to brave the 50 kilometers of intensive skiing on the Stubai Glacier; certainly not for the inexperienced or faint-hearted, but at 3,210 meters at the top of Tyrol, skilfull skiers are undoubtedly rewarded for their bravery.
Lech-Zürs am Arlberg – Now connected to nearby St. Anton by the new Flexenbahn cableway, the village of Lech boasts high end, luxury lodgings and an air of exclusivity enhanced by its remote setting. So, it's easy to see why it's become a favourite bolt hole among royalty and celebs. The surprise is that it also remains an approachable choice for families, with a number of budget-friendly lodgings also available and a wide range of terrain to suit all ski-levels. Zürs is smaller, quieter, and less self-conscious (although no less upscale) and is a particular favourite for off-piste skiers who revel in its range of backcountry terrain. About five kilometers from Lech and connected to it by cable-car, is the tiny village of Zug – a peaceful, low-key alternative with access to the same ski terrain. Between the two is 350 kilometers of terrain at a high enough altitude to assure good snow, so whatever your preference when it comes to accommodation, you'll be spoilt for choice when it comes to skiing. However, it's worth noting that the snow levels and isolation can be problematic for those who must come and go on schedule, as a snowstorm can close the pass, making access from the east a much longer journey, though one that's certainly worth it. Official site: www.lechzuers.com/skiing.
Zell am See – Zell am See has all of the ingredients of a fantastic ski holiday: plenty of snow, a large town with excellent links to neighbouring resorts and one heck of an après-ski scene. But the icing on the cake of this wonderful resort is the spectacular views it comes with; the glassy lake is encompassed by a ring of soaring, snow-drenched peaks, offering views so overwhelming that skiers may find themselves distracted from their activities. But when it is time to focus on the slopes, there will assuredly be plenty of snow to play with, especially on the Kitzsteinhorn glacier above Kaprun (which is accessible on the same ski pass). Non-skiers can spend their days roaming the town, or venture over to Salzburg (about 100 kilometers away) for the day. Zell am See is famous for its raucous après-ski scene, but skiers who prefer a quieter setting can find peace (and more budget-friendly lodgings) in nearby Schuttdorf, which has lift access right from its center. Between the two villages is the luxury Kinderhotel Zell am See, which is a great choice for families with plenty of activities for children of various ages. Official site: www.zellamsee-kaprun.com.
Saalbach-Hinterglemm – Saalbach and Hinterglemm are two villages which sit right at the base of the slopes. Saalbach, the larger of the two, is a traditional mountain village lined with cafés, boutiques, upscale hotels and a healthy après-ski scene. Hinterglemm is smaller, quieter, more budget-friendly and better for families. However, a free ski bus allows the freedom to connect between the two villages, as well as to nearby Leogang. Hinterglemm (near Salzburg) also combines with the nearby resorts of Leogan and Fieberbrunn to make one of Austria's most extensive trail networks, with some of its most modern and sophisticated lift systems. Despite comparatively low altitudes (1,003 and 1,060 meters respectively), the resort has a good snow history which has made it one of Austria's most popular. The combined terrain, called the SkiCircus, forms a ring of mountains that totals over 200km of ski runs served by 62 lifts, arranged in such a way that ambitious skiers can make a circuit rather than repeating the same runs. The region is a particularly good choice for families and for beginner/intermediate skiers; including enough terrain to sample plenty of variety and with runs that stretch the entire 1,000 meter vertical. Official site: www.saalbach.com.
Söll – The second largest ski area in Austria and the major resort of the dozen SkiWelt villages, Söll offers some of the best value in the Austrian Alps. The charming Tyrolean village is awash with budget-friendly accommodation and dining options, but the skiing is certainly not compromised. Despite the area sitting at a lower altitude than many Alpine resorts, the slopes are still around 80% covered by snow and provide skiers with an amazing 280 kilometers of pistes served by 90 lifts. The terrain is largely geared towards intermediate skiers, with fewer places to challenge experts. The SkiWelt is linked to Kitzbühel through Westendorf and Kirchberg, adding another 170 kilometers and 54 lifts, although these require a separate pass.
Sölden – Until it was used as the setting for the 2015 James Bond film, Spectre, Sölden was largely overlooked by international skiers. Although it's unclear exactly why; with a high altitude and links to two glaciers, Sölden is assured some of Austria's most reliable snow, with the added appeal of almost year-round skiing. It's just an hour's drive from Innsbruck and has 150 kilometers of mixed terrain, making it more versatile than many resorts. There are a high percentage of gentle and intermediate runs for newer or perhaps not-so daring skiers, while the glaciers and off-piste areas provide plenty of option for experts and enthusiasts. The three different mountains are connected by actual runs and lifts, so skiing between them doesn't become a series of cross-country catwalks. And what Sölden may seem to lack (by comparison) in picturesque charm, it more than makes up for in exuberant après-ski life. Official site: www.soelden.com.
Ischgl – Ischgl is perhaps best known as the après-ski capital of the Alps, but that doesn't mean serious skiers won't get their fix; the high altitude and north-facing slopes assure good snow and an excellent lift system covers the largest ski terrain in the Eastern Alps. New for the 2017/18 season is the Palinkopfbahn, a six-person high-speed detachable chairlift with bubble covers and heated seats, offering a touch of luxury as you explore the slopes. The Silvretta runs are perfect for intermediate skiers, offering them the chance for cross-border skiing into Switzerland – a thrill usually reserved for experts. More advanced skiers have plenty of terrain to choose from, too, with a number of challenging black trails and off-piste skiing. Boarders will be in their element at the Ischgl Snowpark (also new for the 2017/18 season), with new rails, boxes and obstacles to try and master. And with some long, wide cruisers among these six valleys, Ischgl has something to offer all types and levels of skier. Official site: www.ischgl.com/en.
Mayrhofen – loved by power hounds and snowboarders for its outstanding terrain parks and vast open snowfields on the higher slopes, Mayrhofen is a snowy playground home to Austria's steepest groomed ski run: Harakiri, with a 78 percent gradient. There is a total of 159 kilometers of runs within the immediate Mayrhofen/Hippach facility, and the area-wide Zillertaler SuperSkiPass covers an incredible 489 kilometers of pistes in the whole valley, served by 177 lifts. In 2016, a 24-seat gondola was added and in 2018, a 10-seat gondola with heated seats followed, to cut waiting times. The six snowboarding areas of the Vans Penken Park also have their own quad chairlift, as does a dedicated kids' park. With so many snowboarders, the après-ski scene is inevitably lively, but even that pales to the commotion of the annual week-long Snowbombing event in April. Mayrhofen, to summarise, is energetic, exciting and above all, excellent fun.