ANTIGUA & BARBUDA, THE CARIBBEAN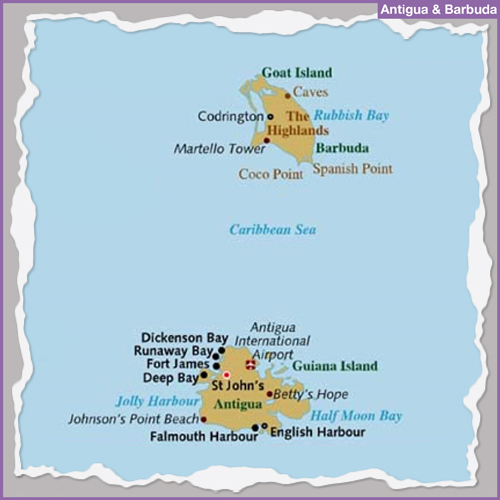 Antigua and Barbuda, is an independent Commonwealth country comprising its two namesake islands. Somehow still a hidden Caribbean treasure, this twin island haven is categorised by its boundless landscape lush with acacias and mahogany, limestone cliffs that roll gently toward velveteen sands that dissolve into azure the Caribbean Sea.
Yacht infested 18th-century harbours add luxury to paradise in a country fit for the most discerning of travellers. Antigua and Barbuda combine intriguing history and unspoiled beauty, with modern luxuries and word class hospitality. Making for the Caribbean trip of a lifetime.
Topography & Climate
Situated where the Atlantic and Caribbean meet, Antigua and Barbuda boast a balmy tropical climate all-year-round, with little variance in temperature; lows range from 22-25°C and highs from 28-31°C, and seasons can be categorised into wet and dry.
June to November daily downpours and a likelihood of tropical storms, while January to mid-April is generally dry and warm. Both islands are relatively low-lying; the highest point is Mount Obama in the hilly region of southwest Antigua.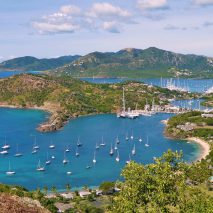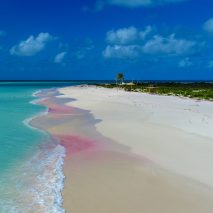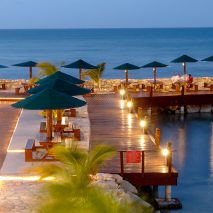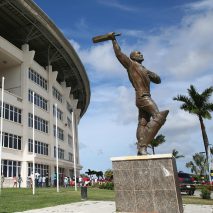 Antigua & Barbuda can be described as a discerning traveller's paradise; Antigua and Barbuda is a modernised haven where unspoiled beaches, coves and lagoons meet luxury resorts and retreats, private villas and high-end hotels. The culture of warm, welcoming locals translates into an impeccable reputation for great hospitality, and lends itself to fantastic opportunities to experience these incredible islands.
As well as being a spectacle of natural beauty, Antigua and Barbuda also boast intriguing history as part of their repertoire; from early natives to famed explorer Christopher Columbus and the more recent introduction of British influences, it's an enthralling one to wrap heads around. However, these twin islands aren't identical; although both blessed with immense natural beauty, charming culture and first-world luxuries, the islands aren't just one-in-the-same. Read below to discover the unique enticements of each and check-out the video below.
ANTIGUA – PLACES & ATTRACTIONS
Antigua, for all its coastal serenity, is a lively fusion of quintessential Caribbean culture and strong British influence. Listen out for distinct English accents around the thriving capital of St. John's, home of the Museum of Antigua and Barbuda. The museum resides in what was the St. John's Courthouse, believed to be the oldest building in the capital, among a myriad of colonial ruins and St John's Cathedral. Two St. John's Anglican Churches have already stood on the site of the present cathedral. The first was built of wood as early as 1681, The second was constructed with English brick about 1720 when the first fell in disrepair and became too small.
On the opposite side of Antigua to St. John's is English Harbour and of course, Nelson's Dockyard. Now a UNESCO listed site and fully restored to its original splendour, the Dockyard houses modern amenities such as shops, hotels, marina businesses and the Dockyard Museum. While the surrounding landscape is dotted with scenic hiking trails leading to historic forts. Head up to Shirley Heights Lookout, a restored military lookout and gun battery, to catch the sunset over English Harbour. The view (at about 490ft) is spectacular. Or, plan an unforgettable trip down to The Pillars of Hercules, Antigua's spectacular limestone rock formation guarding the entrance to English Harbour. Its large limestone boulders, covered in coral reefs, overlook the sparkling blue waters. Tourists are lured in to diving off its pillars, hiking its popular trails or snorkelling near its island. The Pillars of Hercules is the ultimate wanderlust adventure.
In fact, Antigua's entire landscape holds the potential for adventure. There's Devil's Bridge, offering a stunning glimpse into Antigua's natural formation. Composed of limestone rock, the rugged terrain of Devil's Bridge is the result of millions of years of ancient reef formation. Such reefs make Antigua a popular place for snorkeling, and Pigeon Point Beach, with its clear blue waters, is the perfect place to snorkel, swim and sunbathe. When it's time to refuel you can head down to the beach's on-site restaurant/bar 'Bumpkins' for delicious eats and refreshments! With so much to do on the beach, you may never want to leave this natural oasis!
Beyond the landscapes and among the remnants of British influence, you will of course discover Caribbean tradition; seek the mellow depths of rainbow-coloured villages, immerse yourself into the native music scene and the vibrancy of rum-infused, costume-clad carnivals. Antigua celebrated its first carnival in August 1957. Intended both as a tourist attraction, and the commemoration of emancipation from slavery. And as much is true today. The Carnival attracts thousands of visitors, many returning year after year for the two weeks of shows, competitions and Calypso music. From humble beginnings, the Carnival has evolved into what it is today, the Caribbean's greatest summer festival.
Celebrate among the colour and sounds of Carnival one day, and immerse yourself into the history behind it the next. Betty's Hope was one of the earliest sugar plantations, dating back to 1651. One of the two sugar mill towers has now been fully restored, complete with sails. And with a small interpretation centre and interpretation signage throughout the estate, this heritage landmark is most certainly worth a visit. As is Cades Bay Agricultural Station; It wasn't until the late sixties that the Ministry of Agriculture diversified the operations from small farms to a government owned Agricultural Station. And in 1983, a production and management plan was formulated. It was during this period that Cades Bay was at its peak, with 20 acres of crop under production. The island's 'Antiguan Black Pineapples' can be taken with you at the end of your holiday.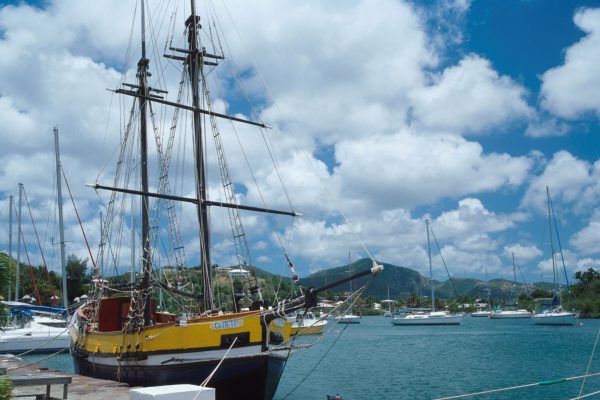 Despite its rich, well-preserved history and obvious cultural traditions, Antigua is by no means behind the times. And while it can often feel like an isolated haven, it is by no means "off the map". In fact, its waters are an important hub for transatlantic crossings. Sailing yachts and superyachts alike flock to Falmouth Harbour year after year, seeking out its custom-built superyacht dock. And of course, the island is also home to Antigua Sailing Week, which itself welcomes over 100 yachts each year to race and spectate.
West Indies, Antigua and Cricket have always been somewhat synonymous. The Sir Vivian Richards Stadium was built to be one of the host venues for the 2007, Cricket World Cup. This came as no surprise, of course, considering the West Indies long history in the sport.
BARBUDA – PLACES & ATTRACTIONS
Barbuda, could perhaps be described as Antigua's little sister. With the same genes when it comes to natural beauty, Barbuda is less matured in the way of first-world modernity's.
Devastated by the powers of hurricane Irma in September 2017, the island is once again beginning to flourish. The population (one far-less dense than Antigua) has returned to their beloved island villages and similarly, the magnificent native frigate birds have once again begun to nest down in their rightful home.
In fact, Barbuda is home to the largest Frigate Bird Colony in the western hemisphere. The Frigate Bird Sanctuary is located in the capital of Barbuda, at the Codrington Lagoon. Accessible only by a short boat ride.
Like Antigua, Barbuda holds evidence of a British history. The Martello Tower on Barbuda's south coast dates back to the early 1800's, when it was built as a defence base for the British. There is so much history held within the cliffs and caves of Barbuda's coastline, including the Petroglyphs drawings of Indian Cave that were left by Arawak Indians.
Along with the island's history and incredible beauty, comes an untainted spirit that is truly inspiring. It is an eco-friendly paradise of pink-tinged sands, unfathomably clear waters and a population of tropical birds that somewhat outweighs the number of people.