ANDALUSIA, SPAIN
Andalusia is a generous slice of quintessential Spain. Here classic culture and tradition thrive, and the balmy breeze carries the scent of orange trees. The best time to visit the Spanish region of Andalusia is from March thru November, as the sun shines here for almost the entire year. Find out about our Andalusia opportunities below.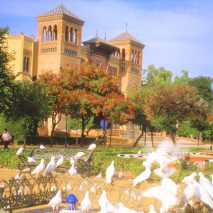 Discovery Tour:
This Andalusia 9-Day Classic Cities Cultural tour, is an odyssey through a Mediterranean treasure trove. Andalusia's cities are rich in everything from history, tradition and culture to architecture and gastronomy. And each offers something unique to the next. So, from ancient cities to palm-lined promenades, Moorish towns to cosmopolitan capitals, and sleepy fishing villages to thriving seaside resorts, embark on journey of discovery through Spain's sunniest region…
Estepona is a resort town on the Costa del Sol in southern Spain, with a palm-lined promenade running alongside its Playa de la Rada beach. And is one of the few coastal towns that have succeeded in maintaining its pueblo charm and character. The whitewashed old town, with its steep, narrow streets, are adorned with colourful flower pots. And the flower-filled Plaza de las Flores is home to eclectic artworks, street cafes and tapas bars serving traditional Spanish delicacies. To add to its appeal there is the old fishing port, cove of Playa del Cristo, and the water sports facilities of Puerto Deportivo.
Seville, the capital of the province of the same name is also the capital of the Andalucía region. Located on the plain of the Guadalquivir River, which is navigable from Seville to Sanlúcar de Barrameda on the Atlantic coast, it crosses the city from north to south. The Tartessians were the original founders of the settlement that became Italaica, a colony of the Roman Empire, and remains of their amphitheatre and three houses, De Exedra, Los Pájaros, and Hylas can be seen today. In 49 BC the name of the town was changed to Hispalis by Julius Caesar and was the centre of their Western Mediterranean dominions until being overrun by Moors at the beginning of the 10th century. The long Moorish occupation of the Iberian Peninsula left indelible traces in Seville like La Giralda, the tower of an important mosque is now the most well-known of the remaining Islamic monuments. In 1492 Seville played an important role in the discovery and conquest of America and its river port is still one of the most active in Spain today. The 17th century was a period of artistic splendour in Seville. Painters such as Velázquez, Murillo and Valdés Leal, and sculptors like Martinez Montanez were born there and left behind very important works of art. Seville continues to be in the international spotlight. 20th century Seville has played host to the Latin American Exhibition in 1929 and the International Expo in 1992 – events that enforced the image of Seville as a modern and dynamic city and certainly one of the most charming places in Spain today.
Granada, is situated in the eastern side of Andalusia, located at the foot of the Sierra Nevada Mountains at the confluences of the Darro and Genil rivers. Its unique history has bestowed it an artistic grandeur embracing Moorish palaces and Christian Renaissance treasures. Shaped by the hills, the old districts in the Albaicín and the Alhambra are brimming with steep, narrow streets, beautiful nooks and crannies, and marvellous landscapes. The historic centre is divided in four old towns: the Muslim "Albaycin", a Unesco World Heritage site since 1994, the Jewish "Realejo", the gipsy "Sacromonte" and the Christian city centre. The Moors crossed the strait of Gibraltar in 711 AD and settled in what was then a small Visigoth town perched atop the Alhambra hill. Here they erected walls and laid the foundation for the prosperous civilisation that would follow. It was in the 9th century when Granada rose to importance after the fall of the Caliphate of Córdoba. Its splendour was reached in 1238, when Mohammed ben Nasar founded the Nasrid dynasty, and the kingdom of Granada stretched from Gibraltar to Murcia. This dynasty bore twenty kings until King Boabdil was forced to surrender Granada to the Catholic monarchs, Fernando and Isabel, in 1492. During eight centuries of Arabian domination, a magnificent and rich Islamic culture flourished, leaving Granada with architectural marvels such as the Alhambra, and Generalife, like Albaycin, Unesco World Heritage sites.
Malaga, particularly its airport is well known to tourist and travellers visiting the Costa Del Sol but only a few of these millions visit the city or penetrate beyond its port and seafront. Archaeological remains and monuments from the Phoenician, Roman, Arabic and Christian eras make the historic centre of the city an open museum, displaying its rich history of more than 3.000 years. Overlooking the town and port are the wonderfully preserved fourteenth century citadels of the Alcazaba and Gibralfaro, both vivid reminders of the city's Moorish past, whilst a Roman theatre below predates them by over a millennium. The old quarter is a wonderful place to wander through, streets and squares are filled with animated bars and cafés as well as craft and fashion shops. The city also has a trio of outstanding art galleries, including the spectacular Museo Picasso, housing a major collection of work by the Malaga born artist.
Cordoba, is a great cultural reference point in Europe, this ancient city declared a World Heritage Site contains a mixture of the diverse cultures that have settled it throughout history: Muslim, Jewish and Christian. Very few places in the world can boast of having been the capital of a Roman province Hispania Ulterior, the capital of an Arab State, Al-Andalus. When the Muslims conquered the city in 711 AD, Cordoba became the political, financial and economic centre of the Muslim Emirate of Al-Andalus. In 756 AD, it became the capital of the independent Emirate of Cordoba, founded by the, Umayyad prince Abd al-Rahman I. From 929 AD, when the Emir Abd al-Rahaman III proclaims himself Caliph and Cordoba became the capital of an independent Caliphate. The kingdom of Abd al-Rahman III was the most glorious period of the city's history, in 936 AD, madly in love, he built Medina az Zahara, a luxurious palace, 8km west of Cordoba, as a tribute to his favourite Zahara. Such splendour is palpable in the intellectual wealth of this city, which has seen the birth of figures like Seneca, Averroes, and Maimonides. The historic quarter of Cordoba is a beautiful network of small streets, alleys, squares and whitewashed courtyards arranged around the Mezquita, which reflects the city's prominent place in the Islamic world during medieval times. Modern Cordoba with its numerous museums, lively nightlife still has much to offer in terms of art, culture and leisure; amongst its myriad of annual cultural events are Flamenco festivals, concerts and ballet.
Ronda, built on an isolated ridge of the sierra, Ronda is split in half by a gaping river gorge, El Tajo, which drops sheer for 130 metres on three sides and separates the city's 15th century "new town" from its old town. Still more spectacular, is that the two parts of Ronda are linked by a striking 18th century arched bridge, the Puente Nuevo, while tall whitewashed houses lean perilously from its precipitous edges. Not surprisingly, this dramatic and dominant location attracted not only the early Celts but Phoenicians and Greeks as well. Under Rome, it became an important military bastion, and just outside the town are the ruins of Acinipo, a Roman-era settlement. When the Moors came, "Medina Runda" was embellished with lavish mosques and palaces that included the 14th century Palacio de Mondragon, decorated with ornate mosaics and surrounded by landscaped gardens. Like the "new-town legendary 18th century Plaza de Toros bullring it's one of the city's most recognisable landmarks. Ronda is also notable for having been the birthplace of the Maestranza, an order of knights who laid down the rules for early bullfights performed on horseback. Despite being a major tourist attraction, Ronda retains much of its historic charm.
Marbella, with splendid beaches is where most visitors come to enjoy the sun, sea and sand. Since the 1950's when Prince Alfonso de Hohenlohe fell in love with the place and built a beachfront house, it's become a favourite location for the rich and famous. The old town with narrow cobbled streets and plazas is has an array of shops and art galleries selling pretty clothes and accessories, and handmade wares. Its orange tree-filled Plaza de los Naranjos just off the main street is home to the 16th century town hall. Marbella's history stretches back to Roman times, once part of the great Roman city of Cilniana and remnants of this can be seen at Rio Verde just west of the town. Also, west of the town is Puerto Banus, designed and built in 1970 as a luxury marina and shopping complex, it's now the Costa Del Sol's playground with beach clubs, a vibrant nightlife, designer shops around the marina that's full of luxury yachts. Marbella's gastronomic scene can be considered second to none, with everything from vegetarian and vegan cafes, to beachfront chiringuitos, and Michelin-starred restaurants including that of Spanish cooking star Dani Garcia.
Sierra Nevada, is a dramatic, rugged and extensive mountain range, the highest in Europe after the Alps, with torrential rivers, sheer-sided gorges, stony scree slopes and glacial lakes. Designated a national park in 1998, one of only two in Andalusia, the other being the Doñana National Park, it was declared a Unesco Biosphere Reserve in 1986 because of its exceptional diverse plant, bird and animal species. In the south of the region are mountain villages known as Las Alpujarras which are famous throughout Spain for their terraced farmlands that are constantly watered by the melting snow creating a high-altitude oasis of greenery in contrast to the arid foothills below. These 50 or so villages were the last stronghold of the Spanish Moors, soon after the Castillians took Granada in 1492 all the city´s Moors were forced to convert to Christianity; those that refused left and settled in this remote, inaccessible area. In the west of the park is Solynieve, Europe's southernmost ski resort, where the ski season generally runs from November to April. Apart from skiers and snowboarders at the resort, the park is popular with hikers, climbers and birdwatchers.
Nerja, a seaside resort town at the eastern tip of the Costa del Sol is flanked by the Sierra Almijara, a dramatic mountain range. This once sleepy fishing village with powdery sand and sparkling clear water is now very popular with the discerning traveller. The old quarter of the town, which can be explored by horse-drawn carriage, has narrow, winding streets, whitewashed houses with wrought iron terraces overflowing with geraniums – has hardly changed over the years. At the heart of the town is the spectacular "Balcony of Europe", once the site of a great Moorish castle, is now a magnificent promenade running along the edge of a towering cliff, with wonderful views of the Mediterranean and the coves and beaches below. Nerja most notable attractions include the beautiful Gardens of Capistrano Playa, which descend to Burriana Beach and 17th century Church of El Salvador, but the most spectacular is unquestionably the caves. These caves just outside the town have paintings over 20,000 years old, pre-historic remains and numerous archaeological treasures. One of the enormous natural caverns has been adapted into a concert hall, its annual International Cave Festival that features many top international entertainers, is just one of the many performances staged during the summer months.
Almeria, the capital city of the province of the same name is located in eastern Andalusia. Recognised as one of Spain's sunniest regions with a coastline dotted by almost virgin beaches, which according to Lonely Planet is probably the last section of Spain's Mediterranean coast where you can have a beach to yourself. In addition to its beaches, history and culture, there are stunning mountain and coastal nature reserves. Once one of the most important ports in the Caliphate of Cordoba, its Alcazaba (citadel) is the biggest fortress ever built by the Arabs in Spain, its narrow streets with whitewashed façades are elements of its picturesque historic quarter. A city full churches, temples and monuments, and a cathedral with towers and thick walls that resemble a fortress are reminders of its historic significance. Almeria is also known for its gastronomy, its seafood from Garucha, and many regional delicacies which includes "ajo colorao" (a stew with potatoes, red bell peppers, egg, sausages, cod, garlic and olive oil), "breca a la uva" (Pandora fish with grapes), "rape a la barraca" (monkfish with leek and mushrooms) and a "special" sponge cake with dates.
Optional Discovery Tour Add-ons
If, after all that, you're not quite ready to leave Andalusia behind (trust us, we won't blame you), you may wish to include one of the following optional add-ons to your Andalusia tour.
El Chorro, The Arabic Staircase
A day spent following the winding limestone steps of the Arabic Staircase is an excuse to visit the delightful community of El Chorro, and is a great opportunity to spend time in the celebrated charm of Andalusia's landscape. This popular hike attracts many travellers year-round with its rich history, breathtaking views, and its accommodating range of difficulties. Taking roughly five hours (at moderate pace) to complete, this straightforward trail will ignite the inner historian that hides within every eager adventurer.
The Bobastro Ruins
The Bobastro ruins are one of the most intriguing archaeological sites in Spain. With caves that were once dwellings, and structures that may have once been watchtowers or defensive walls, there is plenty to ponder as you ramble through the ruins, stepping over a littering of old pottery and ceramics. The vast history behind these ruins is truly fascinating, and will be told by a passionate and knowledgeable guide should you choose to add this to your Andalusia Discovery Tour.
The Caminito Del Ray
The Caminito Del Ray, in the heart of Malaga province, is perhaps one of the most spectacular and exhilarating walks in the world. A no-frills pathway clinging to the sheer rockface of El Chorro Gorge, the Caminito Del Ray was originally built between 1901-1905, and fully re-constructed between 2013-2015. The new 7.7km pathway follows the winding river below downstream, from Ardales to Álora, and makes a thrilling addition to any Andalusia holiday or tour.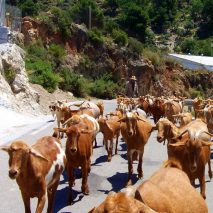 Gastronomy Tour:
This Andalusia, 7-Day Gastronomy tour, is a culinary journey for lovers of excellent food and fine wine. From discovering the source of Andalusia's cuisine through to production, cooking and of course, tasting, this gastronomy tour leaves no stone unturned when it comes to the culinary delights of Andalusia. Along the way you will visit some of Spain's most picturesque villages and rural gems, discovering the land that lends itself to such a wonderfully diverse regional menu…
Zuheros, a village famed for its cheese factory Las Balanchares, the locally bred goats from the Sierras provide the milk for this internationally known cheese which can be bought directly from the factory. A Subbética village that nestles in a gorge with a cluster of white houses "pueblo blanco" that tumble down the hill (Zuheros is one of the best of these; "el pueblo mas bonito del mundo") to a romantic Moorish castle built on and into the rock. On the edge of a small square, the archeological museum displays fascinating finds from the Cueva de losMurciélagos, "bats cave" which is located in the hills above the village and was first explored in 1938. Opposite the castle is the church, the Parroquia de Nuestra Señora de los Remedios, the patron saint of the village. Ideally situated on the fringe of the Sierra Subbetica Natural Park there are many scenic walking and cycling routes such as the old olive oil railway trail, Via Verde, with dramatic views over the whole Subbetica landscape.
Rute, is famous for producing aniseed liqueurs (Anís) which can be sampled at most of the town's bodegas. A typical regional whitewashed town that overlooks the Iznajar reservoir, with a ruined Moorish castle and a fine Baroque church, all overlooked by the hazy Sierra de Rute. In addition to the Anis it produces its own celebrated cured ham and delicious, typically Spanish – sweet treats, like mantecado traditionally served at Christmas. Visits to the Museo Artesanal Del Mantecado and the Casa-Museo del Jamón have displays and information on the traditional methods of manufacturing these gastronomic delicacies. Just outside Rute is a unique donkey reserve the Sanctuario de Burros, founded in 1998 to protect the pure Spanish race which is in extreme danger of extinction, a non-profit organization run by The Association for the Defence of the Donkey (ADEBO).
Iznajar, no matter where you look on the hills around Iznajar the landscape is full of the stunning olive groves. It boasts three olive mills or co-operatives, these serve the olive farmers in the area, and you can buy locally produced olive oil from shops or taste the olives at bars and restaurants. A small picturesque town originally a prehistoric Iberian settlement with fortified town walls and a Moorish 1,200-year old castle situated on top of a huge rocky out crop overlooking "El Pantano de Iznajar" 'embalse', or reservoir which transformed the town in the 1960's. Now to all intents and purposes, Iznajar has a waterfront, overlooking an inland sea, the largest lake in the whole of Andalusia, its "Valdearenas beach" where you can swim, rent pedalos and canoes and dinghy's is extremely popular throughout the summer season.
Priego, the centre of a major olive oil zone with its own denominational label, it produces some of the Spain's finest olive oils, which is recognised by its numerous international awards. The capital of the Subbetica region overlooking Subbética Mountain Range it's built around an Arabic castle at the edge of the escarpment. The northern approach presents a dramatic view of the whitewashed buildings of its old quarter the Barrio de la Villa sited along the edge of Balcón Del Adarve with amazing views across the countryside. A prosperous town, famous for its baroque churches that include the Church of the Asuncion a XVI century Gothic Mudejar temple remodelled in Baroque style in the XVIII century, its sacristy chapel is recognized as a masterpiece of the Spanish baroque. Its main monument, the Fuente Del Rey is an extraordinary fountain set in a leafy park with numerous pools and 139 spouts surrounding a Neptune statue; much of Priego's magnificence was made possible by the 18th century silk-production boom.
Montilla, with endless fields of grape-vines punctuating a landscape of gentle rolling hills is the centre of this Denomination of Origin wine zone, the principle white grape variety is Pedro Ximenez with a delicate skin and high sugar content. The wines that are made from it can reach up to 16% alcohol, leaving behind plenty of residual sugar. Matured using the solera system and classified in styles: Joven (young and fruity), Fino (dry and nutty), Amontillado (gradually oxidated), Oloroso (richer and heavier) and Pedro Ximénez (sweet and thick, honouring the actual grape name). The winemaking history of this area dates back to the Romans and the Moors and it's quite possibly the oldest in Andalusia. The landscape here is dry and the soil is a blinding white Albariza, white marl composed of clay, calcium and marine fossils has excellent moisture retention, which is very significant in an area that is hotter than almost anywhere else in Spain.
Los Pedroches Valley, a region of thirty-two towns in central area of Sierra Morena Mountains that produces Jamon Ibérico, considered the finest ham in the world and greatly prized as a gourmet food. The valley takes its name from the town of Pedroche, the oldest in the area. Here the ibérico pigs, the original swine of Spain, are released from November till March to eat "bellota", the acorns of the holm oak trees in the Dehesa pastureland. The Dehesa is one of the best-preserved ecosystems in Europe, where livestock breeds and lives side by side with deer, wild boars, wild cats, imperial eagles and black vultures. The Jarmon Ibérico ham covered by this Denomination of Origin is only made from the Iberian pigs breed in four different regions of Spain: Los Pedroches (Córdoba). Extremadura, Guijuelo (Salamanca) and Huelva.
Montoro, sited on an escarpment of 5 small hills above a horseshoe bend in the Gualquivir river is a typical Andalusian 'pueblo blanco' (white village) with narrow steep streets and brightly whitewashed houses. Amongst its cultural attractions is a 16th century bridge 'Puente de las Donadas' that spans the Guadalquivir river, the Plaza de Espana an enchanting town square with an historic town hall (Ayutamiento), the San Bartolomé, Santa Maria and San Sebastian churches, the remains of its Moorish castle and the tower of Villaverde. Declared as Historic-Artistic Site in 1969 there is also an olive oil museum, an archaeological museum, the museum of the famous artist Antonoio Rudriquez Luna and some wonderful bars and restaurants, enjoy a drink with some typical Spanish tapas.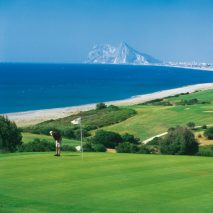 Golf Holidays:
Ever since tourism began in this beautiful corner of Spain, golf has been one of the main attractions. Blessed with outstanding scenery, sunshine almost all-year-round, Andalusia is now one of Europe's leading golf destinations. The beautifully manicured greens, stunning backdrops and luxury facilities are certainly fit to rival any course in the world. It really is the perfect place for your Spanish golf holiday. Whatever standard your game, Andalusia is a golfer's seventh heaven…
With so many golf courses available to book in, many stretching along the region's coastal resorts, we can offer a range of luxury golfing holidays for individuals, couples and families. As well as small and large groups, and golf club societies. We have access, through our Spanish golf partner, to virtually every golf club in Andalusia. Including the iconic Finca Cortesin, with its exquisite 18-hole course, luxury suites, stunning sea views and private beach club.
The region of Andalusia can be considered the perfect location for a twin-centre golf holiday or a multi golf course tour. A great choice for golfers with non-playing partners, we can combine the cultural and coastal joys of Andalusia, with its endless golf opportunities. So, no matter how long you wish to spend in Andalusia, how many rounds or courses you wish to play and who you're taking with you, we can craft the perfect Spanish golf holiday for you, with the help of our partners on the ground.
What's more, we will be planning a 2020 tour to the Andalusia Masters at Valderrama. This tour will not only offer the opportunity to watch some world-famous golfers in action, but also to play a round on the iconic course yourself. The dates for the 2020 Andalusia Masters have not yet been announced. But if you register your interest now, we will get in touch when it is available to book.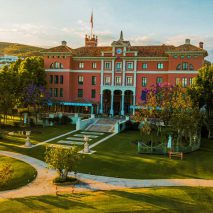 Weddings & Honeymoons:
Andalusia provides a wonderful choice for those wanting a wedding with a difference or a truly special honeymoon. With a vast offering of luxury, boutique and character hotels, not to mention a beautiful landscape, the romantic possibilities in Andalusia are endless. And so, the hotels and resorts we have handpicked are merely a sample of those we consider ideal for a destination wedding and/or honeymoon. For more information on the accommodations listed, or if you're considering something similar at another location, please call us on 020 7118 2110…
Casa La Siesta, Cadiz | El Cortijo de Los Caballos | Villa Padierna Palace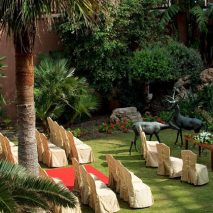 ELBA GRAN HOTEL & THALASSO SPA, ESTEPONA
The Elba Gran Hotel & Thalasso Spa in Estepona is an all-inclusive five-star hotel, with direct access from its enchanting landscaped gardens onto a quiet Mediterranean beach. A complete five-star hotel, it comprises of 202 large sea-view balcony rooms, made up of 138 deluxe doubles, 43 junior suites, 20 full suites and 1 presidential suite, all in an authentic and relaxing setting.
The Elba Gran Hotel includes: adult and children's swimming pools, a covered pool, three themed restaurants, an acclaimed Thalasso Spa offering a variety of treatments, and a heated pool with stunning views. The hotel specialises in civil weddings; its gardens are a perfect location for that special celebration and its beautiful rooms and garden marquees are ideal for a wedding banquet. This splendid all-inclusive hotel, just a short flight from the UK, offers value for money without compromise.
ACCOMMODATION
The list below is of carefully selected character, boutique, luxury hotels, retreats and resorts that we recommend, in addition to those that we use and are featured in our holiday tour itineraries. All are reviewed for quality and service regularly and the websites links should prove to be helpful, but we will happily discuss the individual merits of each during the booking process. Please be aware that we do not make "hotel" bookings on a stand-alone basis, we only book them as part of a travel package, or as an addition to an existing booking which enables us to use the best rates available at the time.
Gran Melia don Pepe, Marbella | Casa Del Poeta, Seville | Finca Cortesin Hotel Golf & Spa | Balcon de Cordoba | Villa Padierna Palace | Puente Romano Beach Resort & Spa | Barcelo La Bobadilla | Hotel Alfonso XIII, Seville | Kempinski Hotel Bahia, Estepona | Hotel Monasterio, Cadiz | Marbella Club Hotel | Parador de Granada | Hotel Castillo de Santa Catalina | Hospes Palacio de los Patos | Westin Golf Resort & Spa | Balcon de Europa, Nerja | Don Carlos Resort | Vincci Selección Aleysa Boutique & Spa, Benalmádena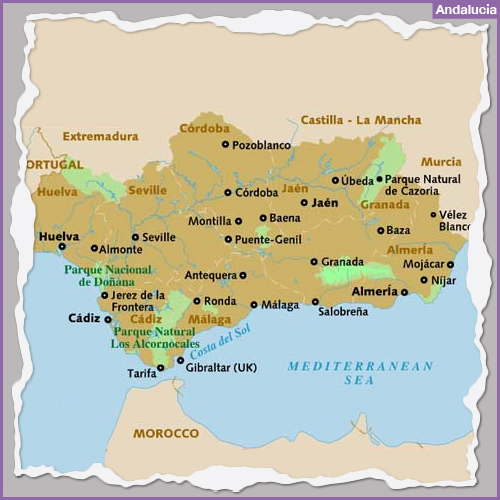 Andalusia, once Spain's poorest region, is now one of the most popular holiday destinations in Europe. Its delightful climate, sandy beaches and seaside cities make for a sun worshippers paradise, while its beautiful countryside and spectacularly rich history – showcased through fascinating architecture – offer so much more.
Andalusia, famed as the birthplace of Flamenco, is known for its fabulous food, wines and outstanding golf courses. The history, culture and heritage are evident amongst the amazing palaces, museums and monuments of Granada, Seville, Cordoba, Ronda and Malaga.
Topography & Climate
Andalusia is the southernmost region of Spain. Joined by a small strip of land to Gibraltar, it incorporates the provinces of Huelva, Cádiz, Malaga, Córdoba, Jaen, Granada, Almeria and its regional capital, Seville. Its terrain varies from fertile plains and barren deserts to alpine forests and high mountain ranges, including the snow-capped peaks of Sierra Nevada. The typical Mediterranean climate with mild, rainy winters and hot, dry summers – particularly around coastal areas such as the Costa del Sol – has made Andalusia a popular holiday destination.