Sri Lanka – The Paradise Island You Didn't Know Was At The Top Of Your Wish List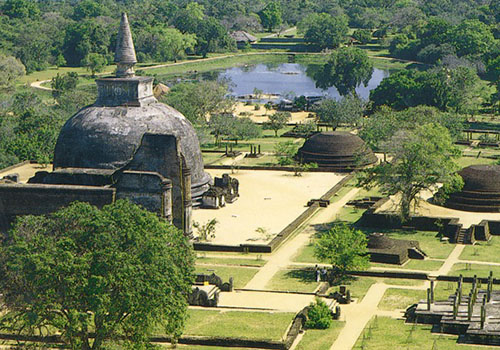 Sri Lanka is quite unlike anywhere else in the world in what it has to offer; merely a tear drop off the south coast of India, Sri Lanka is a tiny island packed with delights.
Spectacular scenery, an abundance of wildlife and a rich history make Sri Lanka a must-visit destination all-year-round. Now stable after years of turmoil, in 2013 Lonely Planet described it as the "hottest travel destination on the planet", and (despite Sri Lanka's glorious tropical heat) they didn't mean the weather!
With tropical rainforests, soaring cliffs, dramatically beautiful waterfalls, vast, lush plains, and endless stretches of golden sand, your holiday to Sri Lanka starts with the perfect backdrop. Much of the plains – in fact, ten percent of the whole island – has been turned into National Parks, where visitors have the opportunity to get up close to some of the incredible wildlife that reside here; elephants, leopards, buffalo, deer, mongoose, wild pig and more can all be spotted roaming in their natural habitat. And remember to look up, as hundreds of species of birds create a mesmerising display of colour and noise.
As well as natural spectacles, Sri Lanka has a wonderfully rich and diverse history which will be a major attraction for culture vultures. Timeless ruins of ancient indigenous civilisations and the remains of colonial rule all vie for attention. But whether it's a trip to the quintessentially British tea growing region to re-live a bygone era, or marvelling at the fifth century rock fortress at Sigiriya, there is something of intrigue at every turn.
Discovery aside, for many it is the relaxed side of Sri Lanka that has them falling at its feet. Friendly, welcoming locals, delightful cuisine, inexpensive prices and a tropical climate (with a cooling sea breeze) make the recipe for a perfect holiday. A character, boutique or luxury hotel will add a finishing touch to your taste and a host of new and exciting experiences top Sri Lanka off as the perfect place to explore, enjoy and unwind.
What is less well known, and to date widely undiscovered, is that Sri Lanka is also a golfer's paradise. It is home to some of the oldest and best golf courses outside of the UK that offer a superb challenge and the opportunity to tee off in tropical climes amid some of the most stunning scenery in the world. For avid golfers and hackers alike, Sri Lanka presents a golfing experience not to be missed.
At Livingstone's Travel World we have unrivalled experience in creating holidays that showcase the very best of this wonderful world and ensure our clients unforgettable experiences. We have partnered with one of Sri Lanka's premier tour operators to offer – on a continuous basis – three outstanding tours that focus on the island's magnificent cultural heritage, outstanding wildlife and marvellous golf courses.
And this month, we are thrilled to add a fourth fantastic tour to the line-up, following the announcement of the England vs Sri Lanka cricket during October-November. This tour is perfect for cricket aficionados and avid golfers alike,includes three ODI cricket matches as well as four rounds of golf and accommodation at two fabulous hotels. This arrangement also becomes part of a selection of additional cricket tours that provide the opportunity to explore Sri Lanka and its historic cities.
Our affiliation enables us to offer the very best bespoke travel arrangements from outstanding scenic rail journeys to weddings and honeymoons, in some truly outstanding hotels in spectacular locations. In April, we sent clients on tailor-made trip to Sri Lanka and – as shown on our testimonials page – they deemed it a "wonderful experience" that they would "recommend to anyone".
So whatever your reason to plan a trip to Sri Lanka, let Livingstone's Travel World make sure that it will be one to remember for all the right reasons. Find out more about this beautiful destination and the tours we offer here.
---