NEW YEAR IN VIENNA – A 9-DAY LUXURY EUROPEAN RAIL TOUR
Journey into the New Year in ultimate luxury with this magical European rail tour. Starting in beautiful Budapest, you'll take the Golden Eagle Danube Express on an incredible 9-day journey through Hungary, Austria, the Czech Republic and Slovakia, spending New Year's Eve dining and waltzing at Vienna City Hall. Discover more and view the full itinerary below.
Tour Cost: from ££ per person
Departures: TBC
Tour highlights and inclusions:
• Luxury cabin on the Golden Eagle Danube Express
• Breakfast on board each day
• Welcome dinner on arrival in Budapest
• 2 nights at the Four Seasons Gresham Palace, Budapest
• Viennese Waltz lesson
• New Year's Eve gala dinner at Vienna City Hall
• New Year's Day brunch with transport via horse drawn carriage
• Guided tours of Budapest, Graz, Cesky Krumlov, Prague and Kosice
• Allocated or optional leisure time in all towns and cities visited
Single Supplement: ££ per person
Travel insurance: Not included, price on request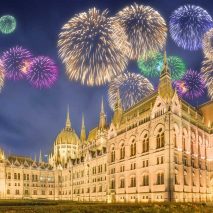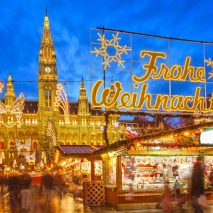 Pumpkin seed oil tasting in Graz, a waltz lesson in Vienna, lunch nestled among the architectural grandeur of Prague, the City of a Hundred Spires… This is a rail holiday like no other, with a chance to explore some of central Europe's most beautiful cities. The highlight? A New Year's Eve gala dinner with music, dancing and fireworks at Vienna City Hall.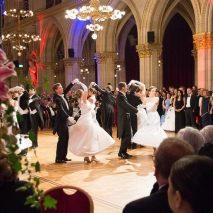 This expertly arranged rail itinerary incorporates the best of these wonderful European cities, with guided tours, authentic dining, cultural experiences, dedicated leisure time and of course, a luxury cabin on board the Golden Eagle Danube Express. Not to mention an unforgettable New Year's celebration. Enquire now and book for 2018/19.
New Year in Vienna Rail Tour ITINERARY (click here which will go to another webpage with a printable itinerary)
For the information on the train and hotels follow the links provided:
Golden Eagle Danube Express |
Four Seasons Hotel Gresham Palace
For more information on Austria and the cities, towns and regions being visited, go to the Austria Destination page.
To book New Year in Vienna, add an extension or ask us to arrange something similar:
Call reservations: 020 7118 2110
Email: client@livingstonestw.co.uk
Online: Booking/Enquiry Form