Cape Verde Islands, Atlantic Ocean, off West Africa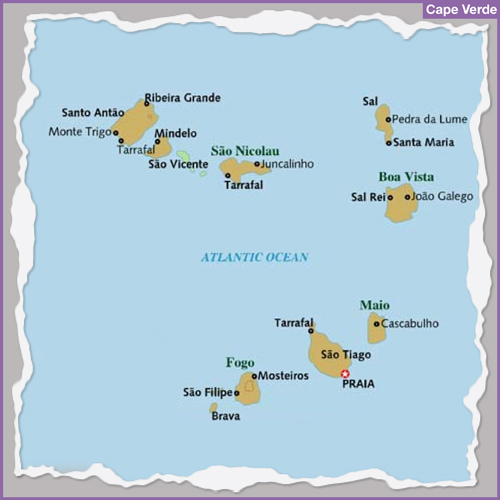 The Cape Verde Islands – Magical islands of great contrasts, with each offering a slightly different holiday experience. Some islands have lively thriving local communities while others, equally welcoming, are predominantly developed for tourism and outstanding holiday activities. Local legend has it that when God had finished with creation he brushed his hands and the crumbs that fell into the sea formed the Cape Verde islands. These magical islands are under 6 hours away with only a one hour time difference and yet you feel as if you are in another world!
Topography & Climate
Cape Verde is a volcanic archipelago of 10 islands, nine of which are inhabited.Landscapes vary from barren interiors to stunning beaches, rugged mountain peaks and cliff-hanging villages. A pleasantly tropical destination, the Cape Verde islands benefit from average annual temperatures of between 26°C and 30°C, offering long, uninterrupted sunshine hours and low humidity. The higher winds between November and March create larger waves on some of the islands, which prove particularly popular with water sport enthusiasts. The rainier season lasts from August to November which is also when you experience the hottest temperatures.
Livingstone's Travel World – Unique destination tours and travel experiences:

GENERAL INFORMATION
A unique history reveals a fascinating range of cultures and landscapes to explore and with the sun shining more than 300 days a year all you need to do is choose one, two, or more of these eclectic islands and you're ready to embark on your next adventure. The Cape Verde islands are spatially divided into two groups: The Barlavento islands (meaning Windward), is the northern island group with those in the west being rocky, volcanic, agricultural islands. The two in the east, Sal and Boa Vista are flat, desert islands more dedicated to tourism. The Sotavento islands (or Leeward), is the southern island group of the archipelago, the four main islands being Maio, Brava, Fogo and Santiago the latter three being rocky and volcanic with the longest histories of human habitation and densest populations, whilst Maio on the other hand has more in common with Sal and Boa Vista. Although sun, sea and sand is still the most popular form of holidaying on the archipelago they really do offer far much more, and an island hopping extension to the a week on the beach is something we would highly recommend.

THE ISLANDS
Sal, with its golden sandy beaches sinking into azure waters has been described as a beach lover's paradise and the Cape Verde Islands' most popular island for holiday-makers. The main resort is Santa Maria where the islands principle hotels are located, and most are within a 20-minute walk of the many shops, restaurants and bars. In the centre of the island, amongst a vast barren landscape is Espargos, the capital of Sal with its unique history that was centred upon its once booming salt trade, from which the island takes its name.
Boa Vista,is renowned for its wonderful somewhat untouched golden sand beaches that stretch for some 30 miles – ideal for those who simply want to relax or get active across the a range of water sports on offer. The interior of the island is totally different with a luna-like landscape of desert and barren rock-filled vistas dotted with date trees and ruins. The main island town is Sal Rei home to a number of bars and restaurants and some unique architectural landmarks.
Santiago, with its green valleys, plush plantations and mountainous peaks reflecting its volcanic origin is the largest island in the archipelago, and the first to be populated. Rich in history and culture, Cidade Velha the country's old capital, and now a registered UNESCO World Heritage Site was the first city to be built by Europeans in West Africa.The island is the main transportation hub for the Cape Verde Islands, Praia, its capital, is just one of the bustling towns with a colourful African market that is known for its lively nightlife.
Fogo, with its 2929m high volcano dominating the islands landscape is probably the most outstanding landmark in the whole of the Cape Verde Islands. Climbing this still active volcano can be the highlight of any holiday to this archipelago. Pico do Fogo, as its known, has seen many small eruptions over the last 200 plus years, which has created a crater some 7km wide and 10km long. Beside the volcano, there is plenty more to tempt a visit to Fogo, great trekking opportunities, pretty Portuguese squares, tasty local coffee and iconic wine.
São Vicente, is the music capital of the Cape Verde Islands. Mindelo, its capital, host to the islands famous Carnival, has a rich tradition of music and art. During the day holiday-makers, head for Laginha Beach surrounded by a bay of white sand. Evenings are more likely spent in Mindelo's vibrant pubs, restaurants and nightclubs which are alive with sounds of music. Apart from Laginha Beach in Mindelo, most of the other beaches on São, like São Pedro and Sandy Beach at Calhau, included in the European professional circuit, are centred on windsurfing.
Santo Antão, easily accessible from São Vicente, via a one-hour ferry crossing from Mindelois home to the some of the most spectacular scenery you'll see anywhere on earth. It's where towering green peaks and fertile craters meet cliff-hanging towns that feel relatively untouched, and worlds away from the golden sands of Sal or Boa Vista. Landscapes quickly change from being bare and arid to mountains, and the spectacular coastal roads provide access to verdant valleys and villages that are either deep below or high above are perfect for walking enthusiasts.
Maio, is located 25 km to the east of Santiago, with a population of around 4,000. The small island with its spectacular unspoilt beaches and salt pans is still untouched by tourism, its terrain is similar to that found on Boa Vista and Sal but parts of the island have been heavily re-forested. Vila do Maio its main town, is a mix of Portuguese and British colonial style buildings that spread up a small steep hill to a huge Baroque church. In the north of the island, in a particular area, visitors can see rare sea birds, they can also find a magnificent lagoon surrounded by lush vegetation, and during the summer months, it's not unusual to see turtles on Maio's beaches. Albeit isolated Maio is a beautiful island to visit.
Brava, with its dramatic cliff coastline is the smallest inhabited island in the archipelago. Only 20kms from Fogo from which is thought to have been once joined its separated by a sea channel only a few hundred meters deep. This tiny island, at the southernmost point of Cape Verde, with deep gorges and dramatic peaks is one of the archipelagos' most mountainous islands; known for its rich assortment of flora and fauna it's often referred to as the 'island of flowers'. Ferries from the islands of Santiago and Fogo, offer visitors rewarding walks through beautiful landscapes.The most notable being a walk up the Pico of Fontainhas, Brava's highest mountain peak,and a visit to Faja d'Agua, the greenest area of the island with one of the most beautiful bays in Cape Verde.
São Nicolau, a quiet, unspoilt island is in its infancy as far as tourism is concerned. Its fertile hinterlands, barren ranges and dramatic mountainscapes make up some of the most impressive natural scenery in the archipelago. This tranquil island is relatively untouched, Ribeira Brava, a colourful colonial town with striking architecture and beautiful gardens, and the splendour of the landscapes draw holiday-makers to São Nicolau. The sedate environment offers an escape, with the promise of adventure in the shape of mountain walks or horse-riding trails. São Nicolau which can be easily reached via a short internal flight, we recommend is best experienced as part of an island hopping holiday or as an extension to a beach holiday.
Santa Luzia, is currently the only uninhabited island in Cape Verde. Located southeast of São Vicente and northwest from São Nicolau it's the smallest of the islands in the archipelago. Uninhabited until the 17th century from which point it was used for raising livestock, and right up to the 1960s there was a small community living on the island but by the 1990s the island was once again uninhabited. The only way to get to the island is from Calhau, on the east coast of São Vicente, there the two hours crossing is possible by chartering a fishing boat for the day.

ACCOMMODATION
As the popularity of the Cape Verde Islands have grown as holiday destination over the years the standard of accommodation has continued to improve, there is a fairly extensive range of accommodation from rustic small family run hotels to modern 3 & 4 star hotels. Those we have mentioned below are featured by our specialist travel partner and been enjoyed by past and present clients but we continue to monitor all hotels for quality and service.
Dunas de Sal Hotel | Hotel Morabeza , Sal | Hilton Cabo Verde Sal Resort | Hotel Pontão, Sal | Melia Llana Beach Resort & Spa, Sal | Hotel Riu Palace Cabo Verde, Sal | Odjo d'Agua Hotel, Sal | Hotel RiuTouareg, Boa Vista  | Iberostar Club Boa Vista | Royal Horizons, Boa Vista | Kira's Boutique  Hotel, Sao Vicente | Don Paco Hotel,Sao Vicente | FoyaBrancaHotel,Sao Vicente | Oasis Porto Grande Hotel, Sao Vicente | Hotel Xaguate, Fogo | Santantao Art Resort, Santo Antão | Boutique Hotel Pescador, Santiago | Boutique Hotel Pescador | Hotel Perola, Santiago

DISCOVERY TOUR
Cape Verde Island Hopping, this 7-Night holiday tour features some of Cape Verde's most famed and unique attractions on the three of Cape Verde's most diverse islands, São Vicente, Santo Antão and Sal. This holiday tour can be booked as a stand-alone holiday, or as an extension to a beach holiday, for details on this magical island tour, call 020 7118 2110 or email us.

CAPE VERDE ISLAND CARNIVAL
Sao Vicente Carnival, the vibrant and exciting celebrations which make up Cape Verde's most famous Carnival are held 40 days before Easter each year, is well known for its explosion of colour, music, dancing and festivities. The streets and main square of Mindelo come alive with large floats and processions of glamorous dancers in Mardi Gras costumes, and the atmosphere which takes hold of the town before and during the Carnival is truly infectious. Once the Carnival atmosphere takes hold then music and dancing often goes on until the early hours. This February event can be easily added, as an extension, at the beginning or end of a Winter Sun beach holiday but early booking is required as accommodation over those few days is always very heavily booked.For further details on this very special event call 020 7118 2110 or email us.