BHUTAN, ASIA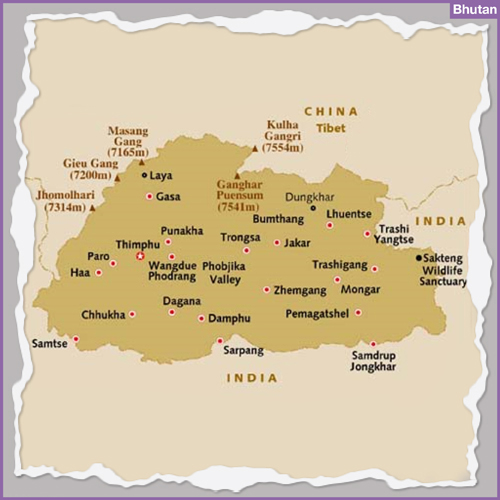 Bhutan is an amazing little country that lies to the east of the Himalayas,giving it a dramatic landscape of steep mountains and valleys and subtropical plains. Here stunning scenery, a rich cultural heritage, amazing architecture and rare, exotic wildlife combine to create a wonderfullyunique holiday destination.
This Buddhist kingdom, known for its monasteries, fortresses (or dzongs) and dramatic landscapes, provides the chance for visitors to see and experience traditions and ways of life that date back centuries.
Topography and Climate
Bhutan consists mostly of steep and high mountains crisscrossed by deep river valleys that drain into the Indian plains. The northern part offers spectacular views of the highest mountain range on Earth, while the lush southern plains and foothills are home to an incredible diversity of wildlife. The climate in Bhutan is extremely varied; southern Bhutan has a hot, humid sub-tropical climate that is relatively constant, whereas the central region has warm summers but cool, dry winters. In the northern reaches the weather is cold during winter and the mountain peaks perpetually covered in snow. The summer monsoon lasts from late June through to late September.
Livingstone's Travel World – Unique destination tours and travel experiences